This is a dedicated A-Z guide of sewing terms for beginners, covering both sewing words and pattern making words. If you feel I have missed anything please feel free to drop it in the comments below so that I can add it in!
I have tried to keep this extensive list sewing terminology in alphabetical order for you to better find what you're looking for – they're all hyperlinked in the lists below to take you right to the sewing word you're looking for!
For pattern making and sewing terms that have a related blog post or sewing tutorial, there will be a visible link to read further!
Apex
The apex is the most protruding point on a girth. This could be the bust apex. Darts are often used to suppress the fabric around the apex point.
Appliqué
Appliqué is the technique of stitching an embellishment to a base fabric. This could be another fabric in a contrasting colour or some other form of embellishment that is stitched to the base fabric.
Appliqué can be reversed, too!
Armscye
An armscye is a pattern-making term for the armhole.
Asymmetric
When something is asymmetric, it is non-symmetrical. This means that a design or clothing element is not repeated on both sides. In traditional clothing, most garments are symmetrical, but 'fashion trends' and designer choices have seen many asymmetric trends over the years.
Back Tack
Stitching over your last stitches at the end of a seam. This helps to prevent stitches from coming undone. When sewing on your sewing machine, it is usual for you to back tack at the start of sewing a stitch line and at the end.
Backstitch
A stitch sewn by hand that goes back on itself. It is considered to be quite strong.
Ballpoint
Ballpoint needles have rounded tips rather than sharp points and are used for sewing knit fabrics. There are many different types of sewing machine needles that can be used for sewing knit fabrics too!
Banding
Banding is the technique of adding a section of fabric to the end of a garment area. It is similar to binding but used to extend the length of the garment at the hem.
Baste / Basting
Basting uses long-running stitches to hold together different sections of a sewing pattern / fabric, so that you can test the garment fit.
You can also baste elements to a garment to check the placement before permanently sewing in place.
Beeswax
Often used for strengthening the thread used in hand stitching. Beeswax helps the thread move more smoothly through the fabric.
Bias
Bias is a 45º angle from the selvedge. It has greater stretch and drape than the cross or straight grain of woven fabrics. Garments cut on the bias require less fabric suppression.
Vionnet was one of the first to pioneer bias-cut dresses, which became popular back in the 1920s.
Bias Binding
Bias binding is created from strips of fabric cut on the bias. Great for finishing edges such as hems, armholes, and necklines, bias binding is a seam finish used to bind the edges of fabric. You can purchase pre-made bias binding or you can use a bias tape maker with an iron and create your own bias binding.
This bias binding tutorial shows you two ways to sew bias binding.
And you can learn to make your own bias binding here.
Bias Facing
Bias facing is when we use bias binding to face the inside of a garment on areas such as the neckline and armholes.
While we use bias binding to enclose a raw edge, we use bias facing to enclose and strengthen the raw edge.
Read this bias facing tutorial to learn how to face your necklines and armholes with bias tape.
Bias Seams
Bias seams are sewn and cut on the bias.
Binding
Like bias binding, binding is using strips of fabric to bind the edges of fabric – it is not cut on the bias but instead is cut on the straight grain to prevent stretching out.
Bishop Sleeve
A bishop sleeve is a long sleeve with fullness being added below the elbow. The sleeve is then gathered at the wrist, creating a beautiful draped sleeve.
Learn more about sleeves here.
Blanket Stitch
Blanket Stitch is a hand-stitch used to finish edges of fabric. It is frequently used as a finishing technique to appliqué.
Blind Hemming
Blind hemming is a technique used to hide stitches when hemming. It can be done with a special foot on a sewing machine or by hand sewing.
Block
A block is a basic sewing pattern with minimal wearing ease added. It is also known as a sloper in the US. It is used as a base for creating designs.
If you would like to learn how to draft your own blocks, check out my basic pattern drafting tutorials.
Bobbin
Bobbins are small metal or plastic cylinders used to contain thread. It feeds the machine with a thread from underneath the needle, creating a 'locked stitch'.
Learn more about sewing machine parts here.
Bodice
Bodice is the term used for the front and back upper body area. When you create a bodice block, it will usually incorporate measurements from the neckline and shoulder right down to the hipline.
Here's a tutorial on drafting the female bodice block.
Bodkin
You would use a bodkin to pull elastic or cord through a casing. It is a long flat tool, often made from metal, which helps it move smoothly through the fabric casing.
Boning
Boning is a plastic or metal strip used to create structure when placed in channels or casings. Used in corsets, dresses, and some skirts.
Box Pleat
Box pleats are pleats that face each other, then away, and then face each other. They are often wide for more impact.
Buttons
Buttons are a type of clothes fastening, usually made from plastic, wood or metal and come in all shapes and sizes. We use them to fasten a garment with buttonholes that the buttons pass through to secure them in place.
I love to create hand-covered buttons to personalise them and make them different from everyone else's.
Learn more about button sizes here!
Buttonholes
This is the hole created so that a button can pass through it and secure the garment opening. Buttonholes can be sewn by hand or by machine. Bound buttonholes take more work but give a 'couture' feel to some garments.
Casing
This is a tunnel of fabric folded and stitched in place, usually with two parallel lines of stitching.
You can create casings on top of the fabric or on the wrong side. It allows you to pass something through – boning, cord, elastic, and more!
Catch Stitch
The catch stitch is like a cross stitch and is used to 'catch' two pieces of fabric together. I use this when hand-hemming jersey garments.
Circle Skirt
In its simplest form, a circle skirt is made by cutting a circle from the fabric and another circle from the centre of this circle for the waistline.
Circle skirts can be full, three-quarters, or half. Using a light fabric, circle skirts can be a great summer skirt solution, but they also work well at various lengths in the colder months with tights.
Learn how to draft a full circle skirt pattern here!
Collar
Collars can be convertible or non-convertible. It is the section of a garment that attaches to a neckline. This can sometimes be via a 'stand', such as a shirt collar, or sewn to the neckline, such as a mandarin collar.
Learn about different collar types!
Collar Stand
The collar stand is used to connect a collar to the neckline of a garment. The shirt collar is a great example – but a collar stand can exist in itself as a collar.
The Mandarin collar is an example!
Concealed Zip
A concealed zip is also known as an invisible zipper. It is hidden within a seam so that when it is closed, it is not noticeable.
You can sew a concealed zipper with a regular machine zipper foot or a concealed zipper foot.
Couching
Couching is a method used to overcast something as an embellishment. When couching, you would usually couch a thread, trim, or yarn to a main fabric. It can be a great way to embellish a fabric.
Cross-Grain
The cross-grain is found at a 90º angle to the selvedge. The cross-grain has slightly more 'stretch' than the straight grain of fabric, but not as much stretch as the bias grain.
Dart
A dart is used to suppress fabric and shape it closer to the body. Darts are wedges of fabric that are stitched closed to create a more fitted look.
You will find darts pointing towards the bust apex, from the waist to the hipline, and sometimes on the back from the shoulder to the shoulder blade.
Dart Manipulation
Dart manipulation is the movement of darts around a block to create a more desired look.
Here's a look at the types of darts in dart manipulation.
Design Ease
Design ease is the 'excessive' amount of ease added to a block to create a design. Harem pants have excessive design ease added to them to allow for more draping and movement of the fabric.
Sleeves are another design feature which quite often have a lot of design ease added to them.
Dolman Sleeve
A dolman, sometimes referred to as a batwing sleeve, is a type of sleeve that extends from the bodice of a dress or jacket. It has a wide armhole from around the waist on the bodice to the wrist of the sleeve.
Dressmaker
A dressmaker is someone who makes clothing, usually to sell.
Learn about the difference between a tailor, dressmaker and sewer here.
Ease
There are two types of ease when it comes to sewing and pattern making. 'Wearing ease' and 'design ease'.
'Wearing ease' is the difference between your body measurement and a block such as the basic skirt or bodice blocks.
'Design ease' is the added amount of ease for design reasons which is the finished sewing pattern measurement.
Learn more about pattern ease here.
Ease Stitch
An ease stitch is a long stitch used to ease fullness in fabric. It can be sewn as a single or double row of stitching with the double row providing more control over the dispersion of the fullness. Common techniques that require ease stitching: setting in a sleeve or adding gathered sections to garments.
Edge Stitch
Edge stitch is a line of stitching 1-2 mm away from the edge of the fabric. You can also use it to finish hems on fine fabrics, much like a pin hem.
Embellishment
A decorative element such as beading, appliqué, patches etc.
Embroidery
Embroidery is a type of hand stitching using beautiful silk threads, but can also be done on many modern machines too. Embroidery is a great way to embellish an older item of clothing to give it a new lease of life.
Eyelet Pliers
Sewists use eyelet pliers to 'squash' the two eyelet sections together.
Learn to insert eyelets in fabric here.
Eyelets
Eyelets are small metal circles, usually in two parts, which require pressing together to form one piece. Eyelets are used in some clothing styles – corsets being the most obvious – but are also used on outwear garments and bags too. Inserting eyelets in fabric can be tricky.
Facing
Facing is the fabric inside of a garment that is joined to the main garment to enclose the construction of the garment. Often, facing is strengthened with interfacing to add some structure.
The process of facing is then usually finished with 'retain stitching' or 'understitching', which helps keep the facing laying flat and in position.
Types of facings include waistband facings, front jacket facings, and neckline facings.
Learn about different facing types here.
Fashion Ruler
A fashion ruler is a ruler created with the fashion designer or pattern maker in mind. As well as having a long straight edge, the fashion ruler has curved edges for drawing hipline, waistline, and armhole curves. There is also a 45º angle line for plotting in the bias grainline on patterns.
Fastenings
Fastenings are the notions used to close garments. There are so many types of fastenings, but the most common are buttons and zippers.
You'll find a comprehensive list of clothes fastening types here.
Feather Stitch
A hand stitch used to join two layers of fabric.
Feed Dog
The feed dog is the ridged metal teeth on the sewing machine which work to move the fabric towards the back of the machine.
Learn more in this sewing machine parts guide.
Fell Stitch
Stitches created in the fold of fabric to connect to edges and form a seam.
Finger Press
Finger pressing is the technique of using your fingers to push and press the seam – almost like manipulating the seam – prior to pressing properly with an iron.
Flat Felled Seam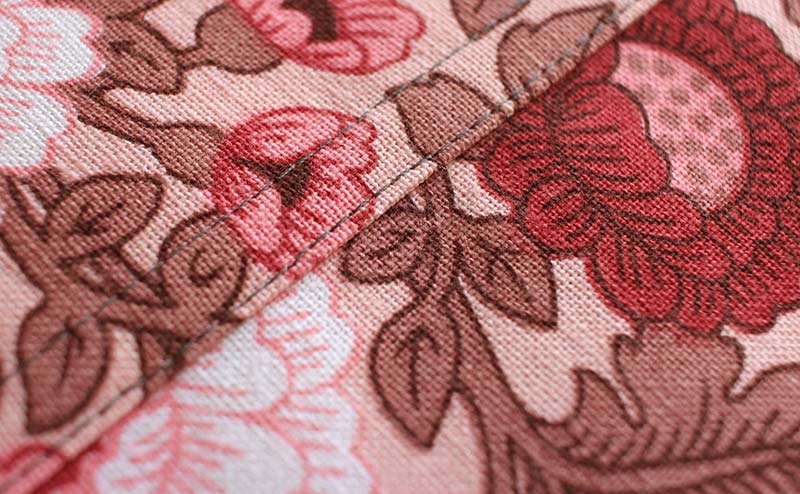 Flat-felled seams have all edges enclosed! It is a strong seam, lays flat on the garment, and found on workwear, sportswear, and on high-end shirts as a run-and-fell seam.
Sew your own with this flat-felled seam tutorial!
Flexicurve
This is a rubber coated, flexible 'ruler' which can mould into different shapes – I use flexicurves on crotch areas to measure the length and shape of the 'seat'.
French Curve
The French curve is a plastic ruler used within pattern making for body curve creation. Used to achieve smooth even curves on sewing patterns around the armhole, neckline, and crotch curve.
French Dart
French darts start at the side seam waist of a front bodice section and end at bust point.
Learn about different types of darts here.
French Seam
A French seam is an enclosed seam used on fine, sheer fabrics. You can also use it on medium-weight fabrics, but these can end up more bulky than intended.
I use French seams on silks, chiffons, and any kind of see-through fabric. Most people insist that you can only sew a French seam straight, but it is possible to sew a curved French seam and if you struggle with the technical aspect of French seams, you can also sew a mock French seam!
Here are three helpful tutorials:
Frogging
Frogging – or frog fastening – is an ornamental piece of braiding typically used for coat fastenings.
Fusible
Has a layer of glue which melts and sticks when heated with an iron or fusing press.
Gather
Gather, or gathering, is a way to suppress fabric. The technique moves fabric evenly along one or two rows of ease stitching to make the fabric amount better fit into its designated space. Most often used around the sleeve cap or waistline, but also as a design feature!
Godet
A godet is a piece of fabric, usually triangular, used to add extra fullness to a garment. It is often inserted between two seams. Godets have a point at the top and are much wider at the bottom.
You can learn how to draft a godet pattern here!
Gore
A vertical panel of fabric – thin 4, 6, 8-gored skirts.
Grade
When we grade a pattern, we are making a pattern either smaller or larger to fit different sizes.
Grain
Grain is a reference to the fabric weave. Straight grain is parallel to the selvedge, cross-grain is 90º to the selvedge, and bias is 45º, which gives a looser, draped look.
Grainline
The grainline is on the pattern and used along with the fabric / selvedge to accurately place the pattern pieces.
You can learn more about pattern symbols in this guide to reading sewing patterns.
Grommets
Similar to eyelets, grommets are usually larger and used more in home furnishing than in fashion.
Ham
Known as a tailor's ham, this is a stuffed round cloth-covered item used when steaming areas, such as collars, to retain the shaping.
Hem
A hem is the bottom edge of a garment which you can neaten in many ways. The type of hem you sew on your garment will largely depend on the fabric weight and whether you want it to be visible or invisible.
Types of hems include single- or double-folded edge hem, pin hem, or a blind hem:
Hong Kong Seam
The seam edges are finished with bias binding.
Hook and Eye
The hook and eye is a type of metal clothes fastening mostly used at the neck or waist opening of a garment.
Hook and Loop Tape
Rather than sewing hooks and eyes individually, hook and eye tape can be used to close an entire opening.
Inseam
The inseam is the inside leg measurement from the crotch to the inside hem.
Interfacing
Interfacing is used to add strength to the main fabric. Interfacing can be sewn in or is fusible using an iron to heat press ('fuse') the interfacing to the fabric.
Interfacing comes in different weights and can be woven or knitted. Selecting the correct interfacing comes down to the fabric you are using – check out this guide on the types of interfacing and how to use them!
Interlining
Interlining is an extra layer of lightweight fabric which is most often added for warmth. Jackets and coats will often have interlining added.
Invisible Zip
See Concealed Zipper.
Jet Pocket
A jet is a pocket which has two 'lips'. You would usually see them on smarter clothing styles such as tailored jackets.
A jet pocket is often called a double welt pocket in the home sewing community.
Kimono
A type of sleeve.
Knife Pleat
Knife pleats are narrow pleats with all pleats pointing in the same direction!
Knit Fabric
Knit fabric is made from one continuous looping yarn rather than yarn woven up and under like woven fabrics. Knit fabric also comes in various weights and 'stretches' so it is worth learning more about working with knits.
Learn about different knit fabric types here.
Ladder Stitch
Stitches create a ladder effect by being placed at a 90• angle to the fabric and when tightened are invisible.
Lapel
The lapel is the point, often notched, where a collar joins to the main garment (coat, tailored jacket).
Lapped Seam
A lapped seam is created by lapping one piece of fabric upon another and stitching in place. Often used in sportswear and bags.
Here's a lapped seam sewing tutorial to follow.
Lapped Zipper
Like the lapped seam. the fabric is placed upon the zipped and stitched in place.
Lining
We add lining to the inside of a garment to hide the 'mess' of the construction process. The lining attaches to the facing to fully enclose the raw edges.
Machine Tension
The tautness of the thread running through the tension discs on a sewing machine. Keep an eye on your tension as if it is off, it can cause seam puckering!
Mandarin Collar
A mandarin collar is a type of non-convertible collar. It is usually a thin band of fabric, much like the stand part of a convertible shirt collar. Interfacing helps to give the mandarin some structure.
You can draft one with this mandarin collar pattern tutorial.
Metre Rule
A simple ruler measuring just 1 meter. Often called a yardstick.
Here are more measuring tools in sewing you may be interested in learning more about.
Mitre
To mitre is to create a diagonal seam connecting two pieces of fabric. It results in a corner.
Great examples of mitred corners include your jacket facing at the hem opening, or on a back vent in a pencil skirt or tailored jacket.
Mock French Seam
A mock French seam is an easier way to sew an enclosed seam resembling a French seam. It has two lines of stitching but constructed differently.
The mock French seam works well on curved seams, too.
Here's a mock French seam sewing tutorial.
Muslin
Also known as a toile, it is the 'test' version of a garment.
Nap
The word 'nap' is used to describe fabrics that have a 'pile' – velvet, faux fur, etc. – and you need to consider the direction of the nap when placing your pattern pieces on the fabric, as the nap should always run in the same direction!
Needles
Needles have an eye to pass thread through. The needle is then used to create stitches connecting layers of fabric together.
This guide to sewing machine needle types will be helpful if you're only used to sewing with a universal needle!
Notch
A notch is a mark on the sewing pattern which guides you on the correct position of the garment sections. On patterns, the notch symbol can appear as triangles or a simple line.
Check out my guide on how notches are used in sewing!
Notions
Notions are all things that count as haberdashery items, such as buttons, zips, ribbons, tapes, thread, and others.
On Grain
When a pattern piece is placed on the correct grainline, it is considered to be 'on grain'! The straight grain runs parallel to the selvedge – see straight grain for clarification.
Open Ended Zip
This is used for outwear primarily, as the zipper can be opened at the bottom rather than fixed closed
Open Seam
An open seam is the first seam learnt by sewing beginners as it is the simplest. It is a simple line of stitching with the resulting seam pressed open and is often called a plain seam.
Open seam sewing tutorial for sewing beginners.
Overcast Stitch
A hand sewn stitch wrapping around the edge of fabric
Overlocker
An overlocker, also known as a serger, is used in two ways. The first is as a method of 'finishing' the raw edge of woven fabrics to prevent fraying before sewing the seams on a flat lock machine.
The second is as an all-in-one construction method for knit and woven fabrics, where the seams and fabric edge finishing are combined in one go.
Mass manufacturing of fashion was in part due to this faster method of garment construction.
Learn more about overlockers in this guide to different sewing machine types.
Patch Pocket
This is one of the simplest ways to add a pocket onto a hand-sewn garment!
Patch pockets are created by sewing a 'patch' of fabric on top of the main garment section.
Learn how to sew a patch pocket here!
Pattern
The 'design' in paper that will be cut from fabric and sewn together to create a garment.
Pattern Cutting
Pattern cutting is the term we use in the UK when referring to pattern making. For more experimental pattern making we would use the term 'creative pattern cutting'.
Pattern Drafting
Pattern drafting is when you take a set of measurements and draft a pattern from scratch using them.
You can learn more about pattern drafting here.
Pattern Making
Pattern making is the technique of taking a block or sloper and creating a design pattern from them. This term is more common in the US, while in the UK pattern cutting is used more often.
Learn more about pattern making with these pattern making tutorials!
Pattern Master
The pattern master is a fashion ruler created by Shoben. It has a central line for squaring off when pattern drafting, interval measurements for adding seam allowances and grading, but also curves for drawing in curved lines on pattern such as necklines and armholes. This is my top recommended pattern making tool.
Here's my list of essential pattern making tools!
Pattern Ruler
A slimmer version of the pattern master.
Pin Cushion
A cushion used to stab pins into so that they do not get lost or trodden on.
Pin Hem
A pin hem is a very fine hem, mostly used on very fine fabrics such as silk chiffon. You can also use it to finish fine cottons such as lawn.
This pin hem tutorial will help you sew your own pin hems.
Pinking Shears
Pinking shears are fabric cutting scissors that have a serrated edge on the blades. Pinking shears create a zigzag effect on the fabric and are often used as a way to finish fabric that doesn't fray and to grade seam allowances down.
Learn about the different cutting tools for sewing here and how pinking shears work!
Pins
Thin pieces of metal with a head on one end, and a sharp point on the other, used to connect two pieces of fabric together prior to sewing
Pintucks
Narrow tucks of fabric created with stitches. I recently created pin tucks in denim and slashed them.
Piping
Fabric that is inserted between the seam of two pieces of fabric so the once stitched it extends beyond as a decorative trim.
Pivoting
A technique used in pattern making to move a dart from one location to another.
Learn more about pivoting darts in this dart manipulation tutorial!
Placket
A placket is a term used to refer to the opening at the neckline of kaftans: the sleeve slit openings where cuffs connect and sometimes even button stands, too!
Pleat
A fold of fabric creates a pleat, but there are many types of pleats in sewing.
Prick Stitch
A teeny tiny backstitch used to a lit in couture due to it being a stitch that can be hardly seen.
Princess Seam
The seam which passes over the bust point (apex) usually from the shoulder down to the hem, but can also be from the armhole down to the hem.
Proportions
When it comes to making your own clothes, proportions is an essential consideration. We think of proportions usually as body proportions which helps us to determine whether a sewing pattern will work for our body shape.
You can learn more about understanding your body proportions here and specific body shapes here.
Raglan Sleeve
A sleeve style, where the sleeve style line connects to the neckline, rather than at the shoulder point.
Raw Edge
The edge of fabric that is not finished by overlocking, enclosing, or binding is referred to as a raw edge.
Retain Stitch
Stitching that connects the facing / seam allowance areas together to prevent moving around. Also referred to in the US as under-stitching.
Right Side
The right side refers to the visible side of the fabric when wearing the garment, rather than the 'wrong side' which would be inside of the garment against the skin.
Rise
The measurement between the crotch and waist on trousers / pants.
Rolled Hem
A very very narrow hem – think silk scarves – usually sewn by hand but can also be done by machine.
Rotary Cutter
A cutting tool with a circular blade used to cut fabric and other materials using a self-healing mat underneath.
Ruche
The art of gathering fabric up, either by hand or using a sewing machine foot.
Ruffler
A ruffler is a small device that connects to your sewing machine to create gathers and pleats. It's not a necessary sewing machine tool, but can come in handy if you sew lots of gathers and ruffles.
Run and Fell Seam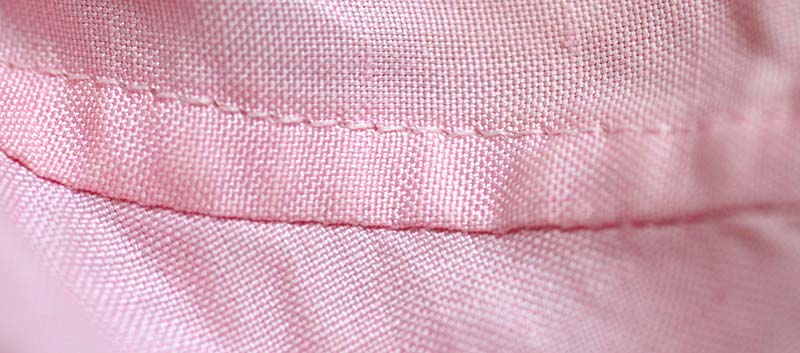 The run-and-fell seam is a seam sewn in almost exactly the same way as the flat-felled seam.
Learn how to sew a run and fell seam with my flat felled seam tutorial.
Running Stitch
A simple straight hand stitch, no backstitching involved, creating a dash dash ( – – – – ) line.
Satin Stitch
Solid line formed by a closely stitched zigzag stitch on the machine.
Scissors
A cutting tool with sharp metal blades used to cut your fabrics or paper. Ideally, you have separate scissors for different materials.
Seam
A seam is the outcome of joining two or more pieces of fabric together along a seam line.
This could be a traditional stitched line on a sewing machine or it could be a glued seam or heat bonded seam.
Seam Allowance
Your seam allowance is the extra amount beyond the seam line on patterns, usually between 1 cm and 1.5 cm, although this can vary depending on which section of the pattern you are sewing. Collars are sometimes drafted with as little as 5 mm seam allowance.
You can learn how to add seam allowance to patterns here.
Seam Finish
The way in which a seam is finished. This could be the types of seam but also the way the raw fabric edge is finished – pinked, raw, bound etc.
I have a beginners guide to seams here.
Seam Line
Your seam line is the line stitched to create a seam and is an almost invisible row of stitches.
Seam Ripper
A seam ripper is a tool used to unpick a seam or stitch line that we have sewn incorrectly.
A seam ripper is often a short metal blade with a little ball on one section, encased in a plastic handle, with a plastic 'cover' to prevent injury when not in use. This cover can often be attached to the Reiner itself to lengthen when in use.
Seam Roll
Like a ham, but long and thin so can fit inside sleeve too!
Seamstress
A seamstress is someone who earns money from sewing.
Seam Tape
Used to stabilise seams prior to sewing, and finish hems.
Self Fabric
Self fabric refers to the same fabric used on the garment, rather than a facing or lining fabric.
Self Faced
When something is self-faced, the facing is created from the same fabric that the main garment is cut from.
Selvedge
The selvedge is the very long edge of the fabric, running parallel to the warp threads; it's usually woven quite tightly. I find it is great to use the selvedge as seam tape, kind of like a self-created twill tape!
Serger
A serger is also known as an overlocker and is used similarly to a sewing machine. Sergers have two needles and between three and five spools of thread, depending on the fabric used.
I cover sergers a little more in this guide to sewing machine types!
Set-In Sleeve
You would see a "set-in sleeve" on tailored garments. You can make the sleeve from under and top sleeve pieces. The sleeve gap is slightly gathered, and then the sleeve set in with the correct pitch.
Set Square
A tool shaped like a triangle and used when pattern making.
Sewist
People who sew are sometimes uncertain what to call themselves. Sewer is often confused in writing for the waste water sewage system. Dressmaker can make people feel a little intimidated.
Sewist is a relatively new term now being used by some who sew.
Shank
The 'length' of coiled thread holding the button away from the garment.
Shirring
Shirring is usually created with elastic thread, and many rows, to gather fabric up. Seen on clothes for little girls and sometimes for women's summer clothing.
Shirt Sleeve
Unlike a set-in sleeve, the shirt sleeve is cut as one piece, and attached first at the armhole and then closed along the underarm and side seam.
Shoulder Point
The tip of the shoulder, where the sleeve joins the armhole.
Shoulder Slope
The angle that the shoulder slopes down.
Slash and Spread
Another pattern making technique used for manipulating darts around the pattern.
Learn how to slash and spread patterns here.
Slash Pocket
Slash pockets are simple pocket designs, either slashing straight or as a curve as seen on denim jeans. It's a simple pocket style which you should stabilise with tape to prevent stretching.
Sleeve Cap
The sleeve cap is the section of the sleeve sitting above the bicep. It 'caps' the top of the arm / shoulder point.
Slip Stitch
A barely-there, invisible hand stitch
Sloper
A sloper is the American word for a block. Some would describe a sloper as a totally form-fitting pattern with no wearing ease. In that case, it would be the equivalent of a 'moulage' in the UK.
You can learn to draft slopers here.
Smocking
Smocking is so great to look at, being similar to shirring, but smocking as a technique uses folds rather than gathers.
Snips
Snips are teeny tiny scissors used to snip your threads as you go. They are available as small scissors or as sprung blades hung from a string. I prefer the former!
Learn more about the cutting tools for sewing here.
Stabiliser
An underlayer that is used to add structure or support to fabric
Stay Stitching
Used to prevent fabric from stretching, stay stitching is usually done within the seam allowance
Stitch
A stitch is a loop of thread either functional (to connect layers of fabrics or materials together), or decorative (such as embroidery).
Stitch In The Ditch
Stitches that are created along the ditch of a seam.
Stitch Length
The length of the stitch created.
Symmetrical
When two pieces are the same shape and size (mirror images), facing each other along an axis.
Tacking Thread
An easily breakable thread used to tack sections together before sewing.
Thread
Thread is used for sewing either by hand or by machine. Thread comes in different fibres, different weights, different strengths, and of course, different prices.
Thread Tail
The thread tail is the end of the thread once a seam has been completed. Usually trimmed close to the last backstitch or knotted to prevent the stitches coming undone.
Toile
Whenever I make a test version of a garment, I make a 'toile'. In the US, a toile is often referred to as a muslin – which is also a type of cloth.
You can learn more about what a toile is here.
Top Stitch
Stitching that happens on top of a seam and is usually decorative
Topstitching Thread
Thread used for the decorative top stitching so that it will stand out and not face into the background
Tracing Wheel
This is one of my favourite pattern making tools. Tracing wheels have sharp points or a serrated-type wheel which punctures paper when pressed over. I use it to trace pattern sections and true-up areas of patterns.
This tutorial will show you how to use a tracing wheel!
Truing
Truing is the technique of ensuring that seam lines meet correctly, that dart legs are the same length, etc., so that there are no errors when you sew the patterns.
Tuck
A small fold of fabric stitched to contain the fullness or create a decorative effect
Twill Tape
Twill tape is a woven tape used to stabilise a seam edge or an area where stitching is likely to stretch and break. Usually only available in white, cream, and black.
Underline
A second layer of fabric sewn along with the main to add support. Organdie is a favourite
Under-Stitch
To under-stitch is really the same thing as retain stitching, just named differently depending on how you learned to sew. When you retain stitch or under-stitch, you are sewing the seam allowance of a garment section (usually the neckline or armhole) to the facing so that the facing does not roll and become visible.
Unpick
Unpicking is the glorious fine art of having to undo those previously stitched seams. And if we're lucky, we don't accidentally shred the fabric and ruin our project!
Velcro
Velcro is also known as hook and loop. It's made from two strips – one with hooks and the other with loops. You can sew Velcro onto fabric to work as a clothes fastening. It's mostly found on sportswear and children's wear.
Wadding
Used for items that are quilted – puffer jackets would be a good example
Waist Stay
Used to constrain the waist and prevent it from stretching out, as a form of support
Walking Foot
Sewing machine feet are usually fixed in place when sewing, but a walking foot will move with the fabric. This is great for sewing tricky and sticky materials such as leather and latex, but also great for thicker fabrics such as faux fur.
Warp
Warp, in sewing terms, is the word used for the lengthwise threads in fabric. The warp threads are, in fact, the straight grain threads of the fabric, and are usually less likely to stretch out. They always run parallel to the selvedge.
Wearing Ease
Wearing ease is the amount of ease added to a drafted pattern which enables the wearer to 'move' if it were toiled up.
Weave
Weave is the effect of a warp and a weft thread being woven over and under each other in different styles.
Weft
The weft in fabric refers to the cross grain threads running at a 90º angle to the selvedge.
Welt Pocket
Not to be confused with a welt seam, the welt pocket consists of one piece of fabric extending beyond the pocket opening and stitched in place. Often found on tailored items.
Welt Seam
You will always see welt seams on denim jeans. A welt seam is a strong finish which secures the seam flat with an additional row of stitching. Prior to being sewn, the raw edges of the fabric are usually overlocked to prevent any fraying.
Whipstitch
A hand stitch that wraps around two edges to connect them
Wing Collar
A wing collar is a style of collar predominantly worn by men. It is a formal collar sitting quite high and made more stiff than a casual collar. The tips of the collar are pressed down, creating what looks like wings – hence the name!
Wrong Side
This is the side of fabric that, when looking at it, is not usually visible when wearing the garment – unless the designer decided that the wrong side was nicer than the right side.
Yoke
A yoke appears in several garments: as the upper back section of a shirt, the upper back section of jeans, and the section between waist and high hip on skirts.
Zero-Waste
Zero-waste means to have no waste left over at the end of a project. To achieve a zero-waste sewing project, you could incorporate the fabric remnants into the item you have sewn as appliqué detailing.
Zigzag Stitch
Standard home sewing machines usually have a zigzag stitch function, used in place of an overlocker to finish woven fabrics or connect knit fabrics together.
Zipper
One of the most commonly used clothes fastenings, the zipper is a garment closure which has two rows of teeth and a slider to close or open it.
Zipper Foot
Sewing a zipper can be tricky, which is why a special machine foot – a zipper foot – is often used to sew in zippers. There are regular zipper feet which allow the needle to move to either side or the invisible zipper foot which has channels for the zipper teeth to feed into.
Zipper Guard
A layer of fabric attached to protect the body from being enclosed in the zipper.
Ultimate Guide To Sewing Terms
There you have it, the ultimate guide to sewing terms – whether you're a sewing beginner or have been sewing a while, this ultimate guid got the different sewing terms and definitions will have taught you something new.
And as always, if you feel I forget any sewing words, do let me know in the comments below!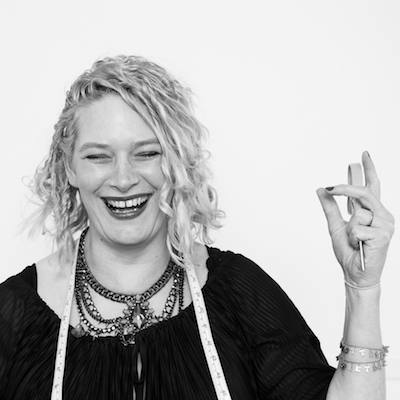 Eve Tokens (aka The Creative Curator) is a fashion designer, creative pattern cutter and sewing pattern designer.
Eve graduated with a 2:1 in Fashion Design from the University of The Creative Arts in the UK, has a BTEC diploma in Creative Pattern Cutting, a Foundation Degree in Art & Design from Wimbledon College of Art and gained extensive experience in the fashion industry by interning and freelancing for London based fashion brands – Hardy Amies, Roland Mouret, Peter Pilotto and others.
As well as running her own small sustainable fashion brand, Eve has more than 25 years experience sewing and making clothes for herself and family members.