You've probably come across the term 'stay stitch' on a sewing pattern piece or in a sewing book and wondered what stay stitching is. You might have even asked yourself whether you need to stay stitch.
The answer is a resounding yes!
What Is Stay Stitching
Stay stitching is a line of stitches that is sewn inside the seam allowance on straight and curved areas to stop fabric stretching out – this mostly happens on the bias areas, so any cut lines that cross the bias grain.
It should always be part of your sewing process if you want a beautiful finished garment in woven fabric!
The common areas to stay stitch are when sewing curves or a diagonal seam on:
Curved necklines
Slashed necklines
Armholes
Stylelines
Shaped waistbands
Pocket openings – curved and slashed!
Shoulder seam – if extended and crossing the bias grain line
As you can see from the list, any section of fabric where the fabric edge is not on the straight or cross grain is prone to distortion from stretching and will benefit from a line of stay stitches!
Stay stitching can also help to create a 'barrier' preventing fraying of the raw edge of the seam allowance too, but not all fabric types will need stay stitching!
Is Stay Stitching The Same As Basting?
No. Stay stitching is not the same as basting. When we baste we are using a longer length stitch, called a basting stitch, to connect two pieces of fabric together and this thread is then removed when we have sewn our final seams.
Staystitching is done to individual pieces and the stitches are left in place afterwards.
Do You Backstitch When Stay Stitching?
You do not need to backstitch when stay stitching, but it is an option.
You could also just shorten the length of your stitch to start with and when ending your line of stay stitches. This will have a similar effect to back stitching.
Do You Remove Stay Stitching?
It is not necessary to remove stay stitching when your project is complete. This is because stay stitching is sewn within the seam allowance area which makes it invisible on the right side of a garment or sewn project.
How Long Is A Stay Stitch?
For stay stitching, you'll want to use a smaller stitch length when sewing, around 2mm in length. This helps to prevent the fabric stretching out.
Can You Stay Stitch By Hand?
You can stay stitch by hand but you'll need to make sure that your hand sewn stay stitches are short – 2mm in length! – and that you are not stretching the fabric when hand sewing the stitches.
Should I Stay Stitch Lining Pieces?
Absolutely! If you want to stay stitch properly, anything that you cut – main fashion fabrics, facings and linings! – that cross the bias grain should be stay stitched!
Should You Stay Stitch Knit Fabric?
There is no need to stay stitch knit fabrics because these are constructed differently to woven fabrics and so have no natural 'bias'.
That's not to say that knitted fabrics don't stretch when sewn – they do! – but there are other ways to stabilise those fabric edges before sewing a seam.
How Do You Stay Stitch Properly?
When stay stitching any section it is important to think about the distance from the fabric edge, the direction that your stitches should run and even the point at which you start and finish your line of stay stitching.
Always stay stitch as soon as you have cut your fabric. This will not only lessen the chances of the fabric stretching out on a curved edge, but will also help to prevent frayage if you are sewing a very loose weave. In the photos here, you'll notice that the raw edge is 'tufty' – this is because I left the fabric pieces on my worktable for a while before stay stitching!
Your stitch length should be a 2mm straight stitch – so not a zig zag stitch! – and can be shortened as you start and finish the line of sewing, or you can sew a back stitch each end.
Now for the importance of directional stitching when sewing your stay stitching!
Stay Stitching Necklines
For both a v-neck and a curved neckline, you'll want to sew from the shoulder down to the centre front and centre back, then stop and snip the fabric, before repeating from the opposite shoulder to the centre front and centre back.
Never sew from one shoulder to the other as you may well distort the fabric in that direction as you sew.
Deep V necklines will also need stabilising, but you may find that they need more than stay stitching!
On the longer sections you may want to sew stay tape as a stabiliser along with your stay stitching to prevent gaping, and then reinforce the corner of the V neckline with stay stitching too.
Stay Stitching Armholes
Armholes are also prone to stretching and will need staystitching, even if you are attaching a sleeve!
The sewing direction is again important! Start at the front shoulder and sew down to the underarm point. Repeat on the back, sewing around and down to the back armhole point.
Stay Stitching Stylelines
If you're sewing a dress or bodice that has stylelines that are not ongrain with the straight grain, then the seam line should first be stay stitched.
I personally also stay stitch the slightly curved seam of a princess seam on dresses and tops.
The decision to do this should be based on how tight or loose the weave of the fabric type is as the looser the weave, the more likely it is to stretch out and distort.
Stay Stitching Facings
If the pattern pieces that the facing will be attached to has a line of stay stitching, then you need to also sew a line on the facing. Otherwise you may end up with two pieces that should seam together perfectly, but don't!
You now know how to properly apply staystitching to the most common garment areas so that your future projects will have a wonderful finish.
Remember that stay stitching can be sewn by hand or on a sewing machine so do take advantage of this technique to get a beautiful finish to your next project, and let me know how you get on with your efforts in the comments below!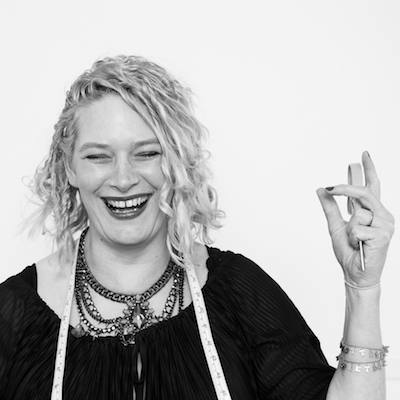 Eve Tokens (aka The Creative Curator) is a fashion designer, creative pattern cutter and sewing pattern designer.
Eve graduated with a 2:1 in Fashion Design from the University of The Creative Arts in the UK, has a BTEC diploma in Creative Pattern Cutting, a Foundation Degree in Art & Design from Wimbledon College of Art and gained extensive experience in the fashion industry by interning and freelancing for London based fashion brands – Hardy Amies, Roland Mouret, Peter Pilotto and others.
As well as running her own small sustainable fashion brand, Eve has more than 25 years experience sewing and making clothes for herself and family members.