When it comes to sewing, and investing in a machine (or two) of your own, you have many different types of sewing machines to choose from.
Not all sewing machines are equal however, with some types dedicated to more specific tasks while some sewing machines are workhorses that can do a little bit of everything!
Here's a look at the different types of sewing machines for both domestic sewing and industrial sewing.
If you're completely new to sewing, do check out my guide to buying a sewing machine – it'll help you think about what you really need from a home sewing machine so that you don't buy something that will just overwhelm you. And if you think a second hand machine is more for you, I have this guide on how to buy a used sewing machine!
Note: Some of the links in this post are affiliate links, which means I may receive a commission if you make a purchase at no further cost to you.
4 Categories Of Sewing Machine?
So, to start with there are four categories of sewing machine based on how they work:
Manual
Mechanical
Electronic
Computerized
Manual Sewing Machines
A manual sewing machine is one that is hand cranked, like an old Singer 99. There's no foot treadle, no power, just the use of your hands to crank the wheel and guide the fabric.
Mechanical Sewing Machines
These are the most basic type of sewing machine. Yes they have a foot treadle and use electricity to power them, but the functionality available on these machines is very limited.
You'll control the stitch type, stitch length and more using a selection of knobs and dials.
I have a fab mechanical sewing machine – the Bernina 1008.
The great thing about mechanical sewing machines is that other than electricity to power them, everything else is controlled manually by you, giving you lots of control.
Electronic Sewing Machines
These machines are like a hybrid of a mechanical machine and a computerized one, with most settings selected by buttons.
You'll also find an automatic sewing machine can:
Thread your needle automatically
Sew more varied stitch types
Automatically adjust tension
And much more!
Computerized Sewing Machines
Computerized sewing machines cover everything that automatic machines offer, but add even more:
Have software installed allowing you to create designs
Have touchscreens rather than buttons
Have a stop / start button rather than a foot peddle
Now that we've covered the difference between mechanical vs electronic vs computerized sewing machines, let's more onto the differences between domestic and industrial sewing machines!
Difference Between Domestic Vs Industrial Sewing Machines
The main difference between these two machine types comes down to the power and functionality.
A domestic sewing machine doesn't need to be as powerful or efficient if the person using it is only sewing for themselves.
At the same time, they're likely to want a variety of features included in the one machine due to a possible lack of space.
On the other hand, someone who needs sewings machines that run faster, with limited functionality, will be better off with an industrial machine.
Let's look at both in more detail!
Advantages Of Domestic Sewing Machines
If you're new to sewing, or only in need of a sewing machine for creating samples rather than actual clothing to sell, then a domestic sewing machine is probably perfect for you.
These machines sew at a slower pace than industrial machines, giving the sewer more control.
Typically, a standard domestic sewing machine will be able to sew:
Straight stitch
Zigzag stitch
Buttonholes
A range of decorative stitches
More advanced domestic sewing machines might also include the option to sew with:
A twin needle
A walking foot
These machines are great for someone who wants a machine that can do all the things with limited power and space.
And then there are also more limited domestic sewing machines, such as the old hand-cranked Singers, which are considered more of a domestic machine than industrial, with just a lockstitch option and the needle turned by hand!
Advantages Of Industrial Sewing Machines
On the other hand, we have industrial sewing machines, also referred to as flatbed machines.
They sew fast, and they sew good, but they can only sew ONE of the following:
Straight stitch (flat lock machine)
Overcast stitch (serger / overlocker)
Buttonholes (buttonhole machine)
Cover stitch (overstitch machine)
Embroidery (embroidery machine)
As you can see, these are serious machines with only one stitch option, and are dedicated workhorses.
Let's look at the different types of sewing machines available as both domestic machines and industrial versions too!
15 Sewing Machine Types
Right. Let's look at all the twelve types of machine in more detail, so you can make a more considered decision when investing!
Domestic Sewing Machine
Mini Sewing Machine
Industrial Flatbed Sewing Machine
Overlocker Sewing Machine
Leather Sewing Machine
Cover Stitch Machine
Twin Needle (Top Stitching) Machine
Button Sewing Machine
Buttonhole Machine
Bar Tack Machine
Baby Lock Machine
Blind-Stitch Machine
Merrow Perl Machine
Embroidery Machine
Quilting Machine
Domestic Sewing Machine
As mentioned earlier, a domestic sewing machine can do many of the things that other machines on this list can only dream of.
Some domestic sewing machines can:
Sew standard seams with straight and zigzag stitches
Work with woven and knit fabrics
Sew through several layers of fabric
Have some decorative stitch options
Create topstitched seams
Attach buttons
Sew buttonholes
Thread (and cut thread) automatically
Be used to create an entire sewing project
Though they can't fully overlock a fabric edge, they can be used to zigzag and protect the fabric from fraying.
While they can't finish jersey like a dedicated coverstitch machine, they can often use a twin needle to replicate the look of both coverstitch and topstitch machines.
Overall, a standard domestic sewing machines is a great investment for anyone that loves to sew and lacks space!
Top Three Home Sewing Machines:
Mini Sewing Machine
While technically these do count as sewing machines, they're very basic, not very strong and the only thing in their favour is the size and portability – great if you're going on holiday and want to sew something VERY basic and / or do any minor mending.
Industrial Flatbed (Flatlock) Sewing Machine
An industrial flatbed sewing machine is my favourite kind of machine! Super fast, and with just one stitch type – lockstitch! – I love an industrial machine!
In fact, the only industrial I've ever owned was a Brother industrial machine that I bought secondhand as a student, and it turned out to be one that was used for sewing samples in Alexander McQueen's studio once upon a time!
I loved that machine – it was a real workhorse! – and regret having given it away when I left London.
Anyhow, an industrial flat lock machine can:
Sew a straight stitch
Sew fast
Sew heavy weight fabrics like canvas and leather
Sew fabrics with some stretch
Sew multiple layers of fabric
Sew bags and garments quite easily
It cannot sew zigzag or overlocked edges, so fabric edges will need to be finished first or sewn as enclosed seams.
It cannot sew buttonholes or decorative stitches at all.
These machines are very limited in functionality, but they make up for that in speed and strength!
Overlocker Sewing Machine
You can buy an overlocker / serger as a domestic machine but also as an industrial machine.
Overlockers allow you to:
Finish raw edges of woven fabric
Seam and finish knit fabrics
Most domestic types come with space for up to four threads, but can be set up for three.
Industrial overlockers can come with space for up to five cones / threads.
3-Thread Overlockers / Sergers
Usually a three thread overlocker has one needle threaded up and two looping threads.
This is used for fabric edge finishing, like the raw edges of denim when preparing the fabric for welt seams.
4-Thread Overlockers / Sergers
These overlockers use two needle threads and two looping threads, using four cones in total.
A four thread overlocker is used to seam and finish in one, taking away the need for a flat lock machine.
5-Thread Overlockers / Sergers
A five thread overlocker has two needles threaded up and three loop threads, totally five cones.
Works great for knit fabrics, with a chainstitch seam and an overcast fabric edge.
I have a wonderful domestic overlocker – the Brother Lock 1034D – which is a 4-thread overlocker and works well on both woven and knit fabrics.
Three Of The Best Overlockers / Sergers:
Leather Sewing Machine
While a flatbed machine like the Brother I had are very fast and capable of working with leather, if you plan to work only with leather – and leathers of various thicknesses! – then you'll probably want to invest in a dedicated leather sewing machine.
Motors on dedicated machines have more power, which will let you sew various thicknesses and more layers together.
You will often find that a leather machine has a walking foot attached, allowing more manoeuvrability when sewing garments, shoes and bags, and lessening the 'stick' and 'slip' factor of working with materials that have no grain.
Dedicated leather sewing machines can:
Sew through several layers of leather
Sew thicker skins of leather
Work with other non-woven or -knitted materials like suede, latex, PVC, laminated materials and vinyls
Many pieces in my graduate collection were sewn using a dedicated leather sewing machine, and not because of the amount of leather.
My collection featured lace fused between two layers of latex/PVC and a regular Brother flatlock machine just couldn't handle it. I ended up with seam puckering, slipped stitches and trashed samples despite using a teflon foot and footplate.
The walking foot on the leather sewing machine made all the difference.
Do pop over to read all about the best leather sewing machines here!
Cover Stitch Machine
This machine type is now available as a domestic sewing machine as well as an industrial version!
These machines are solely intended to work with knit and stretch fabrics. They will allow you to:
Sew fabrics together
Finish raw edges
Finish hems
Create a decorative finish on the right side of the garment
If you look at the knitwear in your closet, you'll find that a majority of those clothing items have been finished with a cover-stitch machine.
Best domestic cover stitch machines:
It's important to point out that domestic coverstitch machines often look like overlockers / sergers, but are different in that there is no blade on a cover-stitch machine, and the stitches are created differently to those looped stitches on an overlocker.
Twin Needle (Top Stitching) Machine
This is a machine that is only found as an industrial sewing machine. It is used in factories for faster mass produced garments, and created a topstitched affect.
Essentially it is a machine with a twin needle and is used to create parallel lines of stitching.
It can be used for:
Button Sewing Machine
Used as an industrial setting, the dedicated button sewing machine only sews flat buttons onto different garments.
Definitely not one for the home sewer, and I see little need for one unless you own a garment manufacturing factory.
Buttonhole Machine
A dedicated buttonhole machine would be considered an essential investment for a shirt maker.
Imagine all the buttonholes needed on a shirt – a buttonhole machine would definitely speed up the process right?
Buttonholes can be created as:
Straight buttonhole
Keyhole buttonhole
Bar Tack Machine
This is another machine that is dedicated to just one function of clothing manufacturing – the bar tack!
What is a bar tack I hear you ask?
A bar tack, also written bar-tack or bartack, refers to a series of stitches used to reinforce areas of a garment that may be subject to stress or additional wear.

Wikipedia
Some areas where we usually see bar tacks applied are:
Buttonholes
Belt loops
Trouser fly
Pockets
So, if you're likely to be manufacturing lots of jeans and trousers, a bar tack machine would be probably be a handy sewing machine to purchase!
Baby Lock Machine
This type of machine is really used as a seam finishing machine, creating a beautiful overlocked edge on fabrics that have no hem turned under.
A baby lock machine can be used with both knit and woven fabrics, though the latter should be fine / lightweight for the best results.
Typically the stitches created on a baby lock are very tightly stitched with a small stitch length, so the the fabric edge is densely wrapped and finished.
Blind-Stitch Machine
Nowadays we can use a blind stitch on a domestic machine, which is a great way for finishing hems.
However, there are also dedicated industrial blind-stitch machines which will not only work for your blind stitching your hems, but also anywhere else where you don't want the thread to be seen on the right side of your fabric!
I've only used this machine once – at the zero waste dress workshop in London a couple of years ago – and only see the value of investing in this machine if you really hated hand sewing blind hems when making many garments, perhaps under a small independent design label..
Merrow Perl Machine
This industrial sewing machine creates a beautiful narrow rolled hem using a straight stitch that is very tight.
It can be used for woven, knitted and non-woven fabrics that are no heavy than a mid weight fabric.
The Merrow is used for lingerie and evening wear in the fashion industry.
Embroidery Machine
We're at the penultimate sewing machine type – the embroidery machine!
This is another type of machine that you'll find both domestic and industrial versions of, and there are usually two types of embroidery machine:
Digital embroidery machine
Free hand embroidery machine
So, what's the difference between the two?
Digital Embroidery Machine
This type of embroidery sewing machine has software installed that will allow you to create your own embroidery design
You can add a graphic or photo and create an embroidered version of it. Quite fancy!
These machines can range from a couple of hundred $/£/€ to thousands, depending on the size and complexity.
Free Hand Embroidery Machine
This is often a more favoured embroidery machine for home sewers, as it is less rigid and allows for more creative control (in my opinion) than a digital embroidery machine.
You secure and tauten your fabric with a dedicated hoop or frame and then embroider away!
If you find that the selection of decorative stitches on your domestic sewing machine is quite limited, then you may want to invest in a dedicated free hand embroidery machine.
Three of the best embroidery machines are:
Quilting Sewing Machine
Quilting machines are a type of sewing machine used to create a quilted effect on fabric. They are quite basic machines in terms of stitch availability.
Quilting machines usually have a significantly longer table, which is often referred to as a 'longarm' machine.
Three of of the best readily available quilting machines are:
Different Types Of Sewing Machines
There you have it. An in-depth guide to the various types of machines that can be used to sew at home or in the garment manufacturing industry.
Whether you're a home-sewer ready to invest in a machine to sew your own clothes, or a fashion designer planning on investing in more dedicated machines for specific sewing tasks, this guide should have cleared up any confusion you have over the different types of sewing machines available on the market today!
Further Sewing Machine Guides:
If you loved this and want to learn more about sewing machines, I have the following articles that may be of interest: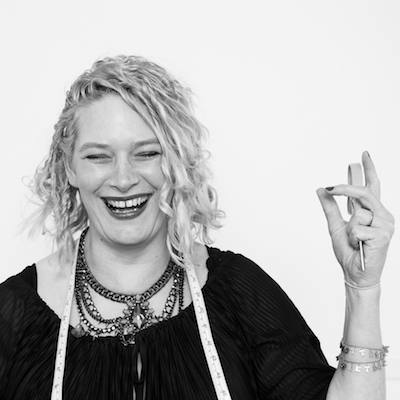 Eve Tokens (aka The Creative Curator) is a fashion designer, creative pattern cutter and sewing pattern designer.
Eve graduated with a 2:1 in Fashion Design from the University of The Creative Arts in the UK, has a BTEC diploma in Creative Pattern Cutting, a Foundation Degree in Art & Design from Wimbledon College of Art and gained extensive experience in the fashion industry by interning and freelancing for London based fashion brands – Hardy Amies, Roland Mouret, Peter Pilotto and others.
As well as running her own small sustainable fashion brand, Eve has more than 25 years experience sewing and making clothes for herself and family members.