Today we're going to take a look at my recommended list of different measuring tools in sewing, which seem to get covered far too infrequently, but play a very important role in our sewing projects turning out well!
When I first started sewing – back in the late 1980's – I only had the tried and tested tape measure which was given to me by my gran.
It was a battered old thing that she had used, slightly sticky from where the coating had worn off over the years, but it was my gran's, so I loved it.
Thinking about it now, that tape measure was probably massively stretched out too as my gran had had it for so long and was quite thrifty.
I only discovered other sewing tools for measuring some years later when I did my fashion design degree and was supplied with a list of required tools! Before then, I kind of just stuck to the tried and tested!
Note: Some of the links in this post are affiliate links, which means I may receive a commission if you make a purchase at no further cost to you.
List Of Different Measuring Tools In Sewing
Although that university list was useful, it was only the act of popping into a dedicated store – I went to the London based Morplan at the time – and seeing all the possible measuring tools that helped me decide what else I might need.
So here's an overview of the different measuring tools for you to consider, and I'll write more thoroughly about each of these tools further down!
Tape Measure
Meter Ruler / Yardstick
Ruler
Patternmaster or Fashion curve
Hemline gauge
Buttonhole gauge
Flexible curve
Grading ruler
Folding ruler
L-Square Ruler
Now, you won't need all of these measuring tools when you're sewing your own clothes – this is just an overview of the measuring tool options available to you!
Let's take a closer look at each one and how they can help you when measuring your sewing projects!
1. Tape Measure
The ubiquitous tape measure. Without a sewing tape measure, we would get nowhere fast when it comes to sewing.
These tape measures are made of fabric and then coated, to last longer and prevent them from stretching out.
We generally use these tape measures for everything when it comes to sewing. I use it to:
Measure my body
Measure the pattern pieces
Measuring points on garments that I am cloning into patterns
Measure seam lines on my own patterns to make sure they match
Checking the pattern piece is positioned accurately on the correct grain line
I try to keep at least three tape measures around, as I have a habit of putting them down and losing track of them, but I always use the same tape measure for a project, to make sure that the measurements I'm taking are consistent.
I recommend this tape measure if you need a new one.
2. Meter Ruler / Yardstick
In the UK we call these thinks a meter ruler because, it's a meter in length, while in the US and other spots around the world it is referred to as a yardstick.
I love the old school wooden versions, but as I often use my rotary cutter along the length I have been using a metal version for a few years now to prevent damage to the meter ruler.
A meter ruler or yardstick is possibly only useful to you if you plan on adjusting sewing patterns yourself and will need a ruler longer than 45cm.
3. Ruler
Yes. A regular old ruler, like the ones we used in school! A simple ruler is great for drawing straight lines on patterns, or planning out pocket placement.
To be fair, although I do have a separate ruler, I mostly use my pattern master or fashion ruler instead, but if you did want to add a rule to your measuring tools for sewing collection, I'd recommend this ruler.
4. Pattern Master or Fashion Curve
This is the one measuring tool I have bought several of over the years, other than the tape measure of course!
I even asked my other half for the updated version of the pattern master – called the fashion curve – because I use these constantly! (I'm not such a fan of the fashion ruler though.)
What is a pattern master? It's a plastic ruler, great for all sorts of measurements, mostly for pattern making.
I use it to:
Find the bias of my fabric
Add seam allowances to patterns
Measure the curves of armholes and necklines in case I want them bigger
Mark in seam allowances
The list is endless on how a pattern master or fashion ruler can be used.
5. Hemline Gauge
I have a hemline gauge but being one of those 'make it up as I go peeps' I typically eyeball it or use my pattern master.
If you don't have the latter, and are not ready to just wing it, this hemline gauge tool is for you!
It will help you to turn over the right amount of fabric for your hemlines, be it on skirts, trousers, pants or sleeves.
It would be better to use this rather than the tape measure as the hem gauge is less flexible, so you'll likely to have a more accurate hemline!
I also use it as a tool to measure the diameter of buttons when sewing buttonholes on my sewing machine!
6. Buttonhole Gauge
I no longer have one of these – it's possibly still in storage – so I actually use my hemline gauge when I need to mark in buttonholes.
A buttonhole gauge is flexible, and works by expanding to the total length of the area needing buttons, with divisions for marking in the buttons and button holes equally.
It's great for anyone that just hates working out the math for button hole placement!
7. French Curve
If you have a pattern master or fashion ruler you won't need a French curve ruler, as it's kind of built in already.
But for those who don't, this is the curved tool for you.
As you can guess, rather having a straight edge like a traditional ruler, the French curve has two curved edges. This is great if you need to measure and adjust a curved part of a sewing pattern.
A plastic french curve is a great tool, but I myself have and use a metal vary form version which I love.
You can learn more about the best French curve rulers here!
8. Flexible Curve
A flexible curve is a recent addition to my measuring tools for sewing collection.
I didn't need it at uni and it is only as I am getting older that I have realised it's a very handy tool to have for measuring my new lumps and bumps.
A flexible curve allows me to be more accurate with measurements on curves – such as my crotch – for those times when I am creating more fitted trousers / pants.
9. Grading Ruler / Set Square
I have a large set square which comes in handy as a grading ruler – it's basically a hard plastic triangle.
And I also recently bought these smaller grading rulers which I find perfect for measuring small amounts or when grading patterns up or down a little.
These are the same Flexi-rulers that quilters use too when cutting out their quilting blocks.
10. Folding Ruler
I'm not sure I'll ever really use a folding ruler.
I love the idea – a ruler that folds down and fits in my sewing bag would be fab – but I suspect the 'glitches' I'd get on a drawn line to cutting line when using it might bother me.
I like to have a really straight edge.
If you're not as fussy / OCD as me, check out this folding ruler – it might just be the best one available!
11. L-Square Ruler
I recently added an L Square ruler to my selection of measuring tools. I find it really useful for measuring my other half when drafting menswear patterns for him.
I use it at the neck – should I create a tutorial on this pattern drafting technique for you? – and its perfect for creating the initial 'squared' neckline before adding in curved lines.
My L Square ruler is a heavy black version (I wanted metric measurements on the outer edge) but this clear plastic L square ruler has inches on the outer edge if that suits you more!
My Top 3 Favourite Measuring Tools In Sewing?
From the list above it's probably clear which are my favourite measuring tools in sewing… but just in case, here's my top 3…
Alrighty, any questions, do let me know. I hope you've found this post helpful and that you're now able to stock up on useful measuring tools for your own sewing kit!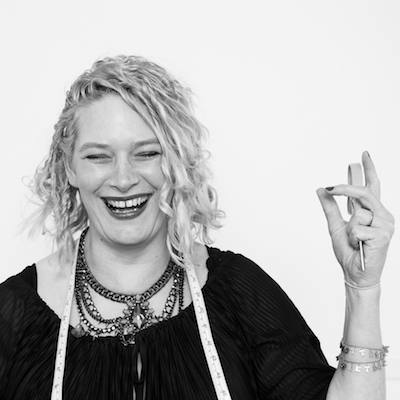 Eve Tokens (aka The Creative Curator) is a fashion designer, creative pattern cutter and sewing pattern designer.
Eve graduated with a 2:1 in Fashion Design from the University of The Creative Arts in the UK, has a BTEC diploma in Creative Pattern Cutting, a Foundation Degree in Art & Design from Wimbledon College of Art and gained extensive experience in the fashion industry by interning and freelancing for London based fashion brands – Hardy Amies, Roland Mouret, Peter Pilotto and others.
As well as running her own small sustainable fashion brand, Eve has more than 25 years experience sewing and making clothes for herself and family members.