If you've ever looked made a clothing sewing pattern, you've dealt with pattern ease in sewing patterns. It is a term that is thrown around quite a lot and if you were to visit any sewing Facebook group and mention that the pattern you bought, cut out and sewed up fits nothing like it should, people will tell you it is 'because of pattern ease'.
Pattern ease can be one of two things:
A tracing material used in sewing and other crafts
The amount of 'space' for breathing, moving and design that is added to a sewing pattern.
In this article, we're talking about the second option!
What Is Pattern Ease?
Pattern ease is the amount of 'ease' added during pattern making to a sewing pattern and it is done for a variety of reasons.
When fashion brands or sewing pattern companies set up their brands, they have their target customer in mind, and they use this target customer's measurements in order to create something like a moulage – a second skin if you like – of their target customer.
What Is A Moulage?
I would describe a moulage as the second skin of your body, just like a cast. A moulage is made from fabric, and the plan is for it to fit as close to your body as possible. There is no wearing ease included, nor is there any design ease. And a moulage is usually created in person by draping fabric on the body, draping on a dress form, creating a flat pattern using your exact measurements. With no ease.
When this moulage is made up, it fits very close to the body it was based upon, and the person wearing it is mostly unable to move.
There is no wearing ease nor is there any design ease.
And when you take that moulage and lay it flat upon a table, you can see all the different angles, and lines of that human body. It really is a body blueprint!
What Is A Sloper?
A sloper is a very basic pattern, with no design details but does have minimal wearing ease added. It is then used to develop patterns and designs!
Slopers and blocks are usually drafted specifically for a garment type:
Bodice sloper
Skirt sloper
Pants sloper
Coat sloper
Each of the above will have a certain amount of wearing ease added in.
You can learn how to draft slopers here!
Moulage Vs Sloper
Just to clarify, in case there is any confusion, when wearing a moulage, you cannot move. There is no ease included and you will feel restricted by the fabric. It is IMPOSSIBLE to pivot your arm at the shoulder or bend at the waist!
The sloper takes the moulage but adds wearing ease to allow minimal movement.
What Is Wearing Ease?
Wearing ease is the amount of extra excess fabric added to the moulage to create a block or sloper.
Is the difference between being unable to move in the moulage to now being just comfortable enough to move. The adding in of pattern ease known as 'wearing ease' changes the name from moulage to block – or sloper – and means that the person wearing it can now wear this rather basic garment, and would be able to move their neck, arms and legs, and twist slightly at the waist.
If wearing ease is the difference between a moulage and a block or sloper, what then is the difference between a sloper and a pattern?
Design ease!
What Is Design Ease?
A good way to understand the effects of pattern ease is by looking at basic garments.
When we add pattern ease to the basic drafted female bodice block we are adding in what is known as 'design ease'!
Consider a button up shirt. The shirt is created from a bodice block, which we know but is significantly looser than a block. The difference added is design ease.
If you were to then take that shirt pattern and start adding ease to that pattern, you'd be creating a shirt sewing pattern that is less basic or 'classic' and more 'design' based, for fashion trends.
Basic vs Classic vs Fashion
Let's consider pattern ease in basic, classic and fashion clothing items.
Basic Fashion Items
Those basic items we buy and wear, such as tee's, basic pants and shirts are considered to be basics when it comes to fashion, and typically they have wearing ease added. This makes them easier to create as patterns, reproduce in fabric and sell as basics.
The shapes are simple, are often sold in generic sizing – XS/S/M/L/XL – and the only way to create something more unique from these basic sewing patterns would be to use an interesting fabric.
Fashion Items
Then there are the fashion items which will have added design ease, style-lines and details to take them from basic to fashionable, based on current trends. These fashion items that won't necessarily stand the test of time, appearing dated within a few seasons.
Puffball dresses, onesies and shirts with ruffled fronts are three great examples of fashion based patterns that can often feel rather dated, unless you do something to the pattern to make it feel and look more contemporary.
Classic Fashion Items
Finally there are those occasions when fashion items – using lots of design 'pattern ease' – have been created so often over the seasons that they slip over to becoming a classic.
The bomber jacket, the trench-coat and Dior's New Look skirt silhouette are all great examples of a fashion item going mainstream across the decades and are now known as a classic fashion item!
These three examples all utilise design ease to achieve their respective shape and silhouette, but have been reiterated so many times over the years that they are now be considered classics.
Like the trend based fashion item, it is often that the classic is simply made more contemporary with updated design details – oversized pockets, chunky zippers are often popular – or more interested fabrics or construction techniques.
Technical Drawings On sewing Patterns
One final way to better understand the pattern ease in sewing patterns is to study the technical drawings that are provided with sewing patterns. These provide great insight into the amount of design ease added; the difference stated between the size measurements and the finished garment measurements is a guide to that particular garment's added wearing and design ease!
The 'size' measurements are based on the in-house measurements for their target customer and the 'finished garment' measurement is usually the brand's 'design ease' added in for the final result.
Now that you know all about pattern ease in pattern making, here are two methods that you can use to create a moulage of your own to then develop into sewing patterns with wearing and design ease!
How To Create A Moulage
Creating a moulage is a great way to start making your own clothes with great fit – you'd use the moulage as the basis for your different slopers / blocks and then develop those further into working sewing patterns.
There are two ways to create a moulage:
Drafting
Draping
1. Drafting A Moulage
The drafting method – using exact measurements – is complex. With every person being different, no two measurements are ever the same, so although you can start your moulage by drafting a pattern based on a standard size chart, you really do need to use your OWN measurements to get an accurate fit.
If you plan on drafting your own moulage, you'll want to work through the accurate measuring guide to ensure you have all the measurements needed.
I will add though that it is very tricky to get this technique right if you are completely new to pattern making. There are many areas for error. So, make sure to test and experiment, but know that it is perfectly normal to not get your moulage right first time.
2. Draping A Moulage
The second method is to take an actual class which will teach you how to drape a moulage.
You can learn how to drape with my Drape & Contour for Beginners online class – in this class you'll learn how to drape a bodice, skirt and corset on a dress form – and I'm always adding new lessons!
You can also take an in-person class, where you'll have someone on hand to help you with possible fit issues, to show you how to alter the moulage etc. It is well worth the time and financial investment!
Of course, there are other ways to create a moulage too – techniques that are more 'hacks' – but once you have a moulage you can go on to develop your slopers or blocks, with just the right amount of wearing ease, and then design ease too!
I hope that has cleared up any confusion about ease in patterns – if you have any questions, do drop them below!
If you'd love to learn how to drape your own patterns, do check out my online course Drape & Contour for Beginners!SaveSaveSaveSaveSaveSaveSaveSaveSaveSave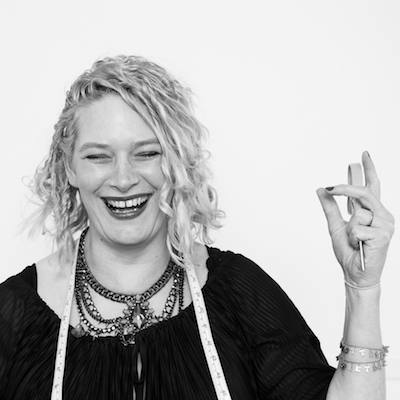 Eve Tokens (aka The Creative Curator) is a fashion designer, creative pattern cutter and sewing pattern designer.
Eve graduated with a 2:1 in Fashion Design from the University of The Creative Arts in the UK, has a BTEC diploma in Creative Pattern Cutting, a Foundation Degree in Art & Design from Wimbledon College of Art and gained extensive experience in the fashion industry by interning and freelancing for London based fashion brands – Hardy Amies, Roland Mouret, Peter Pilotto and others.
As well as running her own small sustainable fashion brand, Eve has more than 25 years experience sewing and making clothes for herself and family members.