You know that a French curve ruler is just one of the many different measuring tools for sewing, but how do you know which is the best French curve ruler for sewing or even how to use one?
In this article I'm going to explain what a French curve ruler is used for, what they're made of, and my favourite three that that are great for beginners and more experienced alike!
Note: Some of the links in this post are affiliate links, which means I may receive a commission if you make a purchase at no further cost to you.
What Is A French Curve Ruler Used For?
A French curve ruler is the name given to curved rulers used in sewing, fashion design and pattern making. They are used to make sewing patterns and to adapt existing curved lines on patterns such as:
Armhole
Contoured dart
Hip line
Neckline
Waistline
It's also great for marking in smooth curves for style lines on sewing patterns and marking in seam allowance as well.
Although it is most commonly called a French curve ruler, this type of ruler is also sometimes referred to as a hip curve ruler, because of how well the curves replicate the natural shape of female hips on patterns.
What Is A French Curve Ruler Made Of?
Most French curves are made from a transparent plastic. Some people print off french curve templates and mount these paper versions onto card. My favourite French curve is made from a flexi-aluminium.
3 Best French Curve Rulers For Sewing
There are many French curve rulers for sewing needs available – but which one is the best for you depends on what you'll want to use it for.
1. Vary Form Ruler by Fairgate
My absolute favourite as a pattern maker and designer is the Vary Form curve ruler from Fairgate. In fact it's one of my most used measuring tools as it helps me to create different shapes with smooth curved lines that aren't broken or 'off' in the way that they are when I use a straight ruler to create the curved line.
My version of the ruler has 1cm measurement marks along the outer curved edge so I also use it occasionally for measuring curved seams – usually when I cannot find a tape measure – but the one I have linked to here is perfect for anyone who prefers the imperial measuring system; it covers 24″ of curves!
There's also this smaller 12″ version for anyone making smaller clothing patterns – though it also works well on armholes.
I consider the Vary Form curved ruler to be an essential tool of mine as a pattern maker and fashion designer.
2. Sew Easy French Curve Ruler
This is the French curve ruler that I used recently when helping a fashion design student prep his portfolio of work. It's a flexible plastic French curve and is really nice to handle.
I like that it is transparent, and has clear measurements for seam allowance marking and grading – something the Vary From I love doesn't have.
3. Dritz Styling Design Ruler
This design ruler from Dritz is another French curve style ruler, though I didn't find it as reliable and sturdy as my Vary Form or the Sew Easy version.
It is however slightly less expensive so for anyone on a budget it would make a great first purchase.
French Curve Set
While the three above options can be bought as individual items, I also see the value in buying a collection of French curves, which is why I've included this set as well. This is a great budget friendly set of French curve rulers similar to the ones I have used and loved over the years.
They do not have any measurements on the rulers, but they are a clear green plastic, and the three French curves cover a range of curved lines you may need.
Final Thoughts On French Curve Rulers
Outside of my pattern master, the Vary Form curved ruler is the one pattern making tool that I just cannot do my work without. It's unbreakable (I've had mine since 2010), works for every need I have and is a great price too.
If you are on a budget, then the Sew Easy French Curve ruler would be the next best thing in my opinion.
I have ordered another curved ruler, which I suspect will be better than the Dritz, but once it has arrived and I've had a chance to review it, I'll let you know!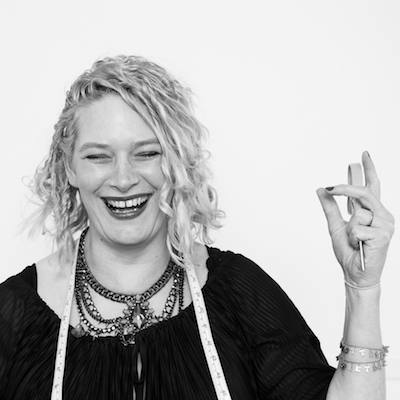 Eve Tokens (aka The Creative Curator) is a fashion designer, creative pattern cutter and sewing pattern designer.
Eve graduated with a 2:1 in Fashion Design from the University of The Creative Arts in the UK, has a BTEC diploma in Creative Pattern Cutting, a Foundation Degree in Art & Design from Wimbledon College of Art and gained extensive experience in the fashion industry by interning and freelancing for London based fashion brands – Hardy Amies, Roland Mouret, Peter Pilotto and others.
As well as running her own small sustainable fashion brand, Eve has more than 25 years experience sewing and making clothes for herself and family members.