Interfacing fabric is a woven, knitted or non-grain type of fabric that is used to reinforce fashion fabric from the wrong side. It's particularly useful for strengthening areas of garments when sewing clothes.
There are different types of interfacing and we'll look at each of them here as well as when you should use each type.
The Different Types Of Interfacing
So, what are the different types of interfacing for sewing?
Much like the different types of fabrics, interfacings can be knitted, woven and non-grain. They also can be classified as fusible interfacing or sew-in interfacing (also called non fusible interfacing).
Lets start with the second part first!
Fusible Interfacing Vs Sew In Interfacing
The difference between fusible and sew in intefacing is in the method of application.
Fusible Interfacing
This interfacing types has an adhesive on one side that melts when heat is applied, allowing the fabric part of the interfacing to bond with the fashion fabric it is being applied to.
It is used throughout ready to wear fashion and favoured by home sewers due to it's speed.
When applying this type of interfacing, it is recommended to use a pressing cloth with more delicate fabrics to prevent heat damage from your steam iron.
Sew In Interfacing
This interfacing is used by mounting it to the fashion fabric before the garment seams are constructed. This method is used more in couture, though home sewers who've been sewing for a long time also seem to prefer this method.
Woven Vs Knitted Vs Non Grain Interfacings Vs Fusible Web Vs Fusible Fleece
Now we move onto the construction method of the various interfacing types. All of these are available as fusible and sew in options.
Woven Interfacing
Woven interfacing is similar to woven fabrics – it has a visible warp and weft – and can be fusible or sew in.
Woven interfacing should be used with woven fabrics for the best results, though it can also be used on non-grain, non-stretchy fabrics too.
I find that woven interfacing is inherently stronger that knitted or non-grain due to its woven structure, which is why it should not be used on knit fabrics – unless you wish to remove all stretch factor from the fabric! – as woven interfacing will prevent it from stretching.
As well as specifically created woven interfacings, you can also use fabrics like organza, organdie and hair canvas.
Knitted Interfacing
Knit interfacing is similar to knit fabric, though not quite as stretchy. It works by allowing knit fabrics to maintain their drape and stretch elements with minor support.
Using a knit interfacing is great if the knit fabric you've chosen to use has high stretch and low recovery as the interfacing will minimise the stretch.
Non Woven Fusible Interfacing
I love non woven fusible interfacing! It's feels a lot like paper, and I use it for contouring on the stand when creating very close fitted designs.
It also works well for me when applied to materials like leather, when I need to apply a little more structure for bags and purses.
Fusible Web
I first discovered fusible web when interning at the Roland Mouret studio after my fashion degreee.
Also known as Bondaweb, fusible web is a layer of glue created to resemble a web. It often comes with a layer of paper to stop it sticking together.
I used it at Roland Mouret to bond two fabrics together, specifically, very fitted knit dresses.
The technique was called 'araignée' meaning 'spiderweb', and I'll explain how to use it later on!
You can learn how to fuse fabric together here!
Fusible Fleece
This one is used more in quilting than garment sewing, but fusible fleece is a soft interfacing with loft. It has glue on the one side, like several other interfacings covered here, and so can be used to add a little structure and warmth to a garment.
Do Interfacings Come In Different 'Weights'?
Yes, and the weight you choose to use will depend on the effect you want to achieve.
Lightweight interfacing – provides minimal support
Medium weight interfacing – a good all rounder, perfect for collars, waistbands etc
Heavy weight interfacing – used for heavier / thick fabrics but also if trying to get a less structured fabric to be more structured
Can I Skip Interfacing?
Of course you could, but any sewing pattern recommending interfacing is doing so for a reason – because it will help stabilise that particular area of the garment when sewn.
If you want a more professional finish to your hand sewn clothing, then skipping interfacing isn't an option.
What Is Block Fusing?
Block fusing is when an entire piece of fabric is fused with fusible interfacing rather than an individual pattern piece.
How Do I Choose Interfacing?
Choosing the right interfacing for the job is important. This section will help you decide which is best for your next project!
Choosing Based On Fabric Weight
Always remember that the weight of you fashion fabric is the most important consideration, followed by the fabric types (woven, knit, non-grain):
Sheer fabric (woven) – use organza or organdie as a sew in as it will allow the main fashion fabric to retain its sheerness.
Lightweight fabric (woven) – use either a light weight sew-in, fusible or non-woven interfacing.
Lightweight knit fabric – use fusible tricot
Medium weight woven fabric – use a medium weight woven, fusible, non-woven or even fusible fleece if making outerwear that will be quilted
Heavy weight woven fabrics – use a heavy weight sew-in or fusible woven interfacing
Medium / heavy weight knit fabrics – use a suitable fusible knit interfacing based on the fabric weight and stretch recovery
Tailoring fabrics – use fusible hair canvas to provide the support in tailored garments
Leathers and seudes – use a specific fusible interfacing if possible, otherwise choose a fusible weight based on the leather thickness and desired outcome
Choosing Based On Garment Section
If you're looking to stabilize specific areas of a garment, here are some options:
Buttonhole: fusible is easiest, but a sew-in could also be used, though I personally would avoid teh latter if sewing buttonholes smaller than 2.5cm / 1 inch due to the added bulk.
Collars: buckram, fusible, sew-in and non-grain work well.
Cuffs: again, any of the above for collars are suitable.
Hems: I try to go lighter in weight for hems than my garment fabric, just so that the drape of the fabric isn't altered too much. If you're hemming a skirt, you could use crin (also called, crinoline tape or horsehair braid) to add some strutcture just to the hem.
Necklines: you can use fusible or sewn in, but I prefer to use a fusible tape to add a little stabilization to the neckline, which I was taught at fashion school.
Pockets: while pockets don't necessarily need to be interfaced, pocket openings do, because of the amount of stress put on this area with hands going in and out. Fusible tape works well, but so too does woven tape.
Plackets: whether plackets for buttons to be placed or for cuffs to be attached to, a light or medium weight inetrfacing will be plenty. Consider the fabric weight, and use oragnza / organdie if you garment is sheer!
Seams: stay tape works well on seams that need extra support (you can also use the selvedge of your garment fabric which is woven tighter and is naturally stronger)
Waistbands: this area of a garment takes a lot of wear and tear, so a medium weight interfacing works well for me for things like skirt, trouser and jeans waistbands. If the fabric is particularly lighweight, then I'd go down a level and use lightweight. Either sew-in or fusible will work.
How To Use Interfacing Fabrics
Ok, lets jump into how you use the different types of interfacing fabics!
Woven Non-Fusible Interfacing
Think of it as mounting the fashion fabric on top of this supporting fabric.
Apply it by sewing it to the seam allowance of your outer fabric. Both the fabric and the interfacing should having matching grain lines. Once all sides of the piece have been 'mounted' you can sew it to the connecting pattern piece.
Fusible Interfacing (Knit & Woven)
For this application method, you'll want an iron and a pressing cloth. If using woven, make sure that the grain line is aligned.
Lay the interfacing with the adhesive side down, on top of the wrong side of your garment fabric.
Carefully press – without steam is best! – so that the glue is heated and sticks to the fabric. Keep an eye out for 'bubbling' on some fabric types!
Fusible Web
This is a similar method used above.
Place your fabric right side down on the worktop. Place the fusible web on top, making sure the paper is covering it too.
Apply the iron to the paper, melting the web to the main fabric. Remove the paper, and then place the second piece of fabric wrong side down, on top.
Place the paper or a pressing cloth on top, and apply the heat again. This will melt the adhesive so that it bonds the two fabric pieces together.
See how I fused fabric to leather using this process here.
Non Woven Fusible Interfacing
With this, the grainline of your fashion fabric is irrelant as the interfacing has no grain.
Place your fabric right side down and the interfacing on top. Lay a pressing cloth over the top and then gently apply heat with an iron to melt the adhesive.
If using this interfacing type to contour or drape patterns, you can lay it over your pattern making paper and apply the heat, to create your pattern pieces!
Now that you know all about interfacings and how to use them, be sure to check out my guide on the different types of fabrics and my guide on sewing with knitted fabrics too!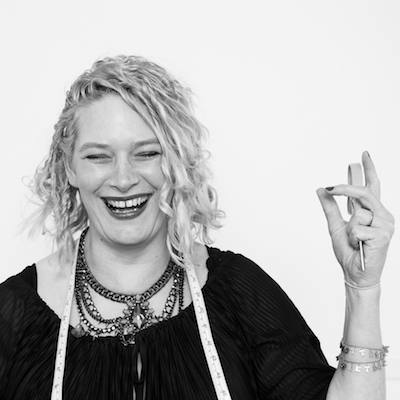 Eve Tokens (aka The Creative Curator) is a fashion designer, creative pattern cutter and sewing pattern designer.
Eve graduated with a 2:1 in Fashion Design from the University of The Creative Arts in the UK, has a BTEC diploma in Creative Pattern Cutting, a Foundation Degree in Art & Design from Wimbledon College of Art and gained extensive experience in the fashion industry by interning and freelancing for London based fashion brands – Hardy Amies, Roland Mouret, Peter Pilotto and others.
As well as running her own small sustainable fashion brand, Eve has more than 25 years experience sewing and making clothes for herself and family members.