Many people worry about sewing sleeves, and yet sleeves are such a great way to really make a sewing pattern or existing garment even more unique!
Whether you choose a short one like a cap sleeve or a longer and more dramatic bishop sleeve, the different types of sleeves used in fashion really do have the power to transform a garment from simple and functional to stunning and show stopping!
A basic fitted dress with a simple grown on cap sleeve will look very different next to the same dress with dramatic full length bishop sleeves.
Or take a blouse and create it in denim with an inset yoke sleeve for something interesting and fun, or make it in chiffon and add a flutter sleeve for something light and flirty.
And then there is the heavily structured look of the 1980s, when shoulder pads were added to anything with an armhole for that 'power' look!
The choice of sleeve and fabric really can have a dramatic effect on any garment that you plan to sew!
Sleeve Terminology
Before we get started with types of sleeves and sleeve styles, let's have a quick look at sleeve terminology:
Sleeve cap – the sleeve cap is the top part of the sleeve, curving from the front underarm point to the back underarm point.
Cap height – the cap height is the measurement from the bicep to the center of the sleeve cap, which would be where the shoulder line meets when sewn together.
Wrist – the part of the sleeve which sits on the wrist of the arm.
Elbow – this point on the sleeve is level with the elbow.
Bicep – the bicep is usually the widest part of the sleeve, where the armhole meets the side seam.
Sleeve ease – there is always a little extra allowance at the elbow and biceps, so that there can be more movement in the arm, and this is known as sleeve ease.
Cap ease – the difference between the armhole measurement and the sleeve cap is called 'sleeve ease'.
Grain line – usually running along the centre of the sleeve from the wrist at the bottom up to the top of the cap.
Two Types Of Sleeves
Let's first talk about the different types of sleeves!
When it comes to sewing and pattern making, sleeve types fall into two categories:
Set in sleeves
Extending sleeves
Within each of these sleeve types there are many sleeve styles! Let's take a look at the set-in sleeve first, before expanding into the extending sleeve options.
What Are Set-In Sleeves
So what makes a 'set-in' sleeve different from an extending sleeve?
A sleeve that is set-in – sometimes referred to as an inset sleeve – is attached to a hole; the armhole. This means that the shoulder seam and the side seam of a garment should be sewn together first for there to be a hole – unless there's some serious creative pattern cutting taking place! – which you will then 'set' a sleeve into.
Depending on the sleeve being sewn, the sleeve cap will often have extra fabric – known as cap ease – which needs to be gathered slightly and eased along the sleeve head, so that the measurement of the sleeve cap is equal to the measurement of the armhole. This also creates a nice fit over the shoulder tip.
It probably sounds quite complicated, but I promise you that it just takes a little practise to get the hang of setting in sleeves.
You also need to consider the 'sleeve pitch', which is the term used to make sure the sleeve is 'hanging' at the right angle when it is set in. While it is a consideration for any garment using a set in sleeve, it is particularly noticeable if you get it wrong on tailored garments!
There are many types of set in sleeves, but here are nine examples which I'll expand upon further down:
Bell sleeve
Bishop sleeve
Cowl sleeve
Lantern sleeve
Leg of Mutton sleeve
Petal sleeve
Puff sleeve
Spiral sleeve
Bell Sleeve
A bell sleeve is a flared type of sleeve and is usually flared from anywhere below the elbow down to the hem.
Bishop Sleeve
A bishop sleeve can have a small or large amount of fabric gathered in at the hem and is more fitted at the top of the sleeve.
Butterfly Sleeve
Similar in look to a bell sleeve, the butterfly sleeve is cut much shorter, finishing at the bicep of a sleeve.
Cowl Sleeve
Cowl sleeves can be made as an extended sleeve (like a kimono or batwing sleeve with extra fabric to get the draped cowl effect) or as a set-in sleeve. The cowl is again created with extra fabric.
Lantern Sleeve
Slim fitted from the sleeve cap down to the wrist, a lantern sleeve then flares out and is gathered back in at the wrist.
Leg of Mutton Sleeve
I think of a leg o'mutton sleeve as being a bishop sleeve in reverse, with the volume up at the top of the sleeve rather than lower down near the wrist.
Petal Sleeve
The petal sleeve – also often called a tulip sleeve – is a sleeve which is usually no longer than elbow length, and is formed with 'petals' overlapping at the sleeve cap.
Puff Sleeve
I love a good pouffy sleeve! This sleeve style can add so much drama to a garment. You can add in small amounts to the pattern to create a gentle puff amount, or go full on and create a super dramatic puff sleeve!
I also have this tutorial on how to draft a puff sleeve pattern and this puff sleeve sewing tutorial too!
Spiral Sleeve
I recall being in my final year at fashion school and being shown how to draft a spiral sleeve by our pattern cutting tutor – such fun! A spiral sleeve is a sleeve that has been created by making the original sleeve pattern into a spiral – known as spiral cutting!
It can be fitted to the arm, or have some volume.
What Are Extending Sleeves
There are a lot of sleeves which are sewn without using the set in method. This makes life a whole lot easier for anyone put off by the description of the setting in sleeves method!
The main types of extending sleeves are:
Batwing Sleeve
Drop shoulder sleeves
Kimono sleeve
Peasant sleeve
Raglan sleeve
Shirt sleeve
Just like with inset sleeve types, these extending sleeve types have many styles to choose from as well!
Batwing Sleeve
Another favourite sleeve style of mine is the batwing sleeve! There is usually no seam connecting the sleeve to the bodice, but is instead cut as one with the bodice.
Drop Shoulder Sleeve
A drop shoulder sleeve is used for more casual wear clothing types, common in casual shirts but also other garments like loose fit denim jackets and oversized sweaters.
Kimono Sleeve
Like the batwing sleeve, a kimono sleeve is a 'grown on' sleeve – there are no seams other than the shoulder seam from the neckline, and side seam, unless they have been added in as a design feature.
You can also cut the garment on the fold along the shoulder line which would mean only one seam would be needed – the side seam up to the underarm, and along the inside sleeve seam.
Peasant Sleeve
A peasant sleeve is usually a raglan sleeve, and is gathered in at the neckline with the bodice. The hem at the wrist is then also gathered in as well!
Raglan Sleeve
A raglan sleeve is joined with a seam running at a diagonal from the underarm up to the front and back necklines. It is quite casual sporty look and can be curved, straight or even yoked.
If the sleeve is cut as one piece, it will quite often need a dart at the shoulder for better shaping and fit over the shoulder.
Shirt Sleeve
Shirt sleeves have a dropped shoulder and either feature a large arm hole, or very fitted one, depending on whether the shirt is a casual or more formal fit.
They are usually cut as one piece!
Ways To Modify A Sleeve Design
We've covered the two types of sleeves, and the sleeve styles within them, but you can also use any of the below elements to modify a sleeve design:
Cowl
Cuffs
Flare
Gathers
Gussets
Lengthen
Plackets
Pleats
Puff
Shorten
Shoulder Pads
Tucks
Cowl
A cowl is a draped section of fabric, where an extended piece of fabric drapes down.
Cuffs
Used to gather in the hem of a sleeve, cuffs can be buttoned up to fasten or an elasticated channel.
Flare
Adding flare to sleeve patterns can result in very dramatic sleeve styles.
Gathers
As well as adding volume to sleeves with flare, we can also add gathers to create a more gentle amount of volume in a more equal way too.
Gussets
We add gussets to enable more movement when a garment is worn and the sleeve design would otherwise restrict the ability to move arms with ease.
Lengthen
If a sewing pattern you plan to make has short sleeves, then you can add additional length to change them.
Plackets
Used with a cuff or binding, the placket is used to enable the lower part of the sleeve to open and move the hand through.
Pleats
Used on the sleeve hem near the placket, pleats can also be added to the sleeve cap or the elbow to allow a little more 'space' for movement or as a design feature.
Puff
Adding enough volume in the form of gathers will create puff sleeves – once of my favourite types of sleeve!
Shorten
As well as lengthening existing sleeve patterns, we can shorten them to change how they will look on a garment.
Shoulder Pads
Not all upper body clothing types will suit shoulder pads, but for those that will, adding in shoulder pads is another way to change the design and fit of the sleeve you're working on.
Tucks
Finally, tucks are a more subtle way of adding in a little volume to a sleeve, either at the cap, the hem and even along a sleeve seam!
Different Sleeve Styles
As you've seen above, there are many different sleeve styles and they can be cut as one-piece or two-piece, and have even cobbled out of many pieces!
Sleeves can have fullness at the sleeve head – Leg of Mutton sleeves – or fullness at the hem – Bishop sleeves – and everything in between.
Kimono sleeves can have a low hanging drape where the side seam goes straight into the underarm seam – Dolman sleeve – or minimal drape so the sleeve is cut to fit the arm perfectly, but uses a gusset to aid movement.
We can also use various materials to modify the sleeve shape as well. I have several jackets which use shoulder pads and sleeve heads to get a nice sleeve roll along the sleeve cap. One designer I worked with stitched multiple shoulder pads together for a very extreme power look to his jackets.
Final Sleeve Thoughts
As you've learned during this article, there are different types of sleeves and styles to choose from whether you are sewing your own garments or buying one. Sleeves really can make a difference in how a garment looks, so don't be afraid to experiment with different sleeve types!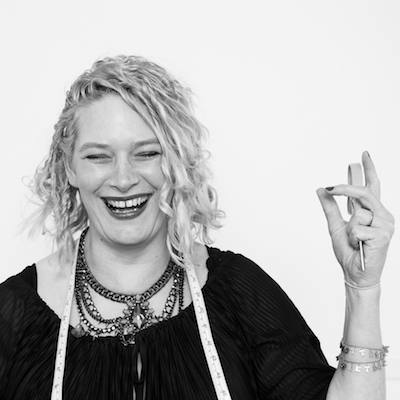 Eve Tokens (aka The Creative Curator) is a fashion designer, creative pattern cutter and sewing pattern designer.
Eve graduated with a 2:1 in Fashion Design from the University of The Creative Arts in the UK, has a BTEC diploma in Creative Pattern Cutting, a Foundation Degree in Art & Design from Wimbledon College of Art and gained extensive experience in the fashion industry by interning and freelancing for London based fashion brands – Hardy Amies, Roland Mouret, Peter Pilotto and others.
As well as running her own small sustainable fashion brand, Eve has more than 25 years experience sewing and making clothes for herself and family members.