In this post we'll look at the different types of pockets; specifically, 8 kinds of pockets! If you'd like a more in-depth overview of pockets, this post on pockets was written a while back and there's the first in this new series on the uses of pockets too!
I love pockets – I make no effort to hide this fact. In fact, back in May 2017 when I participated in a zerowaste workshop in London, one of my greatest moments of joy was creating a fashion designer to pintuck her remain fabric to create some stunning oversized pockets!
In my eyes, pockets can be both wonderful functional additions to a hand sewn garment, but also fun design elements too, that help to live a creation from ok to amazing.
There are three types of pockets (and you can read about those specifically in this older post of mine ← this old post will open in another window!) but within those 'types of pockets' are different kinds, which is what we'll look at a little more closely today!
Note: Some of the links in this post are affiliate links, which means I may receive a commission if you make a purchase at no further cost to you.
Three Types Of Pockets
A quick overview of the three types of pockets:
Now lets take a closer look at some examples of each!
Patch Pockets
Patch pockets are pockets created from a 'patch of fabric' placed on top of a garment, with the wrong side down, and then top stitched into place.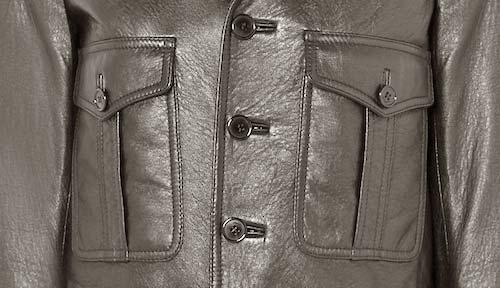 Sometimes the pocket may be 'bagged out', meaning there would not be any visible top stitching unless done so as a design feature.
Within the patch pocket type there are several styles!
Here's one of my favourite patch pockets being sewn – as mentioned above!
Kangaroo Pockets
Found on sweatshirts, the kangaroo pocket is a pocket that covers the front of a sweatshirt.
Usually it is topstitched into place, making it a patch pocket but designers have been known to incorporate kangaroo pockets using more innovative constructive methods.
Coin Pockets
That little pocket in your jeans is also known as a coin pocket and is in itself a patch pocket. These small, almost there patch pockets can be made more distinctive with embroidery or embellishment, as often seen in ready to wear garments.
Accordion Pockets
Known as accordion or bellows pockets, these are usually created with at least one gusset along the perimeter of the 'patch' part, which helps to push the pocket out from the main garment.
These are most often seen on cargo / army style trousers and outerwear garments too.
We will take a more in-depth look at patch pockets later in this series – including patch pocket patterns, a lined patch pocket tutorial, sewing curved patch pockets, how to sew patch pockets with and without pleats and of course some more fun creative patch pocket ideas too – like this one below!
For now though, let's move on…
Inseam Pockets

Inseam pockets are found sewn into seams on our skirts, dresses, trousers / pants and jackets.
They can be added as 'grown on' inseam pockets or as separate pattern pieces attached to a garment section and then both pocket sections sewn together to form the pocket.

Inseam pockets can be sewn in such a way as to appear like invisible pockets, or they can be sewn with interesting details to make them stand out!
Side Seam Pockets
Most inseam pockets are found in 'side seams'. Think the pockets in your pyjama pants or the pockets in a loose fit elasticated waist circle skirt, but can also be hidden discretely in the side or princess seams of garments too!
Jacket In-Seam Pockets
Some though are 'in seam' without being inserted into the seam. These are constructed in such a way that they 'create' a seam through the construction process, like in the jacket image below.
Slashed Or Slanted Pockets
These pockets are what we typically see on jeans and trousers / slacks / pants. More contemporary times have seen slash / slant pockets used as design features on skirts, shirts and dresses too.
I love a good slashed pocket and see huge potential for getting creative with your hand sewn clothes when using up remnants or upcycling older clothes!
Inset Pockets
These are types of pockets that exist because the pocket has been 'set into' the main garment section. Think of the welt pocket on a man's tailored jacket or the jetted pocket on the back of women's trousers / pants and the inside pockets on tailored jackets!
Welt Pocket
A welt pocket is one of the most obvious inset pocket examples when thinking types of pockets. It is a more traditional inset pocket, but is now found in many clothing types from contemporary designers.
Jetted Pocket
Aside from a good, well designed patch pocket, my other favourite pocket type is the jetted pocket. The image below shows jet pockets in a tailored garment.
I first learnt how to sew a jet pocket at university, during our tailoring module, and I loved it. I'm a little rusty, but I will be showing you how to create a jetted pocket of your own during this series!
And so I leave you with this one final image. It is an image of one of my favourite ways to use a jet pocket, and one I will be showing in a tutorial in the next couple of weeks, so do stay tuned! 🙂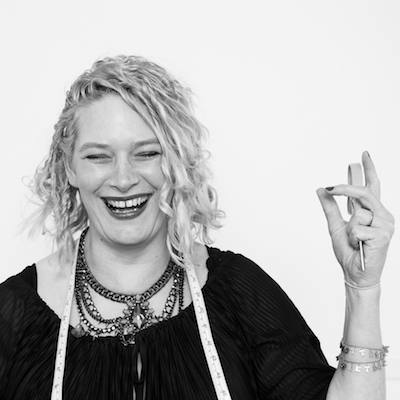 Eve Tokens (aka The Creative Curator) is a fashion designer, creative pattern cutter and sewing pattern designer.
Eve graduated with a 2:1 in Fashion Design from the University of The Creative Arts in the UK, has a BTEC diploma in Creative Pattern Cutting, a Foundation Degree in Art & Design from Wimbledon College of Art and gained extensive experience in the fashion industry by interning and freelancing for London based fashion brands – Hardy Amies, Roland Mouret, Peter Pilotto and others.
As well as running her own small sustainable fashion brand, Eve has more than 25 years experience sewing and making clothes for herself and family members.