After writing this French seam sewing tutorial, I had some questions about sewing a curved French seam. Anyone that has tried will know that it isn't easy. But it is possible, and when you invest the time and patience in sewing a curved French seam, it'll be worth it!
Notes To Consider
In my experience:
A curved French seam should be sewn on a garment that you intend to gently hand wash or have dry cleaned. This is because the seam allowance we will use is almost non existent, and laundering your hand made item in a traditional washing machine will result in damage to your seams.
A curved French seam only works if it is a narrow seam width that you're aiming for. Anything wider than 3 mm will cause distortion.
You'll want to create a curved French seam on a fabric that has some structure to it. While it can be sewn in silky fabric such as chiffon, the sloppiness of the fabric will make it very tricky.
How To Sew A Curved French Seam
So, here's a quick photo tutorial to help you sew French seams on curves!
Step One
Place the fabric pieces wrong sides together, so that the right sides of your chosen fabric are facing outwards.
Step Two
Sew with a small seam allowance along the curved line. In this example I am sewing with a 6 mm seam allowance.
Step Three
Take your fabric scissors and carefully trim the seam allowance down to 2 or 3 mm.
Step Four
Turn the fabric so that right sides are now facing each other.
I use my fingers to gently 'work' the curve of the seam so that it lies flat, and then gently press the fold created with an iron.
The fabric I am using has quite a bit of structure to it, so it took some time to manipulate the curve to sit flat ready for the second line of stitching.
Step Five
Sew your second stitch line 3 mm from the first, making sure that there is no seam allowance caught and protruding to the right side of the fabric.
Step Six
Press the seam gently with and iron, then turn the seam through to the wrong side. Again, use your fingers to gently work the seam, and encourage it to lay nicely. Give it a final press and voila!
My curved French seam would be a lot more beautiful had I used matching thread, but then you would have not been able to see the stitching.
Notice on the image above that there is a slight tufting of fibres? These are the sections which frayed prior to me catching them in the second stitch line!
When your curved French seam looks as delightful as it does in the above photo, you'll want to make them again and again! 🙂
Let me know how you get on sewing French seams on curves! And if you need some help with other seams, pop over to learn about the different types of seams, learn to sew a welt seam here or even a straight French seam sewing tutorial here!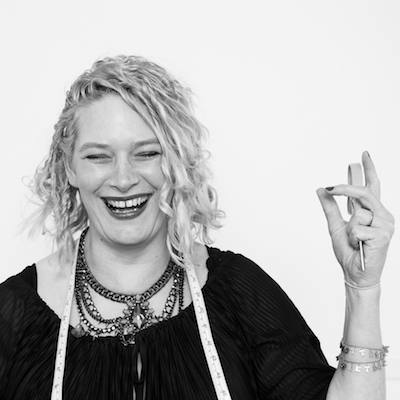 Eve Tokens (aka The Creative Curator) is a fashion designer, creative pattern cutter and sewing pattern designer.
Eve graduated with a 2:1 in Fashion Design from the University of The Creative Arts in the UK, has a BTEC diploma in Creative Pattern Cutting, a Foundation Degree in Art & Design from Wimbledon College of Art and gained extensive experience in the fashion industry by interning and freelancing for London based fashion brands – Hardy Amies, Roland Mouret, Peter Pilotto and others.
As well as running her own small sustainable fashion brand, Eve has more than 25 years experience sewing and making clothes for herself and family members.