Are you wondering what are the different kinds of sewing tools and equipment that a sewing beginner needs? I'm not surprised as the number of options for sewing tools and equipment is vast!
Yet if you're a sewing beginner, unused to anything other than a needle and thread, the variations for all the possible dressmaking tools can seem daunting.
This post is for you and covers sewing tools and equipment pictures and text so that you can feel confident knowing what sewing tools for beginners you need, and how they work too!
Now, before we jump into specific sewing tools, let's take a quick look at two questions I've been asked previously!
Note: Some of the links in this post are affiliate links, which means I may receive a commission if you make a purchase at no further cost to you.
What Tools Are Needed For Sewing?
As I mentioned in the first learn to sew post, there are only five essential tools needed for sewing:
As long as you have these four items, you can start learning to sew! That said, having a wider selection of tools and equipment will help you learn different techniques more easily. I'll cover those further below!
What Are The Tools Used In Dressmaking?
Dressmaking differs from straight up sewing in one key way:
Sewing can be any form of connecting fabric with needle and thread
Dressmaking is the sewing of clothing
To this end, there are some tools used in dressmaking that won't be needed by anyone just looking to learn basic sewing skills for home craft projects.
I'll include a small list below of dressmaking tools that I feel should be part of your sewing kit if you intend to learn how to sew your own clothes!
Now that those two frequent questions are covered, let's dive deeper into the specific sewing tools and equipment that can be part of your sewing kit!
Sewing Equipment
Let's start with the heavy duty sewing equipment first, so that it is out the way.
Do remember that as a sewing beginner, this list is not an essentials getting started list! It is a list simply to educate you on all the options, so that you don't feel overwhelmed at a later point!
Sewing Machines
I did mention back in this learn to sew post that it is really important to not buy the latest machine when you are starting out as a sewing beginner.
A newly released sewing machine will have all the bells and whistles, and between all the buttons, dials and the thickness of the operating manual that will doubtless come with it, you're likely to put the machine back in the box and hide it away in a cupboard. Trust me, this has happened to many people that I know!
Instead, make a list of what you would like to make so that you can have a better idea of what you need the machine to do.
Here are some questions to ask yourself:
Will I sew clothes or simple home items?
Do I want to sew woven fabrics (shirts, pants, bed linen), knit fabrics (comfy clothes like tees and sweatpants) or both?
Do I want to sew simple stitch lines or more extravagant 'designed' stitches?
Will I want to sew heavy fabrics for curtains or bags or just light fabrics for pillowcases and dresses?
Asking yourself these questions will help you know what to look for when you are looking at buying your first sewing machine, so that you don't invest in something that isn't right for you!
Where To Buy A Sewing Machine
Next up, you'll want to find somewhere that sells sewing machines at a store. We can all go online and order a machine, but what happens when it turns up and we unpack it, sit down and try it out only to realise we hate it?
By going to a store, you can try out the sewing machines to see which one you have a feel for. If you end up loving sewing, you'll be best friends with your machine for years, so it's really important to choose based upon how *you* feel using the machine, and not another person's recommendation!
If you are completely new, and do not yet want to invest in a new machine, you can check out thrift stores and charity shops for second hand machines. I mostly only see old clunky versions at the charity shops in the UK – but you may be luckier than me!
When it comes to choosing a sewing machine brand, the ones I have owned and / or used are:
Bernina
Brother
Janome
Juki
Singer
You can also check out the top selling sewing machines on Amazon here to get an idea of pricing.!
These are some of the 'big brands' so you may recognise some of the names on the list. I currently use a beloved old Bernina 1008 and a Brother serger.
What Is An Overlocker
An overlocker – also known as a serger – is a machine that has two needles, and four spools of thread. Rather than two threads that catch to form a stitch, an overlocker uses 'loopers' to wrap the edge of the seam in an almost zigzag like thread design.
Overlockers and sergers are used mostly on knit fabrics as they thread used and the stitching method allows the fabric to 'stretch' without snapping the thread.
I have had a Brother 1034 for over ten years now, and it is still going strong. This is the more modern version from Brother! An overlocker / serger is not an essential machine, so only look into these once you are comfortable sewing, and know that you will sew knit fabrics in the future!
Overlockers can also be used to neaten up the raw edges of woven fabric too, so that it isn't fraying all over!
Iron / Steam Unit
When it comes to sewing, the single most important thing to know about getting a professional finish to your sewing projects is to use steam!
When we sew a seam, we use an iron or a steam unit to apply heat to that original stitch line. This helps to 'set' the stitches, and we can then further press the seam to get a very clean finish.
Often when you see someone wearing a hand sewn garment that looks a little bumpy, it is because the seams were not finished properly. I'll be showing you how to press your seams later on the course!
Which Iron Should You Buy?
An iron is a small investment for someone learning to sew – in fact, you may even have one lying around for when you do laundry at home. Yet a steam unit is a great investment for later on when you realise how much you love sewing!
For now, if you do not already have an iron, a small travel sized one will do the trick. The photo below is the one I have used for over a year whilst being between countries, but this one is also well reviewed by sewists!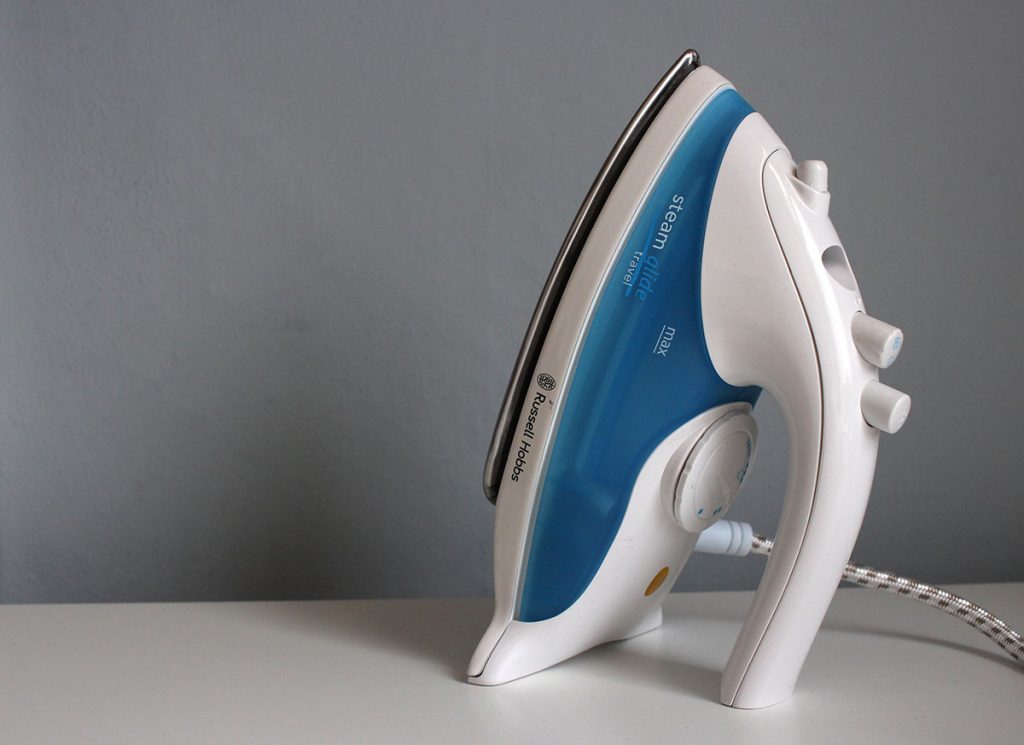 If a full sized iron suits you better, then this one is fab and for later on when you are passionate about sewing, this steam unit would be a great investment!
Other Tools For Pressing
It would be daft of me to guide you on an iron but not point out the other sewing equipment and tools you will need in order to get that professional finish to your sewing.
Ironing Board (this table top kind works well to start with!)
Good quality ironing board cover
Pressing cloths
Now, I do again want to reiterate that none of these are essential! I got by for over a year with just a travel iron and a towel on a table!
Considerations When Buying An Ironing Board
If you do not already have an ironing board, and are planning on buying one, you should consider the following first:
How high can it be raised
How heavy is it
How big is it
How sturdy does it feel
I am a very tall person, and most ironing boards would see me hunching over slightly. For this reason, the height limitations of your new ironing board are important!
Will you leave the ironing board 'up' in your sewing area or will you need to put it away after each use? If you need to store it away each day, a lighter ironing board would be better for your back!
If your home is short on storage space, you may need a smaller 'table top' ironing board, like this one! Whichever ironing board you go for, you will need to make sure that it is sturdy enough. We don't want an ironing board that wobbles at the first sight of a little fabric needing pressing!
Pressing Cloths
A pressing cloth is a piece of fabric used between the item you are pressing, and your iron. It helps to prevent damage to the fabric if the iron gets too hot. You can buy ready made pressing cloths, but I usually use a piece of 100% cotton or organza from my stash!
If you'd like to learn more about using a pressing cloth, Wendy Ward wrote a great tutorial here!

Tailors Ham
I use a tailors ham when pressing seams that aren't supposed to lay flat. This is usually the sleeve head and the collar stand. When we press these on a flat surface, we end up distorting the design. By using this tailor's ham, I can keep those lovely smooth curved lines in place.
Sewing Needles
We covered sewing machines as sewing equipment further up, but what about sewing needles? When you buy a new sewing machine, you will usually be provided with an assorted set of needles suitable for that machine. Which makes getting started right away simple.
But if you've bought a secondhand machine, or you want to try sewing by hand to start with, you will need to buy some needles that are suitable for the fabric you will be working with!

Different Types Of Sewing Needle
There are so many types of needle, and they come in different sizes too! Generally speaking, the lower the number, the finer the needle, the higher the number, the wider the needle. So, for lightweight fabrics like chiffon, I would use a 70/10 but if I were sewing a denim with multiple layers, I would go for 90/14 or 100/15, depending on the weight of the denim.
Here's a sewing needle overview list, and then I'll go into more depth on each type of sewing needle further below with a close up photo of each for those that I currently have to hand, and links on where to buy them!
Universal
Ballpoint
Stretch
Denim
Leather
Sharps
Top stitch
Universal
Used as a standard needle, universals are for woven fabrics first and foremost but can be used in a pinch on knit fabrics too. I always find it handy to have a multipack of universal needles, so that I have a variety of needle sizes to hand!
Ballpoint
Used for most knit fabrics, the ball point sewing needle has a more rounded tip than the universal needle which helps it to pop between the fibres of the fabric, preventing snagging and laddering of your knit fabrics!
Stretch
These stretch needles have been designed to work with those tricky stretch fabrics such as lycra, spandex and powermesh. I don't sew with those fabrics as they are more sportswear based, so have not used a stretch needle myself! I am told though that they are great for getting a clean finish on those tricky stretch fabrics!
Denim
These denim needles (also known as jeans needles!) are great for heavy weight fabrics like denim, canvas and other heavy weight and tightly woven fabrics!
I love a denim needle, as I break less needles when using them to sew my heavier fabrics! If you don't have denim / jeans needles but have a project you want to sew now, a 90/14 or 100/16 universal will work too!
Leather
Leather needles work completely different from the other needles mentioned here. A leather needle needs to be able to cut through the animal skin, and so they have a chiselled point at the tip of the needle which allows this to happen.
If you were to try to sew leather with a universal or ball point needle, you would end up with a stitched up mess.
Leather needles are only for use on natural animal skins.

Sharps
These needles are used primarily by sewists making quilted items. This could be quilts, or quilted clothing! They work to allow the needle to penetrate through multiple layers of fabric and wadding, without snapping from the pressure!
Top stitch
Top stitching needles are much like a universal, only they have a bigger eye for the thicker top stitching thread, and a sharper point to help the needle move through multiple layers of fabric.
I have never used a top stitching needle myself, preferring to go for a slightly larger universal needle for any top stitching needs!
To switch your needle in and out on your sewing machine, you will need a small screwdriver, which is often provided with the sewing machine.
Fabrics
To be able to sew, you will need access to fabrics. I recommend starting with 100% cotton fabric as a sewing beginner, because this is an easier fibre to start with, and is more forgiving.
It's a good idea to start with a basic calico / muslin fabric, which is what we generally use to make a test garment when sewing clothes. This muslin is a good price for two meters.
If you do not have access to a fabric shop near you, or are uncomfortable ordering online, you could start by rummaging through your closet or linen cupboard to see if there is something worn and old that can be cut up and practised on.

A great source of lower priced fabric can be curtains and bed linen found at charity shops and thrift stores. I have previously bought a pair of stunning full length woven silver curtains for just £5! I intended to make a pair of trousers and a jacket from them, but sadly they were claimed by my Ma to shorten for the spare room windows back home! I am hopeful that I'll get any remnants back!
I will cover fabric types more fully later in the learn to sew course, so for now, just note that 100% cotton muslin is advised as a learning fabric!
Threads
Without thread, we have no way of joining the fabric together. I love Gutermann sew all threads as they're readily available in many colours.
As a base, you'll want black and white, and as these will be used a lot, I recommend getting the biggest spool you can afford!
Once you start working on specific sewing projects with your chosen fabrics, you will want to select thread that is a close colour match to your fabric. This is best done in-store, near natural light.

Cutting Tools
The most important cutting tool is a pair of scissors dedicated to fabric.
These scissors must not be used to cut paper, or leather, or plastics. Only fabric.
This is because your beautiful fabric scissors will become blunt if you use them on other materials, which will end up with damaged fabric when you next go to cut out a sewing project!
As cutting tools is a bigger topic, the next post is all about cutting tools for sewing. For this reason, I won't say anything else in this section for now other than to insist that you should buy a good brand, and keep make sure your fabric scissors stay as fabric scissors!
Marking Tools
Marking tools are used to mark the fabric before we cut, to minimise mistakes. There are different types of marking tools for sewing, and which you choose to use will come down to personal preference:
Tailors tacks
Tailors chalk
Wax pencil
Invisible pen
Chalk pencil
Carbon paper and tracing wheel
I myself stick to a combination of tailors chalk and tacks, as this is how I was trained. I will be showing you how each marking tool works later on, but if you do want to get something now, I recommend this simple piece of tailors chalk.
Measuring Tools
There are many measuring tools I could cajole you into buying, but in all honesty, the only measuring tool you need to get started is a measuring tape. I mostly use the one pictured below but I have several hanging by my table in easy reach, similar to this tape measure!
Measuring tapes can stretch out, so it is best to use the same tape throughout your project, and if it does look a little stretched out, invest in a new one.
I replace my tape measures frequently!
Seam Ripper
While small scissors can be used to undo a seam sewn wrong, it is much safer to use a seam ripper to unpick a seam.
Seam rippers come in different sizes and colours, but they all have a hook shape to them , with a sharp inner blade, and a small ball at the tip of the shorter section.
This ball is used to prevent accidental 'cutting' of the fabric itself when unpicking a seam.
If you do not yet have a seam ripper, this one from Dritz is a very simple and easy to use seam ripper, big enough to use without being fiddly!
Pins
Last but not least, dressmaker pins. We use pins to temporarily hold fabric pieces together before we sew a seam. We can also use pins to securely hold the sewing pattern to the fabric while we cut around the pattern.
I love a long steel dressmakers pin, but for sewing beginners I think it is important to feel confident using pins, and so these ones with the coloured ball make for an easier time when learning how to use them.
Sewing Tools And Equipment: Conclusion
Phew. How's that for a solid look at sewing tools and equipment for sewing beginners?
There is – as mentioned previously – so much more I could have added to this sewing tools and equipment guide, but as you are a sewing beginners, I did not want to overwhelm you, simply provide you with a resource to refer back to as you start building your basic sewing kit.
Everything mentioned in this guide is something that you should think about. Start with the five very basic items:
And build up your sewing tool and equipment from there. And remember, if you have any questions, please do let me know in the comments!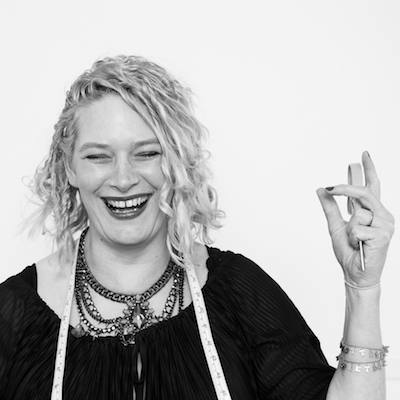 Eve Tokens (aka The Creative Curator) is a fashion designer, creative pattern cutter and sewing pattern designer.
Eve graduated with a 2:1 in Fashion Design from the University of The Creative Arts in the UK, has a BTEC diploma in Creative Pattern Cutting, a Foundation Degree in Art & Design from Wimbledon College of Art and gained extensive experience in the fashion industry by interning and freelancing for London based fashion brands – Hardy Amies, Roland Mouret, Peter Pilotto and others.
As well as running her own small sustainable fashion brand, Eve has more than 25 years experience sewing and making clothes for herself and family members.