Do you want to know how to get into sewing clothes? Sewing for beginners can be scary, but the different sewing tutorials I'm sharing here will really help you to get started with learning to sew – and you'll be sewing with confidence in no time!
You'll find a range of tutorials covering the very basics of sewing – how to sew the basic seams, how to set up your sewing machine and how to read a sewing pattern – to the more advanced beginner sewing tutorials like sewing bindings, facings and buttonholes.
Don't feel overwhelmed… try to work your way through the tutorials as you feel ready, so that you build upon your sewing skills steadily, and grow in confidence too.
A History Of Sewing
Lets start by digging into the history of sewing. It is one of the world's oldest crafts, being used by stonae age people to make clothing from skins and fur.
Needles were made from bone or ivory, and the thread would have been made from animal parts.
There's a lot of great information on the history of sewing here if you'd like to learn more!
Types Of Sewing
There are different types of sewing, and which you choose will depend a lot on what you'd like to sew.
Hand sewing
Machine sewing
Embroidery
Quilting
Both embroidery and quilting can be done by hand or sewing machine, but I've included them here so that we can review both.
Hand Sewing
Hand sewing is the original way of sewing, with a needle and thread, right up until the sewing machine was invented in the 19th century!
The skill has always been to join two materials together to create something practical.
In the 2020s hand sewing now has a reputation as 'slow sewing' with many people sewing by hand to enjoy the process before the product. In fact there are many a sewing book available now covering various slow sewing techniques, and these will all be done by hand.
The difference between hand and machine sewing is that hand sewing produces stitching using just the one thread, while machine stitching uses two threads – a top thread and bobbin thread – which 'locks' together to create a strong stitch.
Common stitches that are sewn by hand are:
Back stitch
Cross stitch
Ladder stitch
Running stitch
Slip stitch
Nowadays, hand sewing is used not only for mending and people who sew their own clothes, but also in haute couture – those beautiful clothes made by hand in ateliers around the world.
If you're in need of help threading a needle I have this 3 step tutorial on how to thread a needle with a needle threader.
Machine Sewing
The very first sewing machine was invented back in 1790 but it was only in the mid 19th century that a sewing machine was invented that could sew faster and more accurately than a tailor or seamstress – it was Isaac Singer who invented this machine! – and they have over the centuries since become much more capable.
There are now around 15 types of sewing machine but as a beginner, you'll want a basic sewing machine to get started with.
The standard home sewing machine works by locking the two threads together. Being powered, they're a much faster way to sew and this is why they were invented – it opened up the beginning of mass production!
In the 20th century, it became easier to acquire a sewing machine to sew at home, and so there became a demand for sewing patterns so that people at home could make their own clothes.
And despite the interest in sewing waxing and waning over the decades, TV shows like The Great British Sewing Bee have inspired new generations to pick up a second hand sewing machine and get sewing.
The main two types of machine stitches are:
Straight stitch
Zigzag stitch
But, with those two stitch types on a sewing machine, and a vast sleection of sewing machine feet, a whole range of stitches is possible for more practical or decorative needs:
Buttonhole stitch
Stretch stitch
Blind hem stitch
This tutorial on how to thread your sewing machine will have you threading up your machine with confidence and I have recently started adding my learn to sew course to YouTube which will help build your sewing confidence right away!
Embroidery
According to Greek Mythology, embroidery was passed down along with weaving by the goddess Athena.
Since the 5th century BC, embroidery has been used to embellish fabric. It can be done by hand or by machine, but requires needles and threads and many modern day embroiderers also add in beading, sequins and other items to embellish their projects.
Embroidery is a great way to make something old or plain more unique, to increase its 'lifetime' if you will.
Emboidery types are:
Surface embroidery (Crewel, Chinese and Japanese)
Counted embroidery (cross stitch, not completely covering teh base fabric)
Needlepoint embroidery
Embroidery Stitches:
Blanket stitch
Buttonhole stitch
Chain stitch
Cross stitch
Feather stitch
French knot
Running stitch
Satin stitch
Using the above stitch types in combination results in many more possible styles that you can use to embroider!
Quilting
Quilting is a term used to describe two things:
Joining at least three layers of fabric together with stitching
Piecing small pieces of fabric together as patchwork
In both instances the stitches are created either by hand or machine and the final creation has an upper visible layer, a hidden middle layer (usually batting for warmth) and a final underlayer.
If quilting clothing, the underlayer would be the lining of the garment, and the upper layer is often quilted to the wadding layer, in a decorative design.
If quilting an interior item, like a bed cover, then the three layers in total are often quilted with a straight or decorative stitch and the edges finished with binding.
How To Get Into Sewing
Your first step for getting started is to put together a beginner sewing kit. I have a list further down of essential sewing tools for beginners but here's a quick overview of things you'll need to get started:
A basic sewing machine / hand sewing needle / bobbin (depending on whether you want to learn hand sewing or machine sewing)
Thread
Fabric scissors or rotary cutter
Small scissors
Seam ripper
Fabric (anything will do for practising sewing – old clothes, bedsheets etc – but try to use 100% cotton as it is easier to start with)
Sewing For Beginners
As you are a beginner sewer, take the time to get to know your tools and then move on to practising different stitches.
You can make a simple stitch book. Use simple 100% cotton fabric – even fat quarters from your local store or online will work – and practise hand sewing and machine sewing the following stitch types:
Straight stitch (both)
Zigzag stitch (machine)
Ladder stitch (hand)
Basting stitch (hand)
Decorative stitches (both)
The first four are the basic stitches you'll need to sew or mend any item of clothing, but the decorative stitches are a great one to have referenced in a stitch book because it helps you to learn your mechine but may also inspire you at some point.
Sewing Basics
Learning any sewing technique requires patience, but as a beginner, the basic sewing skills may just make you want to throw your sewing project against the wall!
So, start with an easy sewing project to begin with – some simple sewing projects for sewing are:
Can You Teach Yourself To Sew?
Absolutely! With all the different sewing tutorials and sewing videos on YouTube, it's now really easy to teach yourself to sew with no need to go to sewing school!
And this sewing blog will provide you with many different sewing tutorials as you progress through your sewing journey.
You just need to figure out what it is you'd like to start sewing.
Here are some things that people start learning to sew for:
Making things for the home
Making their own clothes
Making clothes for their kids or grandkids
You might even be wondering whether sewing clothes is cheaper than buying them!
What Is The Easiest Thing To Sew For Beginners?
You've decided you're going to get into sewing, and you know your reasons for wanting to sew… let's now look at some of the easiest things to sew for beginners!
Easy Home Sewing Projects
I don't cover home sewing – it's not my jam! – but that doesn't mean that the basic sewing tutorials I've created won't be helpful for you! (More on those further down!)
Some of the easiest projects to sew for the home are:
Drawstring bag for your laundry
Simple tote bag for gorceries
Laptop sleeve
Easy Clothes To Sew For You
Sewing clothes that are unique to me is what got me into garment sewing, and I try to create lots of sewing tutorials and guides on the site to inspire and encourage sewing beginners to try sewing their own clothes.
Here are three quick tutorials:
Simple wrap skirt
Simple rectangle skirt
Let's start with some of the basic guides and tutorials for sewing beginners, no matter what you're planning to sew!
Tutorials And Guides For Sewing Beginners
Lots of people ask me about the different types of sewing machines that exist and whether they need several. The truth is, no you don't. And you also don't need a gazillion sewing tools either.
Essential Sewing Tools
As you are new to sewing, you won't want to spend your money on all the various tools until you know that sewing is something that you enjoy.
I have a list of the essential sewing tools a sewing beginner might need which you should start with first. Later on I'll introduce you to the different tools for measuring and for cutting fabrics.
Types of Sewing Machine
A straight up home sewing machine will sew both straight stitches and zigzag, meaning that a serger isn't a necessity.
That doesn't mean you shouldn't learn about the differences between the types of sewing machines.
Covering home sewing machines, industrial machines and all the types in between, this guide to different sewing machine types gives a good grounding.
Parts Of A Sewing Machine
Once you have a sewing machine, you'll need to get to know your way around it.
This guide covers the different parts of a sewing machine and how they work, pairing up the names of the different parts with how they function and photos too.
Threading A Sewing Machine
Once you know how to thread a sewing machine, you'll be in a better position to sew more confidently.
Whether you have an old vintage sewing machine or a more modern version, threading them up is standard and this photo tutorial will show you how.
How To Thread A Needle
This is a great tutorial on how to thread a sewing needle with a needle threader. Perfect if your eyes struggle with the small eyes of needles or your hand are a little shaky and struggle to get thread through the needle eye.
Why Your Sewing Needle Keeps Breaking
Once you've got your sewing needle threaded, you may find that it keeps breaking – it happens with sewing beginners, so don't worry! Here is a guide to help you trouble shoot why your sewing machine needle is breaking!
Sewing Dictionary
As a sewing beginner, you probably have some questions about the different words that come up and this sewing terminology guide is more like a dictionary covering all the possible sewing words that you might come across.
How To cut Fabric Straight
Sewing beginners often worry about how they'll cut their fabric straight. They worry that they'll have jagges egdes and anything they sew will look weird.
Learn how to cut straight fabric with scissors with this tutorial – you'll feel more confident afterwards, promise!
How To Sew In A Straight Line
Another worry for sewing beginners is how to sew in a straight line. We've all been there, worrying that any line of stitching we sew will be wonky and all over the place, and this sewing straight tutorial will help you achieve that!
Sewing An Open Seam
Once you have practiced sewing straight, you're ready to sew your first open seam. This is a simple, plain seam, with one line of stitching joining two pieces of fabric.
It's also the basis for many other seam types, so do have a practice with scraps of fabric so you feel more confident.
There are other seam types, but I'll get to them shortly. For now I want to focus on guiding you through the most appropriate information for your sewing journey.
Seam Allowance
Seam allowance is something that you will come across on almost any sewing project that requires you to join two or more pieces of fabric together.
If you go back to your original open seam that you stitched a little way up, you'll have noticed that you have fabric either side of your stitched line.
The bigger amount is the 'main' and the smaller amount is your 'seam allowance'. Usually in the home sewing world, it is 1.5cm / 5/8 inch.
Your Sewing Space
I'm going to take the opportunity to touch on your sewing space. Not everyone has the luxury of having a dedicated sewing room, and if you do, often it's the smallest space in the house.
This is my sewing room set up, which will hopefully inspire you when it comes to setting up your space.
Sewing A Hem On A Sewing Machine
Let's now learn how to sew a single fold hem on a sewing machine. This is the most basic hem that you can sew, and a nice follow-on from the open seam you've already sewn.
Welt Seam Tutorial
The welt seam is the next seam to learn. Not to be confused with a welt pocket which is completely different, the welt seam is created with an open seam first of all, and then an additional line of stitching to secure it and flatten it in place.
Simple Tote Bag Project
This is a simple, beginner sewing project which has a free sewing pattern included.
While a tote bag isn't a clothing item, it is something that we wear out and about, and can also make a great gift idea too, if you like making things for other people.
You don't need much fabric for a simple tote bag, so grab something easy to sew – 100% cotton is a good strarting point! – and using the two seams you've already learned (open and welt seams) you're now ready to sew your own!
Double Fold Hem Tutorial
Next up we have the double fold hem. This is a type of hem used to enclose the raw edge of fabric so that it doesn't unravel and fray.
This hem type is used on shirts, skirts and more, so definitely one that you should practice before sewing clothes.
How To Read Sewing Patterns
In this indepth guide you'll learn how to read a sewing pattern! I've included lots of images of the sewing pattern symbols used in most sewing patterns, so you can cross check and feel more confident working from a pattern.
Cutting Tools In Sewing
Now feels like a good time to mantion the different cutting tools in sewing, because if you're ready to read a sewing pattern, you're ready to cut patterns and fabrics!
We of course have the most common – a pair of scissors! – but there are other tools used for cutting fabrics and papers in sewing, and this list covers them all and exxplains more about their uses.
Measuring Tools In Sewing
And if you're cutting paper and fabric for projects, it's also time to learn about the different measuring tools in sewing, because there's more to measuring than just using a tape measure!
In fact – one of my best sewing tips coming up! – did you know that your tape measure should be replaced often, depending on how much you use it? Over time a standard coated tape measure will stretch out which means your 10cm / 4 inches ends up reading differently, and this can lead to siginicant errors when sewing clothing!
Printing PDF Patterns
You may be old school when it comes to sewing patterns, and only buy the patterns that are already printed and come in an envelope. Or you may be open to PDF patterns. Which means you need to know how to print patterns at home.
It's easier than you might think, just make sure you're always printing at 100% scale!
Assembling PDF Patterns
Next up you need to assemble your pattern. This just means sticking the pages together in sequence so that you can then use the pattern for your planner project.
Tracing A Sewing Pattern
When it comes to sewing patterns, you will fall into team cut or team trace. (I'm team cut!)
Team cut always cut their sewing patterns and then have to deal with reprinting if they need a different size.
Team trace practice tracing a pattern so that they can store the original and use it again if needed.
Organizing Sewing Patterns
Now that you're printing and using sewing patterns, you need a way to organize them and thats where this guide comes in!
Learn the different ways that you can organize your sewing patterns so that you don't lose track of them!
Guide To Sewing Clothes
Now, sewing clothes is a methodical process. There's an order to sew them in so that you don't end up trying to add a patch pocket to a fully finished lined jacket. I mean, you can if you sew it on by hand, but if you are machine sewing, then you should follow this guide to sewing clothes, which has 18 steps.
How To Stay Stitch
Before you sew any fabric pieces together you may need to stay stitch them. This is a line of stitching used to prevent the fabric from stretching out.
Learn more about what stay stitching is and how to do it properly!
Stitch In The Ditch
For some sewing patterns you'll need to stitch in the ditch, which is a sewing technique used to keep a clean finish on the right side of areas like waistbands and cuffs.
This stitch in the ditch tutorial will guide you through the process.
Flat Felled Seam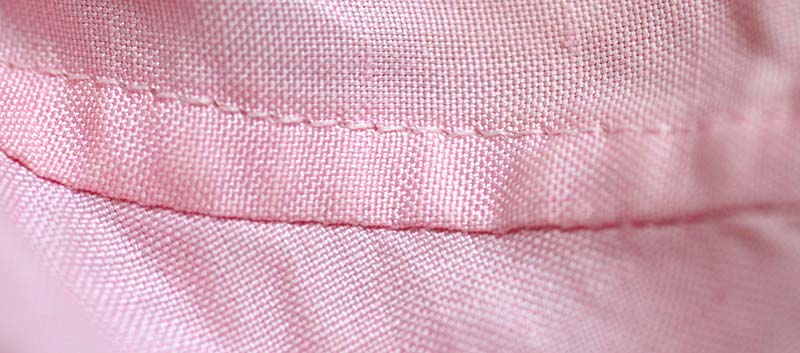 The flat felled seam is an enclosed seam and is also very strong. I use it on clothing that needs a strong seam:
Jackets
Shirts
Jeans / trousers
Panelled skirts
It's lies flat like the welt seam you learned about further up, but is sewn differently. Learn how to sew one with this flat felled seam tutorial.
Mock French Seam
The mock French seam is another enclosed seam, and an easy way to sew a French seam – which I've listed further down inder intermediate beginner sewing tutorials!
This seam also has two stitching lines, but after sewing a plain seam, the seam allowances are folding in and stitched closed to stop any fraying happening.
This step by step tutorial on sewing a mock French seam will guide you through the process.
Sewing For Beginners
Ok, for now, that is plenty for you to get started with when learning to sew. If you prefer video lessons, I have added many sewing lessons to my YouTube channel which you can work through.
I've added a short list below of interemediate beginner sewing tutorials for those who wish to continue reading. I'll be back next week with a more rounded out guide for you!
Intermediate Beginner Sewing Tutorials