Having recently moved country, I needed help to organise sewing patterns in my sewing room. You see, my sewing patterns are not very well organized. I have some still lying around as A4 sheets waiting to be stuck together, some stuck together but not filed anywhere, and still more self-drafted patterns rolled up, stashed on a shelf.
I asked Annabelle Short if she would like to write a post for you (but mostly for me!) on how to organize sewing patterns for maximum effect. She didn't let us down – Annabelle, thank you!
Organizing Your Sewing Patterns – With Annabelle Short
No matter what your skill level is in sewing, patterns play a large part in creating garments. However, no matter how many patterns you have, (you can find even more free sewing patterns here!) you will want to be careful with them.
After all, a crumpled or otherwise damaged sewing pattern isn't going to do you as much good as a nice crisp one, so I like to organise sewing patterns carefully.
There are a few different ways that you can organize your sewing patterns. And today, we're going to take a look at some of these ways to help you make sure your patterns are safe and easy to find.
Protecting Your Patterns
The first thing to do is to make sure that your sewing patterns aren't going to bend or fold while they're in storage.
One of the most effective ways to do this is with sheet protectors.
These are sold in various sizes with the standard size being the size of a printer sheet or 8 ½" by 11". If your patterns are bigger than this, you can find larger sizes at an office supply store or – more conveniently – online.
In a pinch, various sized freezer bags can get the job done. Comic book sleeves also fit most sewing patterns and they're also pretty easy to find.
Binder Storage For Organizing Sewing Patterns
Keeping patterns in binders is one of the easiest and simplest ways to store patterns. It's especially convenient since most sheet protectors are made with binder storage in mind.
The built-in holes make it really convenient to slip them into place. You'll want to store and label patterns to make it simple to find them later. We'll look more at how to label sewing patterns generally in a bit.
Filing Patterns In A Filing Cabinet
An alternative to a shelf of binders is to use a filing cabinet. Filing cabinets are a great way to use vertical space for storage. In addition, it adds space on top for more storage as well as in any cabinets you don't use.
They also come in various sizes with varying appearances. This means that you aren't limited to the traditional grey, three-drawers-tall cabinet.
Of course, it isn't effective to just toss patterns in. This time, it's helpful to put your sheet protected patterns into a file folder.
After that, use dividers to separate and label the sewing patterns you've stored.
Organizing Sewing Patterns With Labels
We've talked a lot about labelling your sewing patterns. At this point, it makes sense that we'd take a deeper look at the best ways to label them.
One of the more popular methods is to sort patterns by type. For instance, if you like to work with vintage patterns, sort them by decade.
If you're making a variety of garments, sort them by type. A label on a binder or a note on a file divider can go a long way.
It's also worth the time to keep any notes you have with your patterns in the same place as the others.
This could be in the same file folder or even in the same protective sleeve as the pattern. This could include anything from alterations you prefer to the size of the pattern. When you revisit a pattern later, you aren't going to want to have to ask yourself about specifics such as size.
Keeping any information about a pattern with the pattern itself is a great way to save yourself time and space.
Labelling can also be done through colour-coding instead of written labels. For example, maybe instead of writing out the decades on your vintage patterns, you use different coloured files or boxes. That way you know you can reach into pink storage units for garment patterns from the 1950s or green units have patterns from the 1920s. This can be a great way to keep things clean and minimalistic.
Keeping Digital Patterns Organized
Finally, let's consider the most modern option: digital patterns. It's a good idea to look for a cataloguing app or program to organize sewing patterns digitally!
With these, you can make a digital file for each one of your patterns in an easy-to-navigate, searchable way. These are especially great systems when you're on the go. It's pretty handy to be able to look up which patterns you have while you're looking for new ones at the craft store.
Sewing patterns allow you to create beautiful garments. The tips we've looked at here can help you ensure that they're on hand for future uses.
Aha, I think those amazing tips will definitely help me organise the pile below, right?
Let us know below if you have any other recommendations for organizing sewing patterns. And thanks again Annabelle for your best tips and tricks!
Ready to further your sewing skills? Pop over to my new dedicated sewing tutorials page to find all the latest sewing tutorials!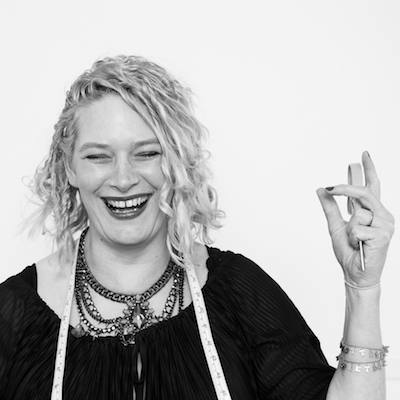 Eve Tokens (aka The Creative Curator) is a fashion designer, creative pattern cutter and sewing pattern designer.
Eve graduated with a 2:1 in Fashion Design from the University of The Creative Arts in the UK, has a BTEC diploma in Creative Pattern Cutting, a Foundation Degree in Art & Design from Wimbledon College of Art and gained extensive experience in the fashion industry by interning and freelancing for London based fashion brands – Hardy Amies, Roland Mouret, Peter Pilotto and others.
As well as running her own small sustainable fashion brand, Eve has more than 25 years experience sewing and making clothes for herself and family members.