I love a DIY tote bag, often having at least one stashed in my bag for those spontaneous shopping moments. This free easy tote bag pattern download is for you to use so that you can make your own DIY tote bags!
I'm big on sustainability, and I'd rather carry a reusable fabric tote bag around all the time, than pay for a cheap, nasty, single use plastic bag that will just end up in landfill. Even better if the bags have inside pockets too!
Are you looking for a free tote bag pattern with inside pockets?
The tote bag pattern I have created here has one small inside pocket for your keys and a backup bank card – perfect for those days when you run out the house to grab something from the store, and forget your purse!
Before we get to downloading and making this easy tote bag though, let's answer some frequently asked questions about them!
At the end of this tutorial, you can sign up for the printable version of this tutorial! Woop!
Why Are Tote Bags Called Tote Bags?
For many years, the word tote meant 'to carry', and to that end it still does today – except the word isn't used so much now. Instead, 'tote' is often used to refer to a tote bag.
What's A Tote Bag Used For?
A tote is used for many things, but a tote bag you have sewn yourself is most likely to be used as a shopping or grocery bag. That said, more and more students use them as their book bags, sharing the weight of their college books across bags for easier carrying.
I've also used larger totes for day trips to the beach!
Are Tote Bags Good For The Environment?
Absolutely! When you consider how many single-use plastic bags are in use around the world, switching to a hand-sewn reusable tote bag can be very good for the environment.
If you were to sew a tote bag (or two or three) and take them with you when you go to buy groceries, over the course of a year, you'll be making a huge sustainable difference!
How Are Tote Bags Measured?
Totes are measured in height and width. If the bag has a flat bottom, it may also have a 'depth' measurement too.
How Much Fabric Do I Need For A Tote Bag?
The amount of fabric you need for a DIY tote bag is dependent upon the size of the bag you plan to make. For this simple pattern, you'll need about a metre / one yard of your chosen fabric – and you'll have some left over too!
What Kind Of Fabric Is Used For Tote Bags?
Most tote bags are made from cotton or canvas. Cotton is a great fabric for sewing beginners to start with, and an easy tote bag pattern can be a great sewing beginner project. If you are completely new to sewing do pop over to learn more about sewing seams. We use an open seam and welt seam in this simple tote bag tutorial!
For those who are more experienced, and want to use a tote bag pattern to sew more heavy-duty bags, a heavier weight fabric such as canvas is better.
For this tutorial, I used a piece of vintage cotton left over from curtains my Gran made in the 80s!
What You Need For Your DIY Easy Tote Pattern
Ruler / tape measure
Fabric for the bag
Fabric or webbing for the straps
Suitable thread
Pins
Fabric scissors
How To Sew The Easy Tote Bag Pattern
This DIY tote bag pattern really is easy to sew, as there are no buttons or zippers needed. And if you follow this technique, the end of the straps will be neatly tucked away inside the 'hem' of your DIY tote bag! Let's get started!
Step 1: Marking And Cutting Bag Fabric
Start by marking the fabric with either washable pen or pins. You may want to download the easy tote bag pattern guide, as the measurements are noted.
Next, begin cutting out the fabric for your DIY bag.
Main Bag Section
The fabric for the body of the bag is cut in one piece, with a fold at the bottom edge. This piece should measure:
15 inches / 38cm wide
36 inches / 91cm long
Below is my main piece, cut as one long section, and folded in half. The fold will be the bottom of my DIY bag.
Tote Bag Straps
3 inches / 7.5cm wide
30 inches / 76cm long
I made my straps 30 inches so that they fit nicely over my shoulder when sewn and attached. You may want to cut yours longer or shorter – I have a longer than usual torso, so they needed to be longer than normal!
Inside Pocket
The inside pocket of your DIY tote can be any size, but these are the dimensions of the fabric I used – which I patched together as I didn't have quite enough!
5 inches / 13cm wide
12inches / 30cm long
You may want a larger or smaller pocket, so do feel free to play around with the dimensions!
Step 2: Sewing The Main Bag
Now it's time to actually start sewing your DIY bag!
Take the largest piece of fabric, and fold it in half, right sides together. You should have a nice sized rectangle.
Sew up both edges with a ⅜ inch / 1 cm seam allowance
Press the seams open. To prevent fraying and reinforce the seam, I like to zigzag stitch over the seam from the right side of the bag. This isn't an essential step though, and can be tricky for sewing beginners as you near the corner of the bag.
Finally, turn the bag opening over ⅜ inch / 1 cm and then 1 inch / 2.5 cm. Press into place, and add pins to stop the fabric moving.
Here's the photo part so you can see how I made my tote bag.
Step 3: Sewing The Inside Pocket
The pocket for the easy tote bag is created in a similar way.
Take the piece of fabric, fold it in half, and then on one end, fold a 2 cm turn, twice. It should look like this.
Press, and stitch in place.
Next, sew up the side seams to the top of the folded edge only. You should have a raw edge sitting higher up by about 1inch / 2.5 cm – this will be covered by the top edge of the bag.
Now we need to attach the inside pocket on your DIY tote bag. To do this, find the centre of the main bag body section, and line the centre of the pocket up with that point. Pin in place.
Here are some photo steps for you, to see more clearly what I did.
Step 4: Sewing The Tote Straps
To make the straps for my simple DIY tote, I took the two long pieces of fabric, and folded them into thirds lengthways. I used the selvedge edge as the top third so that I had less fray chances.
Fold your long strips into thirds or you can fold it in half, turn ½ inch in on both edges.
Press the fold lines in place.
Use pins to secure as needed.
Stitch down the open length of the strap.
Using the same distance, stitch down the opposite side of the straps.
Press again.
Press the straps along the entire length, and set aside. Do not worry about sewing the ends, as these will be hidden.

Step 5: Positioning The Straps On Your DIY Bag
Place the straps in position, inserting them into the turned allowance at the top of the bag. Make sure they are an equal distance apart, and look pleasing. Pin the straps in place.

Step 6: Closing The Straps And Pocket In The Tote Bag Allowance
Now that the straps and the pocket are pinned in place, we need to 'close up' the seam allowance at the top of your DIY tote bag.
Sewing from the wrong side, so you can see what you're doing, edge stitch along the edge of the turn securing the hem, the pocket and the straps in place.
Be careful not to catch the pocket opening in this stitch line – or it won't be much of a pocket! 😉
Step 7: Securing The Straps On Your Tote Bag
You'll notice that the straps now face down into your DIY tote bag, which isn't at all helpful. Bring them up and out, making sure they lay flat, and pin into place.
Sew along the top of the tote bag, securing the straps in place. There are several layers of fabric here now, so do go slowly to avoid skipped stitches. I sewed a zigzag stitch all the way around the opening of the bag to keep it consistent with the side seams I had zigzag stitched earlier.
A Simple and Easy Tote Bag Pattern!
That's it! A lovely, sustainable tote bag using the tote bag pattern provided – wasn't that an easy and simple sewing project?

I love mine. The fabric is the remnants of an old piece of curtain fabric, and I decided to make use of the selvedge detail to make it a little more unique – which works for me as I'm originally from Cambridge anyhow! 🙂
I love the strap detail on this finished version of my DIY easy tote bag pattern. Placing the 'screen print' text on the visible outside of the strap helps to make this tote a little different, don't you think?
Here's the link to the easy tote bag pattern download. It's a free download so when you click the link, it will open in a new browser for you to download! Have fun making many more reusable tote bags for yourself – I'll be adding to my collection too!
Be sure to take photos of the tote bags that you make, and if you share them on Instagram, do use the hashtag #tcctote so I can find and admire them!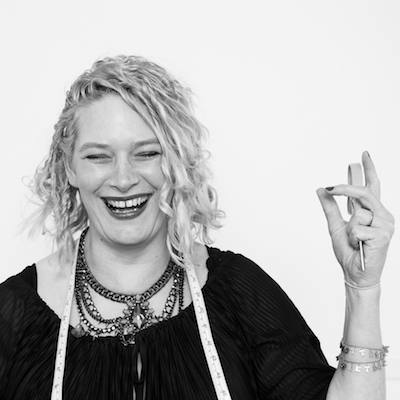 Eve Tokens (aka The Creative Curator) is a fashion designer, creative pattern cutter and sewing pattern designer.
Eve graduated with a 2:1 in Fashion Design from the University of The Creative Arts in the UK, has a BTEC diploma in Creative Pattern Cutting, a Foundation Degree in Art & Design from Wimbledon College of Art and gained extensive experience in the fashion industry by interning and freelancing for London based fashion brands – Hardy Amies, Roland Mouret, Peter Pilotto and others.
As well as running her own small sustainable fashion brand, Eve has more than 25 years experience sewing and making clothes for herself and family members.