As we get older, our eyes can become a little harder to focus on the finer details of sewing. Like threading a needle.
Which is why learning how to use a needle threader can be great – it's a nifty little sewing tool that we can use to quickly and effectively thread a needle, whether it's a sewing machine needle or a hand sewing needle.
In this quick tutorial I'm going to show you how to thread a needle with a needle threader!
I'm going to hold my hands up and admit that I haven't needed to use a needle threader myself yet. My eyes are *just* about able to thread both my sewing machine needle and hand sewing needle too. But, I ordered a needle threader to test out because my Mum, who used to love sewing, now struggles because of the whole threading needle issue. I'm hoping that a needle threader will help her get her sewing mojo back!
Note: Some of the links in this post are affiliate links, which means I may receive a commission if you make a purchase at no further cost to you.
What Is A Needle Threader?
A needle threader is a small sewing tool with a wire threader used to thread hand and sewing machine needles.
What Can I Use A Needle Threader For?
A needle threader can be used on any needle that has an eye for the thread to go through:
Beading needle
Embroidery needle
Hand sewing needle
Punch needle
Sewing machine needle
Tapestry needle
Twin needle
Some of the above – like a punch needle! – have bigger eyes than others and probably won't need a threader but if your eyes do struggle, you still find a needle threader is a valuable tool in your sewing kit!
How Do Needle Threaders Work?
Needle threaders work by inserting a wire threader – almost like a wire loop, but in a geometric diamond shape! – into the needle eye to capture the thread and pull it through.
Here's a photo tutorial of the process!
Step 1: Guiding The Needle Threader
Start by guiding the wire loop of the needle threader through the eye of the sewing needle.
As the wire loop is more solid than thread, you should find it easier to guide through the needle eye than thread – this is great for people who struggle with shaking hands, as the wire can feel easier to control and guide to the eye of the needle than a piece of string.
Step 2: Insert The Thread
Once you have the threader through the eye, you're ready for step two. Start by cutting the thread end with sharp scissors to get a nice point.
Then guide the thread through the wire loop. As the loop is significantly bigger than the needle's eye, it's a lot easier to guide through.
Step 3: Threading The Needle
Once the sewing thread is a few inches through, you can hold the needle shaft in one hand, and pull the wire hook back out of the needle eye.
As the thread is 'trapped' in the wire loop, it is pulled through the eye of your sewing needle and you have a perfectly threaded needle!
What Is The Best Needle Threader?
The best needle threader is the Colonial CNT-1 Needle Threader. It has two sizes of wire, a long handle and caps for each end to protect the wires from damage.
It's the one I have used in this tutorial and will be the only needle threader in my (and my mum's) sewing kit.
What About A Self Threading Needle?
Of course, if you're hand sewing only, you could just use self threading needles, which have a special 'groove' that you guide the thread through.
These work best with thicker threads so when using a standard sewing thread by hand or in your sewing machine, a needle threader is still a better option.
Want to learn more about other sewing tools? You can learn about the different measuring tools in sewing and dressmaking, the basic sewing tools for beginners and the different parts of a sewing machine and their functions!
Oh, and don't forget to read this guide on why your sewing machine needle keeps breaking!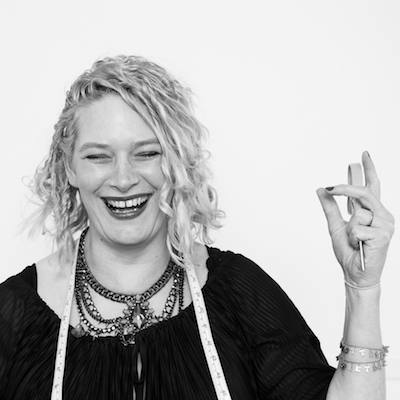 Eve Tokens (aka The Creative Curator) is a fashion designer, creative pattern cutter and sewing pattern designer.
Eve graduated with a 2:1 in Fashion Design from the University of The Creative Arts in the UK, has a BTEC diploma in Creative Pattern Cutting, a Foundation Degree in Art & Design from Wimbledon College of Art and gained extensive experience in the fashion industry by interning and freelancing for London based fashion brands – Hardy Amies, Roland Mouret, Peter Pilotto and others.
As well as running her own small sustainable fashion brand, Eve has more than 25 years experience sewing and making clothes for herself and family members.