When it comes to buying a used sewing machine, I am well practised! The only sewing machine that I have purchased brand new was my Brother 1034D overlocker and a Brother 'Jeans' machine that I ended up donating to someone more in need than I was, shortly after purchasing it.
Every other machine I own – or have previously owned – has been a used sewing machine.
If you're new to sewing, and thinking of buying a sewing machine for yourself, it may be that a used one is the best one for you, and these tips from my own experience will help!
I've previously covered the different types of sewing machine that you can buy too!
Reasons For Choosing A Used Sewing Machine
So, what are the reasons for choosing a used sewing machine?
Cost
Interest
Space
Location
Cost
For me it has always come down to cost!
When I started my Foundation in Art & Design at Wimbledon College of Art quite a few years ago now, I needed a sewing machine for the textiles part of the course, but I couldn't afford one at full price. A quick look on eBay (which was super exciting back then!) and there was my lovely used Bernina 1008 for just under £400. It was still expensive, especially for a second hand sewing machine, but I loved it so much, and the reviews were so good, that I grabbed it, and have taken great care of it ever since.
Likewise, when I bought my old Brother industrial sewing machine during my final year at fashion school – the one that came from the old Alexander McQueen studio in London – it was just £300 from a graduating student who couldn't take it with him from the town we were studying in.
When it came time for me and it to part ways, I posted in a Facebook sewing group and gave it away to someone starting their own children's clothing business. The machine which started life in the late 90s in a fashion designers studio in London is now in the dark depths of Cornwall sewing clothes for little people.
Interest
Another completely valid reason for wanting to buy a used sewing machine rather than a shiny new one is interest. If you're new to sewing, spending several hundred on a sewing machine is probably not something you're keen to do until you know that you're going to love this newly discovered hobby of yours.
Space
Again related to cost, but if you're limited on space where you live, you may decide that buying a new machine that you may not get much use out of is an unnecessary expense. At least a used sewing machine means a lower cost if you then decide to get rid of it to free up space in your home!
This is the main reason I gave away my Brother industrial sewing machine. I couldn't justify putting it
Location
Finally, location is another consideration in deciding to buy a used machine versus a new one.
Ideally you'll want to test out the machine that you buy, to make sure you get along with it, and although there are many online stores like Amazon who will ship sewing machines to you, there are some locations that are so remote that there are no sewing stores to test out machines or shipping options to where you live.
Which means if a lovely old lady in the village near you happens to no longer need it, her used sewing machine may be just the one you need!
Things To Consider When Buying A Used Sewing Machines
Now you're clear on your reason, let's dig into the things you need to consider when buying a used sewing machine!
What Is The Asking Price?
For many, the first consideration is the asking price. What is your budget, and is the used machine in that budget? Remember that sometimes private sellers are open to negotiation, so if the sewing machine is a little over your budget, you can always try to haggle a little!
Is It In Good Working Condition?
Your next consideration should be whether it is in good working condition. You don't want to be handing over hard earned cash for a used sewing machine that hasn't been serviced in a couple of years and needs a little bit of work. If the amount of work needed is great, you could end up spending the equivalent of what a new machine costs on the repairs!
Make sure to test the sewing machine out on some different scraps of fabric – I go with knit, woven and leather too, so that I can see how it performs on each!
What Functions Does It Have?
If it's a basic type of sewing machine, then it should at the very least sew a:
Straight stitch
Zigzag stitch
Button hole
Make sure that the stitch width and stitch length options are present and working!
If it's a less basic sewing machine, what else can it do? Do the additional functions meet your needs? Test them out on scraps of fabric to be sure!
How Old Is The Sewing Machine?
This is a really important question, because if it's a very old machine which is no longer manufactured, you may find that it will be quite costly to have any repairs done if the parts are hard to come by.
Have a look online – eBay is good for spare parts and accessories for older sewing machines! – and get an idea of price and availability.
Does It Come With A Selection Of Sewing Machine Accessories?
As well as a selection of sewing machine presser feet, you'll also want any other accessories that make the machine do its functions fully.
Do You Have Existing Compatible Accessories?
If you already have a sewing machine, is the second hand one you're interested in buying compatible with your existing machine? Will it use the same needles and presser feet? Will you have additional costs from doubling up on sewing machine accessories?
Who Is Selling The Machine?
The final consideration before you jump in is to consider who is selling the machine. Is it a private sale from an individual or is it through a store specialising in refurbishing and selling used sewing machines?
Will they allow you to try the machine in person, or have it at home for a trial week?
How much do you trust the person or store selling the sewing machine? Have you checked out online reviews on line where possible? Remember to never meet someone selling a used machine alone. Always take someone with you or meet in an open, public location.
Buying A Second Hand Sewing Machine
You're now ready to buy your first used sewing machine. Buying second hand is not only a great way to see if you even like sewing, but is often a good way of snagging a very good machine at a lower price point.
Let me know if you end up buying a used sewing machine, I'd love to hear about your experience!
And do check out my guide to leather sewing machines as well as the different parts of a sewing machine!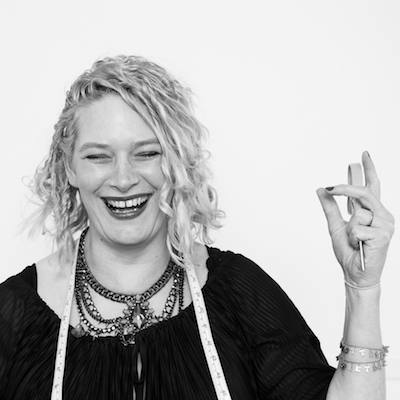 Eve Tokens (aka The Creative Curator) is a fashion designer, creative pattern cutter and sewing pattern designer.
Eve graduated with a 2:1 in Fashion Design from the University of The Creative Arts in the UK, has a BTEC diploma in Creative Pattern Cutting, a Foundation Degree in Art & Design from Wimbledon College of Art and gained extensive experience in the fashion industry by interning and freelancing for London based fashion brands – Hardy Amies, Roland Mouret, Peter Pilotto and others.
As well as running her own small sustainable fashion brand, Eve has more than 25 years experience sewing and making clothes for herself and family members.