Struggling to sew in a straight line? Frustrated that your straight seams aren't straight and look a little more like wonky seams? Need some help learning how to sew straight seams? It isn't easy when you're a sewing beginner to sew in a straight line – mostly down to all those moving parts! – but sewing a straight line is what helps to make a neat seam look so good.
If you've been struggling to sew neat seams that are straight, this post, Sew Straight Guide, should help!
Today we'll run through some methods that will help you begin to sew in a straight line and some tools to help with sewing straight lines!
Note: Some of the links in this post are affiliate links, which means I may receive a commission if you make a purchase at no further cost to you.
Why Can't I Sew A Straight Line?
First, don't beat yourself up if you struggle to sew straight seams! There can be several reasons for why you think you can't sew a straight line:
The machine is sewing too fast
Too many moving parts in view
Hand-eye coordination struggles
The great thing is that it is possible to 'improve' each of these reasons so that you can sew a straight line. It just takes the two P's – practice and patience!
How To Sew In A Straight Line
The best way to get those sewn lines straight is to choose a fixed guideline, kind of like a sewing line, and practice. Oh, and you'll need to have patience as it can take a bit of practice! 😉
To start practising, you can either try sewing lines on paper or some old scraps of fabric. I recommend fabric!
Using a ruler, draw some straight lines onto your fabric. Make sure they are visible, in a colour that contrasts well with the fabric.
Place the fabric under the sewing machine presser foot and turn the hand wheel until the tip of your needle is inserted into a line on your fabric.
Hold the fabric between two hands. I like to get my fingers in close to guide the fabric, but be sure not to get *too* close to the needle!
Decide which *point* will be your sewing guideline. (There are suggestions further below!)
Slowly push down on your sewing machine treadle so that the machine starts to stitch, but keep your eyes on your chosen guideline.
Your Chosen Guideline
One reason people usually end up sewing wonky lines is that all the moving parts become confusing or distracting and they 'take their eye off the ball'! Getting straight sewing lines when you're not concentrating is nigh impossible – and one of the reasons I'm always shattered when I've spent a day sewing. It takes so much concentrating!
When sewing straight lines, you'll want to keep your eyes on a fixed point so that you don't become overwhelmed by all the moving parts.
You could focus your attention on one of the following:
A point on your sewing machine foot
An existing line that is drawn onto the fabric
The seam guideline in the sewing machine plate
A Spot On Your Sewing Machine Foot
To make this an effective method, you would keep the edge of your fabric – the raw edge of your seam allowance – aligned with a point on your sewing machine foot. Depending on whether you are left or right handed, you could choose one of the outer edges of the sewing machine foot you are using.
If the straight line you are sewing has a very small seam allowance – like a French seam – you could even align your fabric edge with the inside edge of your sewing machine foot!
Existing Line Drawn Or Basted Onto Fabric
This method only really works when you have a drawn or basted line on the fabric. You would insert the needle near to the start of this line, make a few backstitches, and then continue sewing forwards.
You want the drawn or basted line to be *inline* with the centre line on your sewing machine foot. Here's an example photo of me sewing straight lines in this way.
Sewing Machine Seam Guide
For a standard seam allowance amount, I myself use this method. I find the line on my sewing machine seam guide that is relevant to my seam allowance. My machine is metric, so I always use a fixed 1cm seam allowance. If a sewing pattern calls for ⅝ of an inch, I will place the edge of my fabric in the midway point between the 5mm and 10mm line. Here's me using the sewing machine sew guide on my machine's throat plate!
Note that there are not always measurements on the sewing machine throat plate, so if you forget to pay attention to this area when sewing, you'll possibly see your straight line become slightly less so as your seam allowance amount wobbles.
For complete sewing beginners, I recommend using non-tacky masking tape to 'set' your edge. Accurately measure the distance from the needle and place the masking tape there, with the left edge (for righties, reverse if you're a leftie!) being the 'aligned' edge. Here's what I mean!
How To Keep Fabric From Shifting While Sewing
Now, this is all well and good, but what if you've decided on a specific 'guideline' that you'll stick to, and you've been practising, but the lines you are sewing still aren't being sewn straight?
One of the main reasons that your straight seams aren't sewing quite as straight as you'd like is down to the fabric shifting. And this can still happen despite having set yourself a 'fixed' guideline, and despite having practised and practised! And as sewing over pins isn't recommended, you need another way to stop the fabric from shifting while you're sewing!
You see, the problem is that when your fabric shifts, you often end up with a kink in your sewing line. Not what you're aiming for, right?
Not being able to sew in a straight line is something that we can work on with different tools. You can either spend a little on a seam guide tool or make a DIY seam guide!
Seam Guides For Sewing Machines
Now, most sewing machines come with a sewing machine seam guide built into the throat plate. While these guides are super useful for helping you maintain a rough seam allowance amount, having a seam guide that prevents the fabric from moving beyond a certain point can be much more helpful!
Magnetic Seam Guide
A great way to prevent your fabric from shifting while you are sewing is to attach a magnetic seam guide to your sewing machine. Prices for a magnetic seam guide vary, but I have seen various seam guide versions for less than a cup of coffee!
A magnetic seam guide is a simple tool to help you maintain a fixed amount of seam allowance, and once attached to your sewing machine, helps to keep a straight line when you sew, as it prevents the fabric from slipping past.
How To Use A Magnetic Seam Guide
A magnetic seam guide is an easy-to-use tool for anyone wanting to sew a straight line!
Buy a magnetic seam guide – I love this Prym magnetic seam guide!
Measure, from the needle, the amount of seam allowance you need.
Place the magnetic seam guide on the sewing machine at this measured seam allowance point.
Place your fabric under the sewing machine foot, keeping the edge of the fabric flush with the magnetic seam guide – this will keep the seam allowance amount consistent.
Sew slowly, making sure that the fabric doesn't attempt to slip underneath the magnet or bunch up.
DIY Seam Guide
If you don't want to use a magnetic seam guide you can create your own DIY seam guide using cardboard and tape. I recommend using a tape that is non-tacky so that you do not end up with a sticky residue on your sewing machine.
To make a DIY seam guide you'll need just three things:
Cardboard
Glue stick
Masking tape
Cut the piece of cardboard into multiple pieces as you will want to use a few layers of cardboard to 'build up height' so that your DIY seam guide works to restrict the movement of the fabric.
Glue the pieces together so that you end up with a sort of card block!
Add some tape to secure everything together!
That's it! Now you just need to use the masking tape to attach your DIY sewing guide to the throat plate of your sewing machine!
And then you're all set to start sewing straight lines! Here's how the DIY sewing guide worked out for me!
It definitely works to keep the seam allowance amount fixed in place, and helps to keep a straight line when sewing! Win win!
Are Your Ready To Sew A Straight Line?
How do you feel now? Are you ready to tackle sewing straight lines with one of the methods or tools talked about here? Which one will you opt for?
Let me know in the comments below – I'd love to know how it works out for you!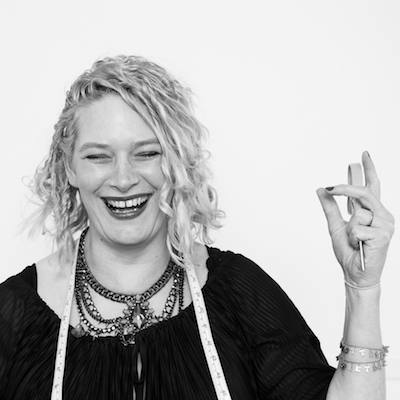 Eve Tokens (aka The Creative Curator) is a fashion designer, creative pattern cutter and sewing pattern designer.
Eve graduated with a 2:1 in Fashion Design from the University of The Creative Arts in the UK, has a BTEC diploma in Creative Pattern Cutting, a Foundation Degree in Art & Design from Wimbledon College of Art and gained extensive experience in the fashion industry by interning and freelancing for London based fashion brands – Hardy Amies, Roland Mouret, Peter Pilotto and others.
As well as running her own small sustainable fashion brand, Eve has more than 25 years experience sewing and making clothes for herself and family members.