Want to learn to sew your own clothes? In that case, you're going to need to buy some essential sewing tools and that's where this sewing tools list comes in.
As a sewing beginner, popping into your local haberdashery store to look for things for sewing can be a little scary, but if you go armed with this list – and I'm including pictures of sewing tools along with their names – you'll feel much more confident when buying your beginners kit.
Note: Some of the links in this post are affiliate links, which means I may receive a commission if you make a purchase at no further cost to you.
What Tools Classify As Sewing Tools?
Some people refer to sewing tools as notions. I stick to the term tools. They are tools that help me achieve what I see in my head, much like a DIY-er using a hammer and a saw to build a table. Right?
If you've ever been to a sewing store, you'll know that it can be quite an overwhelming and inspiring place to be. I used to go to sewing shops with my gran when I was little, and loved exploring al the different shelves and drawers.
Rows of fabrics, reels upon reels of different threads! Ribbons, zippers, interfacings and more.. So much to look at and touch!
But those above items are very clearly sewing notions, and NOT sewing tools!
Keeping a Sewing Tools Kit
My gran used to keep her sewing kit in an old flat biscuit tin, and it was always close to hand, while her sewing notions – threads, buttons and other bits – were kept in a beautiful sewing box my grandad made for her.
I actually inherited the sewing box made by my grandad, but sadly it become too damaged to save during a bad flat rental. One of my biggest regrets! 🙁
Nowadays I have my various sewing tools organised in different ways:
My collection of different scissors hang from a metal rail attached to the wall
My tape measures from a hook on the wall
Bobbins in a bobbin case
Pins in their own small metal tin
And so on it goes…
Let's start with a list of sewing tools with names and move onto an individual description of each tool, as well as how they can better help you in your sewing journey.
List of Sewing Tools
Sewing machine
Overlocker / serger
Machine needles
Sewing machine feet
Small screwdriver
Hand sewing needles
Thimble
Pins
Safety pins
Pin cushion / magnet
Small snips
Thread
Thread organiser
Seam ripper
Tape measure
Ruler
Seam gauge
Fabric pencils
Washable pens
Tailors chalk
Tracing wheel
Fabric scissors
Fabric shears
Rotary cutter
Cutting mat
Paper scissors
Steam iron
Pressing cloth
Iron board
Pressing mat
Tailors ham
Bobbins
Bobbin holder
Sewing Tools And Their Uses
Phew, that's quite a substantial list, but I have listed multiple sewing tools that would cover the one task, so that you can better know your options.
Let's dig into each sewing tool and how they're used so you can make the right choice for you!
Sewing Machine
A sewing machine is something you will need if you plan to learn to sew.
While you could of course learn hand sewing, it is a much slower process, which can often leave beginners feeling underwhelmed before they lose interest completely in sewing.
There are many options when choosing a sewing machine, and the option you go for will really depend on your needs.
There are several types of sewing machine but the main three are:
Mechanical
Electronic
Computerized
I have mechanical machines – a Bernina 1008 and two old hand cranked Singers (one from late 1800's, one from around the 1930s) – which has always worked well for me.
Mechanical machines have more basic capabilities, but I love them because they allow you to really focus on the garment construction process.
Electronic machines do have a few more options than a mechanical, with buttons instead of dials that you manually alter on mechanical machines.
Computerized machines are an all-in, with everything programmed into the sewing machine.
Do read this article on the different types of sewing machines for a more in-depth guide!
Overlocker / Serger
This is not necessarily and essential sewing tool when starting out, but many who sew their own clothes love an overlocker for finishing raw edges of fabric and creating seams on knit fabrics!
I have the Brother 1034D, and only sporadically use it. Mostly because I love to sew with more high end construction techniques, and an overlocker (or serger as they're also known as) doesn't really allow for that.
But, they are really good for finishing raw edges of fabric before constructing. So definitely worth investing in if you get serious about sewing your own clothes!
Two models that are newer than mine that are highly recommended are the Brother Designio Serger and the Juki MO644D Serger.
Machine Needles
The needle your sewing machine comes with will get blunt quite quickly, and although you are usually supplied with a multi pack of sewing machine needles, it is wise to invest in a few packs of size specific needles.
You'll use different sized sewing needles for different projects, depending on the fabric weight you use.
Sewing Machine Feet
Again, your sewing machine should have come with at least one standard sewing machine foot, but as you get more experienced in sewing, you may want to invest in further feet.
I would highly recommend:
Zipper foot
Invisible zipper foot
Buttonhole foot
Bind hem foot
There are many more feet you can buy for your machine, and I'll cover those in more depth in due course, but for now, those are the only four you should consider adding to you main standard one!
NOTE: I have only ever used branded sewing machine feet because I worry about damaging my sewing machines… it's up to you whether you buy the feet supplied by your machine's manufacturer or opt for third party manufactured sewing machine feet!
Small Screwdriver
You'll need a small screwdriver to unscrew and change out the sewing needle.
If you purchased your sewing machine brand new, it should have come with one – usually in a pack with sewing machine oil, a small lint brush and spare bobbins – but secondhand sewing machines can sometimes be supplied minus this essential sewing tool.
Bobbins
Stitching requires two threads – one on the upper part of your sewing machine, and the second on the lower, stored in your bobbin house and used to 'lock' the upper stitch in position.
Your sewing machine will often come with a small number of bobbins, but as you develop your interest in sewing, it would be wise to invest in some more bobbins.
I hate running out of bobbin midway through a project and having lots of spare bobbins means I can have backups ready loaded from the start of a project!
Bobbin Holder
This is a great idea if you do preload bobbins. It makes it less likely that your cat will get hold of them and chase them all over the house, leaving chaos in their wake!
Keep them in this fab bobbin holder – it stores nicely on shelves and in drawers!
Hand Sewing Needles
A lot of people start by learning to sew by hand – in which case you'll need some hand sewing needles. These come in different sizes and sharpness's so that you can choose the most appropriate needle for your project.
If you plan on sewing by machine, you'll fin that a small selection of hand sewing needles are handing for small finishing tasks like hand sewing on a button or hook and eye.
Thimble
When sewing by hand, you will most likely want to use a thimble to protect your skin.
The blunt end of the needle – at the eye end! – can cause some damage to your skin when you're not used to hand sewing or are hadn't sewing heavier weight fabrics.
I have several thimbles, one of which was my gran's from many years ago.
This is a good selection of thimbles to choose from, with different shapes and styles!
Pins
I highly recommend getting dressmaking pins. These are longer and finer than standard pins and will work well on fine fabrics.
You can also get pins with small coloured ball heads – I usually avoid these because if you forget to remove the pin before sewing over it, you're more likely to shatter it which could get inside your sewing machine can damage it.
Safety Pins
I use large safety pins to keep sections of a garment together once I've removed the pattern and marked in any information such as dart, gathers etc.
They also come in super handy when marking out button placement!
Pin Cushion / Magnet
Your pins need a home, and many sewers like to use a pin cushion to keep them close to hand and easily accessible.
Other options are a wrist pin cushion, a magnet, or a simple tin like mine.
Small Snips / Scissors
Trying to cut threads with a big pair of fabric scissors or shears is asking for trouble, so some small snips or small scissors are great to keep nearby.
I usually have mine in my pins tin, so that I can drop in the pins I've collected and swipe up the snips to trims threads in one go.
Thread
Thread is not actually a sewing tool – but it would be remiss of me to create a solid guide and not mention it! – but it is an obvious sewing requirement.
Without thread, your sewing machine or hand sewing needles have nothing to sew with!
Recommended sewing thread brands that make high quality thread are:
I'm a firm lover of Gütermann threads myself.
Thread Organiser
This is handy if you end up buying threads in many different colours and weights.
Being able to see at a glance which threads you have is the clear positive to owning a thread organiser, and this tiered wooden one I have and use helps to keep my sewing shelf super organised!
Seam Ripper
A seam ripper is an amazing sewing tool. Designed to help us unpick those inevitable sewing mistakes – yes, even us pro's make them still! – a seam ripper is small and easy to use.
Tape Measure
Used to take body measurements, to measure lengths of fabric, to measure seam and hem allowances and so much more!
I love a coated fabric tape measure and have quite a few of them laying around my sewing room!
Ruler
Rulers are handy for making sure your pattern pieces are properly on grain when placed on your fabric.
You can also use them to add seam allowance if you prefer more seam allowance that a sewing pattern has.
Seam Gauge
This is a genius little sewing tool! Used for measuring seam amounts and hem allowances, I also use mine to measure the diameter of a button so that my buttonholes are the perfect size when sewn!
Fabric Pencils
Use fabric pencils to transfer details from your sewing pattern to the fabric. Pencils come in wax and chalk, but do test them on your fabric first to make sure they don't stain!
Washable Pens
An alternative to fabric pencils are washable pens. These have the benefit of showing up more obviously on fabrics, but again, check them on your fabric selvedge before using.
Tailors Chalk
As a fabric marking tool, tailors chalk is my favourite. Standard colors are red, blue and white which means whatever colour fabric you're marking, one of them will be visible.
Tailor's chalks are triangular in shape, thicker in the centre and narrower with a pointed edge – this make it both easy to hold and easy to mark in lines and details!
Tracing wheel
I've written a guide to tracing wheels here, but a quick overview – they're used to trace off your patterns onto fabric.
This is my favourite set of tracing wheels!
NB. You'll need carbon paper as well to use them in this way.
Fabric Scissors
These are great fabric scissors for sewing beginners because they feel more familiar than fabric shears.
Scissors for cutting fabric should have longer blades so that you can cut fabric more effectively.
Remember: your fabric scissors should never be used to cut paper!
Fabric Shears
If you decide you love sewing, you may want to invest in a pair of fabric shears. There are many options, but my favourite three are listed in this cutting tools in sewing guide.
Shears are made differently to scissors, are much heavier which I find helps me when cutting out fabric.
This is the current set from Kai that I'm using!
Rotary Cutter
Rotary cutters are tools for cutting fabric or paper, and have a blade that is a circle.
Rotary cutter blades come in different sizes and with the main part of the cutter being shaped in different ways, it's worth trying out several to see how they fit to your hand.
People who struggle with scissors often find that rotary cutters are easier to use.
Cutting Mat
If you opt to use a rotary cutter you will of course need a cutting mat to prevent any damage to your work table.
Like many things cutting mats come in different sizes:
A5 – great is you only plan to cut very small things with a rotary cutter, like labels
A4 – double the size of the A5, this cutting mat is big enough to cut out pockets, cuffs, collars and other smaller sized pattern pieces
A3 – not big enough for whole pattern pieces, I find this size to be quite awkward as you'll need to shift fabric and pattern in order to cut which can result in errors!
A2 – always a winner being twice the size of A3. In my old London design studio, I have multiple stuck down on my worktable, making it easier to cut full pattern pieces out with a rotary cutter!
The cutting mat that you go for will depend on the projects you anticipate needing it for!
Paper Scissors
A pair of scissors just for cutting paper is really an essential sewing tool to prevent blunting your fabric scissors!
You can buy regular paper scissors which will do the job perfectly adequately, but if you become interested in making your own patterns, definitely look at scissors created specifically for this purpose.
My paper scissors are specifically for pattern making and have much shorter blades than normally seen, which helps me to cut more accurately around curves!
Steam Iron
When sewing, you need to practice the art of pressing your stitches and your seams. Therefore, a steam iron is an essential tool!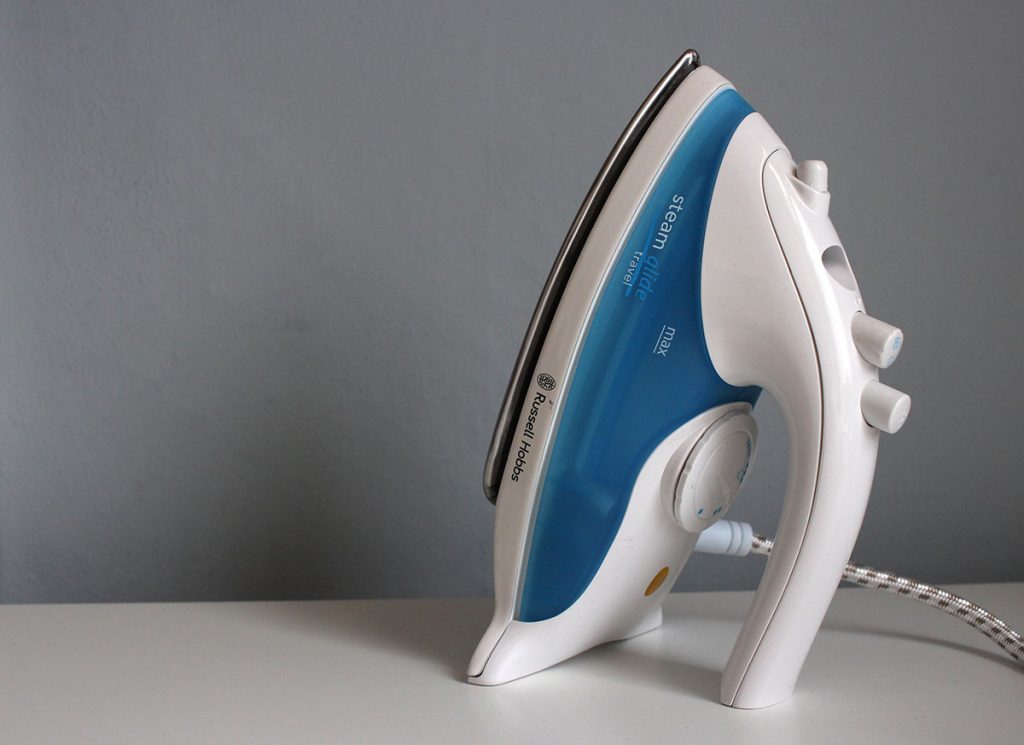 I personally use a small travel iron, which takes up less space and means I can pull it out and use it in a quick flash – especially paired with my pressing mat (see further down)!
Pressing Cloth
A pressing cloth is needed when sewing with finer fabrics, to prevent burning and other damage.
It's used as a layer between the iron and the fabric you are pressing, to protect it from being singed.
You can of course buy a pressing cloth, but if you have any muslin at home, that will also work perfectly fine.
Iron Board
You probably have one of these in your home already. Great for pressing:
Sewing patterns that have become a tad crumpled
Lengths of fabric before laying and cutting
Finished seams and hems on sewing projects
Pressing Mat
I have a 100% wool pressing mat, purchased from an ad, and I love it.
Mine measures 33cm / 13" by 36cm / 14" and is the perfect size to pop onto my work table and quickly press anything needed in a hurry.
Tailors Ham
Another essential sewing tool if you plan to sew your own clothes, the tailors ham is shaped in such a way that pressing curved items – collar stands, sleeve heads – is easy and your finished pieces won't be distorted from pressing on a flat surface!
Sewing Tools At A Glance
Here are some quick glance mini lists of sewing tools, so that you can screenshot before you head out the door!
Marking Tools For Sewing
Any one of these four options will work well for marking fabric:
Fabric pencils
Washable pens
Tailor's chalk
Tailors tacks (thread)
Measuring Tools In Sewing
This measuring tools guide is more in-depth. But here's a quick list:
Tape measure
Ruler
Graders ruler
Seam gauge
Cutting Tools
Again, you have a fair few options. Try out the different ones in store if possible to see what feels more comfortable for you:
Fabric scissors
Fabric shears
Rotary cutter
Rotary cutter blades
Cutting mat
Small snips / scissors
Paper scissors
Craft knife
Pressing Tools
For when you're ready to put together your pressing station:
Steam iron
Ironing board
Pressing cloth
Pressing mat
Tailors ham
Sleeve board
Stitching Tools
Just five essential stitching tools to get started with:
Needles
Thread
Pins
Snips
Seam ripper
Hand Sewing Tools
Six tools if you plan on only hand sewing:
Hand sewing needles
Pins
Thimble
Small snips
Thread
Seam ripper
Sewing Machine Tools
These will help you use and maintain your sewing machine:
Sewing machine needles
Sewing machine feet
Small screwdriver
Lint brush
Machine oil
Bobbins
Thingamajig (for raising sewing machine foot on bulky fabric)
Sewing Tools Conclusion
There you have it! An extensive guide to not only the essential sewing tools, but the different options available to you as your sewing skill level improves.
I hope you found this guide helpful – and if you think there's anything I missed, do let me know in the comments!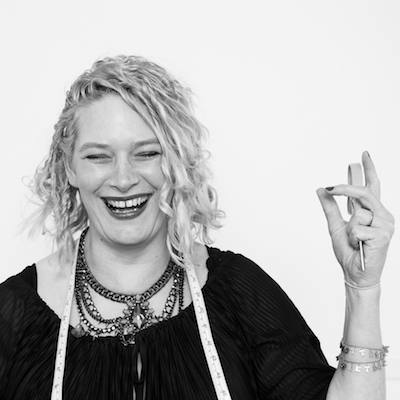 Eve Tokens (aka The Creative Curator) is a fashion designer, creative pattern cutter and sewing pattern designer.
Eve graduated with a 2:1 in Fashion Design from the University of The Creative Arts in the UK, has a BTEC diploma in Creative Pattern Cutting, a Foundation Degree in Art & Design from Wimbledon College of Art and gained extensive experience in the fashion industry by interning and freelancing for London based fashion brands – Hardy Amies, Roland Mouret, Peter Pilotto and others.
As well as running her own small sustainable fashion brand, Eve has more than 25 years experience sewing and making clothes for herself and family members.