So you want to know how to make a gathered skirt with an elastic waistband? This rectangle skirt tutorial is not only one of the easiest skirts you can make, but if you follow the instructions, it'll be a DIY zero waste skirt too!
This skirt is lovingly referred to as a 'grandma skirt' after my Gran who used to sew these up in record time. Granted she never had quite as much gathering as I have added, and her elastic was always the thin, knicker elastic type, but my version very much owes its existence to my Gran.
What You'll Need For A Rectangle Skirt
You won't need much for this DIY rectangle skirt! As it is zero waste, the wider the fabric you choose, the more gathers you'll get.
We'll also be creating a casing for the waistband and feeding elastic through to really gather the fabric in.
You'll also want enough matching thread. To prevent any raw edges, I used French seams and a pin hem on the skirt as I made it back in the UK and was limited to using my Mum's old sewing machine, which is a basic Singer with just a straight stitch and zigzag stitch.
Fabric Choice For The Rectangle Skirt Tutorial
For this skirt I used a beautiful drapey viscose rayon. As soon as I saw this print on The Village Haberdashery website, I loved it and knew it would make a super glam skirt when paired with my new sequin blazer, so I ordered 1.25m which set me back about £20.
The fabric was 150cm wide and 128cm in length, though I did lose 3cm when I straightened up the one cut edge.
Elastic Choice For Gathered Rectangle Skirt
Initially I had intended to use a 2″ / 5cm wide elastic which I planned to sew channels along once it was inside the casing, the same method I used when sewing this men's drawstring shorts pattern for my other half.
In the end, because of how 'short' the skirt would have ended up with elastic that wide, I used 1″ / 2.5cm wide elastic through a casing.
Start by measuring your waist at the point you would like the skirt waist to sit, and cut this amount in elastic. You can make it less, but we will be overlapping and cutting it to the exact measurement means that you won't accidentally cut it too small and make the waist too tight.
Cutting The Rectangle Skirt
As I've mentioned, this rectangle skirt can easily be cut as a zero waste skirt.
Deciding Fabric Width
Note how wide your chosen fabric is. To do this, measure along the cross grain.
Common fabric widths are:
If I take my tape measure and create a 112cm circle to step into, it won't go around my waist let alone my hips. So I know I'd need at least two 'widths' to make a gently gathered rectangle skirt.
When measuring my rayon fabric, it comes in at 150cm wide, which will go around my waist and hips, but would only be a gentle gather. I decided I would use twice the width to get the full amount of gather I was after.
Deciding Fabric Length
For me, I had to work with the length that I had purchased on the spur of the moment. I had ordered 5 quarter lengths, which comes to 1.25m. The store had cut it a little longer, so I had 128cm to play with for the length.
As I wanted twice the width for the gathered effect, I knew I would need to cut my fabric in half, making my maximum length 64cm.
But, I also needed to hem the fabric – a pin hem would use no more than 1cm – and I needed to create a channel at the waist for the elasticated waistband.
So, we had 64cm minus 1cm for the hem and minus another 2.5cm for the facing part of the waistband and 1cm for the seam allowance part.
In total, I would have a maximum length of 59.5cm.
Now that you know how much width you need for your skirt, your next decision is to decide how long you want the skirt to be.
Factor in – as I did – the hem allowance you'll need for your chosen hem finish, and the waistband amount too. You can also create a separate waistband if desired, but I chose not to so that I wouldn't lose more length to additional seam allowance amounts.
My Final Fabric Measurement
The final dimensions for my skirt were:
And I cut the fabric in two so that each piece measured:
Sewing The Rectangle Skirt
Sewing the skirt was super easy. If you've never sewn one before, use this French seam tutorial. By sewing a French seam I was able to ensure that there were no fraying raw edges on the inside of the skirt.
1. Sewing The Skirt Side Seams
I started by pinning the fabric wrong sides together at the side seams. Make sure that if your print is directional like mine, that the print is running in the correct direction on both sides.
Sew the side seams with a 1cm seam allowance. Trim the excess away – I left mine at about 4mm – and then turn so that the fabric is wrong sides out, and press the seams.
Sew the second line of stitching to complete the French seams.
2. Sewing The Skirt Hem
Next up, we're going to sew the skirt hem. For this, you have options:
I went with the pin hem option, as the rayon fabric was light and drapey and I thought it would work well. It did.
3. Sewing The Skirt Waistband
Final part of the completely the gathered rectangle skirt was to sew the waistband. For this I turned under 1cm as seam allowance, and then turned another 2.5cm as the waistband channel for the elastic.
I sewed along this folded edge as carefully as possible to make sure that the fabric was all caught in the stitched line, and left an opening of about 4″ / 10cm to feed the elastic through.
The elastic was the trickiest part. As I had so much 'with' to the skirt to gather in, and a much smaller amount of elastic, it was hard to feed the elastic through such a small channel without it catching on the stitched line.
I of course used the safety pin method but as there was just so much fabric in the width, it took me about an hour to feed the elastic all the way through.
I then overlapped both ends of the elastic and stitched them together to secure. Finally, I evened out the amount of gathering along the entire width of the elastic.
The final result was a super simple to create gathered rectangle skirt with a beautiful finish inside and out.
I wore the skirt with a sequinned blazer when out for dinner in Malta, and I have to say I loved it. What do you think?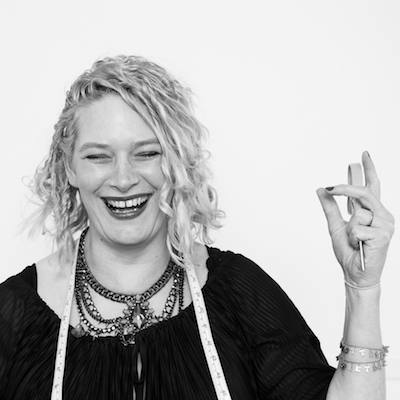 Eve Tokens (aka The Creative Curator) is a fashion designer, creative pattern cutter and sewing pattern designer.
Eve graduated with a 2:1 in Fashion Design from the University of The Creative Arts in the UK, has a BTEC diploma in Creative Pattern Cutting, a Foundation Degree in Art & Design from Wimbledon College of Art and gained extensive experience in the fashion industry by interning and freelancing for London based fashion brands – Hardy Amies, Roland Mouret, Peter Pilotto and others.
As well as running her own small sustainable fashion brand, Eve has more than 25 years experience sewing and making clothes for herself and family members.