With fashion being a trillion dollar industry, you can be sure that there are many types of clothes within it.
Clothing is worn at home, to work, when out socially or participating in sporting and leisure activities. We also wear clothing for important occasions like weddings and graduations.
If there's an event or activity that we would not attend naked, then clothing is considered essential.
So, what are these different types of clothes?
Types Of Clothing
Clothing – also referred to as clothes, apparel or garments – are typically items made from fabric and other materials that are worn on the human body.
There are clothing 'types' based on setting:
Business attire – worn for work purposes
Casual wear – worn as standard clothing
Formal wear – worn for events such as weddings
Lingerie – under garments worn for support and / or decoration
Sports wear – worn for athletic activites like running
And 'types' based on gender and age:
Baby clothes
Childrens wear
Menswear
Womenswear
But clothing can also be broken down into different types of clothes based on garment:
Bloomers
Blouse
Bodysuit
Bra
Bustier
Caftan
Cardigan
Cloak
Coat
Corset
Dress
Dungarees
Jacket
Jeans
Jumper
Jumpsuit
Kilt
Kimono
Knickerbockers
Leggings
Legwarmers
Leotard
Panties
Pants / Trousers
Petticoat
Playsuit
Poncho
Pyjamas
Sarong
Shawl
Shirt
Shorts
Skirt
Skort
Sock
Sweater
Swimsuit
Teddy
Tie
Tights
Tops
Tracksuit
T-Shirt
Waistcoat
And then there are the different cultural clothing types too:
Traditional Japanese clothing
Traditional Indian clothing
Traditional Scandinavian clothing
To name just three! As you can see, the types of clothes really is vast!
Different Types Of Garments
To make this the most conclusive list of clothing types, let's look at the above list of garment types, and break it down further with descriptions and photos!
Bloomers
Bloomers are an undergarment worn on the lower body, usually with an elasticated waist, and often finished with lace on the hem of each leg.
They were created in the 19th century to be looser and more lightweight than the dresses worn by women which were at the time made from heavy weight fabrics.
Although not designed by her, bloomers are so called after Amelia Bloomer, the women's rights activist from the 19th century.
Blouse
A blouse is an upper body garment, found in womenswear. Similar to a shirt, the blouse can be:
Long sleeved
Short sleeved
Sleeveless
Blouses are often made from a lightweight fabric than their 'shirt' counterparts, and often have more interesting details, such as lace collars, gathering, pleats, pin tucks and more.
Bodysuit
Think of a bodysuit as a leotard with a snap opening under the legs and you're on the right track! Bodysuits are usually made from skin toned knit fabrics so that they can offer a little modestly when wearing low cut dresses .
Bra
Bras are worn by women to support the bust. They come in different styles, with different cuts, shapes and levels of support too.
Bustier
The bustier is an upper body garment that fits close to the bodice, with straps on the shoulders. There is not usually boning in a bustier, but it is made up of many sections, similar to a corset.
The most famous and easy to recognise bustier is the one John Paul Gaultier made for Madonna!
Caftan
The caftan (also spelled as kaftan) is a loose fitting garment made popular in the 1950s by Christian Dior. Traditionally it was open at the front, though in the 2000s they have often been created closed as a simple pull-on style dress or cover up.
Cardigan
We've all worn cardigans knitted by our grandmas right? Much like a sweater, cardigans are made from knit fabrics and have a front opening. They can be zippered, but a button opening is more popular.
They were made famous in the 1920s by Chanel as part of the two and three piece sets with skirts.
Cloak
A cloak is worn as an overgarment which can cover just the upper body, or be longer in length reaching the thighs, knees or even ankles.
They typically have slits in the front for the arms to exit as and when needed.
Coat
A coat is similar to a jacket, but longer in length and designed for colder weather. They're more of a winter garment and can be made from heavy weight fabrics such as wool, with interlining added for extra warmth before the lining Is added.
Corset
Historically corsets were worn under clothes such as dresses and laced up very tightly to 'cinch' in the waist so that it was as tiny as possible.
Since 1987 when Vivienne Westwood added corsets into her collection, other fashion designers have followed suit, and corsets are now a well used type of clothing used in dresses and as separate pieces!
Corsets differ from bustiers in that they use 'stays' or 'boning' to provide structure and support. These can be metal, plastic or polyester boning.
Dress
A dress is a garment which hangs from the shoulders, covering the upper body area, buttocks and thighs. It can be close fitting ot loose and airy.
Stylistic variations mean that dresses can also be strapless, which requires them to be closely fitted to the upper bodice, and can also fall to any length between thigh and floor.
I have an indepth guide to the different types of dresses if you'd like to learn more.
Dungarees
Worn by women during the World Wars, dungarees were originally workwear for men. They're made up of trousers, a front and back bib, which are secured together with should straps.
Now worn by women and children more than men, the dungaree has become a firm favourite, being made of denim, corduroy and vibrant printed fabrics too!
Jacket
The jacket can be either casual or formal, and worn as tailoring or outerwear. An anorak and a bomber jacket are considered to be a type of casual outerwear jackets, while the tuxedo and blazer are tailored jackets.
Jeans
Originally known as a type of cotton fabric woven in Nîmes in France, it became a more recognised term as a garment made from denim by Levi Strauss in the 1800s.
Jeans in the 2020s come in a range of styles, fabrics and cuts as well as different colours when created in denim!
Jumper
In the 19th century, a jumper was a short coat-like garment worn by men. It is currently the terms used in the UK when referring to a sweater.
Learn more about jumpers with this great guide on the types of sweaters here!
Jumpsuit
The jumpsuit is a popular garment in the 2020s – with sewing patterns popping up from indie pattern designers the world over!
It's a full body piece of clothing, traditionally with long sleeves and long legs, and also goes by the name of 'flight suit' or 'boiler suit'.
Kilt
Woven plaid or tartan fabric is used to make a kilt, which is worn like a skirt, hanging from the waist down.
Traditional men's kilts can be completely pleated or have the end sections of the fabric left unpleated, which overlap at the front of the body.
Women's kilts are less specific, with the style being influenced by seasonal trends.
Kimono
The kimono is a type of robe from Japan which is often used as the basis for dressing gowns, but has frequently since the late 19th century been adopted by fashion designers as a dress trend.
Knickerbockers
Despite being a very historical item of clothing, knickerbockers were made fashionable by fashion designer Yves Saint Laurent in the late 1960s.
They're loose breeches – like trousers! – but are gathered just below the knee.
Leggings
Worn on the legs, leggings have been popular casual clothing for many years but have their historical roots as a cold weather underlayer from the Middle Ages!
Modern day leggings are made from an elasticated fabric – usually knit – and are worn very close to the body.
They come in different lengths too, from full length – waist to ankle – to low rise capri length and more!
Legwarmers
I recall being forced to wear legwarmers as a school girl during the 80s in the UK!
Back then they were cyclindrical, knitted by hand and worn on the legs, between our knees and ankles.
They could be hidden under our school trousers or worn with mini skirts to make a fashion statement.
Leotard
An item of clothing that I hated wearing when younger, the leotard covers the body from the crotch to the shoulders.
It was first worn by Jules Léotard, a French trapezist, in the 19th century and since then has become popular with disco lovers and dancers.
It's now made from a variety of fabric types for both activewear and casual wear needs.
Panties
Panties are an underwear worn by women on the lower body parts. Also referred to as knickers in some countries, they can be made from knitted cotton fabrics, lace, mesh and more.
They're often trimmed with folder elastic or picot trim for a decorative finish as well as to finish the raw edge of the fabric.
Pants / Trousers
Worn on the lower body to keep the legs warm and covered, pants (or trousers as they're also known!) are an iteration of the early 19th century knickerbockers, and have been worn by women since the 1920s.
Back then the legs of trousers and pants were baggy in style, and it wasn't until the 1970s that it became acceptable for women to wear pants to both casual and formal occasions.
Petticoat
The petticoat is a type of underwear garment, worn under skirts and dresses as an extra layer for warmth.
They're not as commonly worn in the 2020s as they were when I was growing up in the 1980s – I recall my gran making petticoats for herself and her sisters whenever she bought a stash of silky fabrics.
Playsuits
Not disimilar to a jumpsuit, a playsuit is shorter in length on the legs. Made from a variety of fabrics and cut in as many styles, a playsuit is a great contemporary piece of clothing – if you can handle taking the entire thing off to pop to the toilet!
Playsuits are often also called rompers when referring to those designed for women!
Poncho
Ponchos originate from South America, and look a lot like big blankets with just a simple opening through which we place our head. My other half has several which he uses to keep warm in the winter months.
They can be solid in color, or created with different designs when woven.
Pyjamas
Pyjamas are worn by women, men and children as nightwear, but are increasingly made popular as evening wear by current fashion designers.
This 'nightwear' as 'evening wear' trend started a century ago back in the 1920s.
Sarong
The sarong is a traditional piece of clothing worn by the women of Bali and Tahiti but has been a popular summer garment since the 1940s!
It is a long piece of fabric which can be worn either wrapped around the lower part of the body and tied at the waist to look a little like a skirt, of wrapped around the upper body and tied at the neck so that it acts a little like a dress.
Shawl
Another item of clothing made from a square piece of cloth, the shawl acts as a cover up. The fabric can be lightweight for evening wear shawls or cut from wool and used to keep warm.
A longer version of a shawl is called a stole!
Whether worn indoors or out, shawls are a handy piece to have to throw over your shoulders.
Shirt
A shirt is a piece of clothing worn on the upper body. It traditionally has a front placket at the centre front with a button opening, so that the shirt can be put on and buttoned up.
Shirts are worn as casual wear and evening wear by both men and women.
I have a great guide to the many different types of shirts!
Shorts
Women have worn shorts – a casual garment – since the 1920s, though they are often vamped up by fashion designers and worn as evening wear when out for a night out.
Shorts are also popular as a simple summer staple with a vest top, worn with a shirt tucked into the waist or as part of a two piece pyjama set.
Shorts are easy to make, and the legs can be super short hot-pant style to knee length.
Skirt
A skirt is another type of clothes worn on the lower body. They can be made form any fabric that you can think of, come in long, midi, mini and micro lengths, as well as many different styles.
Learn more about the different types of skirts and styles here!
Skort
Part skirt and part shorts, the skort is a type of clothing that looks like a skirt from the front – due to an overlapping panel of fabric – but looks like shorts from the back.
A skirt is technically a pair of shorts – it has bifurcated leg pieces – but with the additional front panel, it looks like a skirt – hence 'skort'.
I've never worn one, but I believe they were made popular by tennis players!
Socks
Of course no guide on the different types of clothes would be complete with our socks. Whether shop bought or hand knitted, socks are what keep our feet toasty warm in those winter months and sticky and sweaty throughout the summer.
Made from knitted fabrics, socks can be barely-there sports socks which slip of the ankle when you're running around, ankle length to keep the chill away on cooler evenings or even full on knee high (or thigh high!) for full on leg warmth!
Sweater
Sweaters are garments worn on the upper body by women, men and children. They are made from knitted fabrics, and also go by the name of 'jumper' in some parts of the world.
Learn more about sweaters with this guide to different sweater types!
Swimsuit
Whether a classic one piece or cut into two pieces to form a bikini or tankini, a swimsuit is worn when in or near water. It is made from a knitted fabric with two way stretch and negative ease so that it clings to the body when wet.
Originally known as a bathing suit back in the late 1800s, it was always back then a two piece suit made of wool making it useless for swimming in. It wasn't until the 1920s that swimsuits with elastic were created – by Jantzen – but these were still not suitable for swimming.
By the end of World War II fabrics had evolved and the swimsuit as we now know them evolved.
Teddy
A teddy is a relatively loose fitting piece of underwear. It has narrow straps allowing it to hang from the shoulders and is 'done up' under the crotch. It is very much like wearing a bodice slip with knickers / panties in an all-in-one piece of clothing.
I recall being a girl of sixteen and being given a teddy by my mum, sort of like a 'coming of age' gift. It was made from silk satin, had lace trim at the bust and poppers on the crotch gusset.
I loved that teddy – and wore it under dresses as underwear – and should probably make some for myself!
Tie
Ties are worn under the collar of shirts, either as a long tie or a bow tie. Worn mostly by men, they are slowly becoming popular with women.
I have two fab bow ties which I like to wear from time to time. One I made myself can be seen in the photo below!
Tights
Worn from the tippy toes up to the waist, tights are a knitted piece of clothing that are skin tight. Worn in a heavy denier in the winter months for warmth, and a lighter, silkier denier in the summer, tights are also referred to as hosiery and have been around since 1960s.
As well as being available in different 'deniers' and colors, tights are also created with design in mind – they can be polkadot, fishnet, diamond, lacey and everything in between.
Think of them as a great way to add some oomph to an outfit!
Tops
We've looked at blouses and shirts but another upper body garment type are tops. These could be crop tops, boob tubes, tank tops and others, but they're known as 'separates' by fashion designers.
Whether made from knit or woven fabric types, 'tops' are a great way to be more unique with what you're wearing, especially if you're making your own clothing. A pattern for a top can use next to nothing if the design is basic to meters if it's a complex draped design.
Tracksuit
Popularised by athletes, the tracksuit is a two piece outfit made with 'jogger' style bottoms and a long sleeved top. The top can have a zippered opening or be a simple pullover style top. They're usually made from cotton or sportswear friendly synthetic fibres.
A 1980s version of the tracksuit (which I recall LOVING!) was the shell suit! Again, it was a zippered top with knit cuffs at the wrists and waist and matching jogger style pants too. Oh the memories!
T-Shirt
The t-shirt is a short sleeved knit top which has become very popular – one could even say an everyday item – piece of clothing.
Waistcoat
A waistcoat is a type of clothing worn by both men and women. They are traditionally worn as part of a three piece suit – over a shirt and under a jacket – though women have for several decades taken to wearing them with just a bra underneath for a slightly sexier look.
Types Of Clothes
This list of the different types of clothes is not exhaustive. It covers only a period of time relevant to us in the 2020s with some historical context added in.
I could of course create an even more in-depth guide covering the types of clothing from different eras – Byzantine is just one that springs immediately to mind! – but as that would be more for historical information rather than contemporary, I think it's ok to write that at a later time.
For now, I hope that this guide was not only informative, but also inspiring!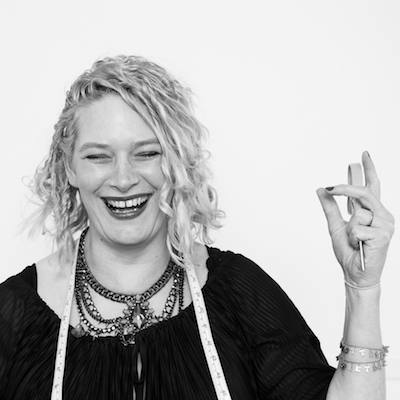 Eve Tokens (aka The Creative Curator) is a fashion designer, creative pattern cutter and sewing pattern designer.
Eve graduated with a 2:1 in Fashion Design from the University of The Creative Arts in the UK, has a BTEC diploma in Creative Pattern Cutting, a Foundation Degree in Art & Design from Wimbledon College of Art and gained extensive experience in the fashion industry by interning and freelancing for London based fashion brands – Hardy Amies, Roland Mouret, Peter Pilotto and others.
As well as running her own small sustainable fashion brand, Eve has more than 25 years experience sewing and making clothes for herself and family members.