There are many uses of pockets, going back thousands of years – I'm talking BC here! – when pockets were used to carry valuable items. Back then pockets were more like pouches, but over time, despite pockets still being used for the same reasons, they have evolved into something else.
Fast forward to 2019 and pockets are now just as likely to be added to clothing as a design feature as they are used as a place for storing valuables.
Note: Some of the links in this post are affiliate links, which means I may receive a commission if you make a purchase at no further cost to you.
Women's Pockets; Or lack Of!
One debate that still takes place is the lack of sensible pockets in women's clothing, and this has always been the case. In fact, back in the 17th century men had the luxury of pockets being sewn into their clothing, whilst we women had to make do with pouches worn under our clothes, often just tied at the waist
Today, we women are still left behind when it comes to pocket equality, with smaller pockets in most women's garments; they are usually cut narrower, shorter and created for design more than purpose in many cases.
How many times have you attempted to put an oversized smartphone into a miniscule denim jeans pocket, only for it to fall and crash to the floor when you bend over more than a millimeter?
Exactly – there is definitely no purpose there. In fact this article goes to some length at explaining the gender inequality and politics surroudning pockets through the centuries!
Uses Of Pockets: A List!
Whilst historically pockets were used to store valuable items, in today's world, they are as likely to hold your loose change as they are the latest smartphone.
That said, there are many other uses of pockets such as:
Handkerchief pocket
Ticket pocket
Beer pocket
Watch pocket
Coin pocket
Sewing Your Own Pockets
One of the greatest aspects of being able to sew my own clothes is the joy of adding in pockets to my own clothes. Whether they are big and billowy holding all my possessions or sharp and tailored with space for just my phone, being able to design and sew my own pockets is a joy.
To that end, you can expect to see over thirty posts coming your way – and they're all about pockets! Woop woop! Here's a quick look at what you can expect to find:
Easy pocket patterns
Tutorials for drafting patterns
Sewing tutorials for different pocket styles
Adding zippers to pockets
And so much more…
All the posts will be added to my Pockets overview page, and will be quite the comprehensive collection of Pocket posts ever! So, do stay tuned for that!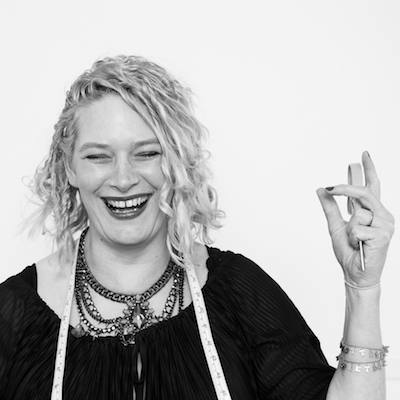 Eve Tokens (aka The Creative Curator) is a fashion designer, creative pattern cutter and sewing pattern designer.
Eve graduated with a 2:1 in Fashion Design from the University of The Creative Arts in the UK, has a BTEC diploma in Creative Pattern Cutting, a Foundation Degree in Art & Design from Wimbledon College of Art and gained extensive experience in the fashion industry by interning and freelancing for London based fashion brands – Hardy Amies, Roland Mouret, Peter Pilotto and others.
As well as running her own small sustainable fashion brand, Eve has more than 25 years experience sewing and making clothes for herself and family members.