Home sewing machines often come with one or two basic 'feet' (also known as a presser foot) but there are many types of sewing machine presser feet available as add-ons that can really help you to explore the possibilities of your sewing machine and sew more creatively.
Let's look at the common (and less commonly known about) sewing machine feet, and when you'd use them!
If you're completely new to using a sewing machine, I have a great beginner friendly course – Master Your Machine – which will have you feeling super confident in no time! And if you're still thinking about buying a sewing machine, check out my guide to buying a sewing machine too!
What are the Different Types of Presser Feet?
Presser feet can be divided into the 'essentials', the 'decoratives' and the 'I'll only ever use this once in my entire sewing life' types.
Always remember that this list is not about encouraging you to go out and buy all the possible options – just a guide to what IS available should you want to expand your selection of machine presser feet!
I've covered each of the more commonly used presser feet below in alphabetical order so do scroll straight down if there's one in particular you're looking for information on.
The more obscure ones are towards the very end of the guide!
Basic Standard Presser Foot / Zigzag Foot
This is the basic presser foot that every sewing machine comes with. It has an opening at the centre so that it can be used to sew straight stitch or zig zag stitch, a centre groove to help you sew straight and a cut out for the thread to be passed through.
This sewing foot can be used for everything, it's like a universal foot, but not all sewing machines will supply one suitable for zigzag stitching.
Below is the standard foot supplied with my handcranked Singer 66 sewing machine, which is a straight stitch only sewing machine.
Binder Foot
These feet are great if you'll be sewing lots of binding tape, though they can be incredibly fiddly to use.
They come in different sizes and will help you apply bias tape to fabric with one line of stitching. Genius.
Blind Hem Foot
This foot is used to sew blind hems, but can also be used to create pin tucks as well! It protrudes further forwards than a regular sewing machine foot, and has a guide for fabric placement.
Button Foot
It's now possible to sew your buttons on by machine – yay! – which is great for anyone that hates hand sewing buttons!
It can only be used for flat buttons (obvs) but this dedicated foot holds the button in place while the stitches are sewn.
Buttonhole Foot
I have to admit, I am for the most part old school, and usually mark my buttons in manually by hand and then use the buttonhole function on my machine to sew them.
A buttonhole foot comes in two different versions:
Automatic buttonhole foot – this foot will do all the steps of creating a buttonhole automatically, so you don't have to manually change any dials of knobs.
Sliding buttonhole foot – a foot for manually sewing four step buttonholes to a specific size.
Cording Foot / Piping Foot
Also known as a piping foot!
Piping and cording can be used as a form of embellishment on the surface of fabric or as a decorative trim within seams. This type of presser foot will help you sew your piping and cording beautifully!
Darning Foot
Some sewing machines comes with a darning functionality (my Bernina does, though I have never put it into practice!) and a darning foot can be a great addition!
When you start the darning function, the feed dogs will lower making it easier for your to 'darn' away.
Embroidery Foot
An embroidery foot is for making a decorative stitch with your sewing machine. Decorative stitching can be a great way to embellish sewing projects that you're working on, and am mbroidery foot can be a more affordable option compared to the cost of a dedicated embroidery sewing machine.
Gathering Foot
If sewing gathers is your jam, but you don't want to sew longer length stitches and then hand gather the fabric, a gathering foot is probably one to add to your kit.
Non-Stick Foot
On home sewing machines, the non-stick foot is made from plastic, but on more professional sewing machines, it is often made from teflon.
Either way, the result is the same – a sewing machine presser foot that that minimises stickiness and can make for better sewing of synthetic fabrics and non-grain materials.
Pintuck Foot
I touched on pintucking under the blind hem foot, but a dedicated pintuck foot has twin needles and channels to help you sew beautiful pintucks again and again.
Rolled Hem Foot
A genius presser foot, perfect for sewing rolled hems on fine fabrics. Think of those silk scraves with the impossibly narrow, rolled hem – that will have been sewn with a rolled hem foot!
A manual method is of course to sew a pin hem.
Roller Foot
If the non-stick foot is providing a little too much tension for your sewing needs, try a roller foot. It loks similar to a standard foot, but has two rolling cylinders (one at the front, the second at the back) which help the fabric to 'roll' under the presser foot.
Ruffler Foot
A ruffler foot often looks like a scray contraption for sewing beginners, but the foot will help you sew beautiful ruffles.
Walking Foot
I used a walking foot throughout my graduate collection at fashion school. It works well when you're sewing sticky fabrics that a teflon or non-stick presser foot is struggling with.
Zipper Foot
Gotta love a zipper foot! Although I have been know to sew a zipper in without one, they do make sewing zippers easier if you have one in your stash. The types of zipper feet are:
Regular zipper foot – this is the standard foot, which helps the needle sit very close to the teeth of your zipper for a neat finish.
Invisible zipper foot – perfect for those concealed / invisible zippers, this zipper foot will allow you to stitch exceptionally close to the zipper so that when closed, it is 'invisible'.
More Obscure Presser Feet
So the above feet are likely to fall into the 'essentials' and 'good to have' categories, but let's have a look at the more obscure presser feet now!
Beading Foot
With a deeper groove than seen on other feet (piping and pintucking feet come to mind) the beading foot is used for sewing strings of beads to fabric.
Fringe Foot
Another obscure one, apparently this presser foot creates decorative fringing using continuous thread. If you have this presser foot / have used one, please do let me know in the comments, I'm intrigued!
Ribbon Foot
Supposedly this foot is used to sew sequins and ribbon onto fabric!
Satin Stitch Foot
Great for anyone that is interested in applique, the obscure (to me!) satin stitch foot helps you to sew very dense zigzag stitches.
What Presser Foot Do You Need?
While the above list can look a little intense, you do not need every presser foot listed – especially not the obscure ones!
The best plan is to read think about the type of sewing you're likely to want to do with your sewing machine, and from there, build out a list of the different sewing machine feet that will be suitable.
For my Bernina 1008, I have just five sewing machine feet:
Adjustable blind hem foot
Buttonhole foot
Sliding buttonhole foot
standard foot
Regular zipper foot
And for my old hand cranked Singer sewing machine, I have:
The Binder
The Foot Hemmer
The Adjustable Hemmer
The Standard
The only one I've used is the standard foot.
I could of course purchase many other feet for my Bernina sewing machine, but I have never felt like I was missing out, and these five have served me well for the almost 20 years that I have had it!
So, there you have it! Which presser foot can you not live without? Which have you never used? And have I missed any off the list that you think I should have included? Let me know in the comments below and if you'd love to learn more about presser feet and all things sewing machine based, do check out my brand new online course 'Master Your Machine'!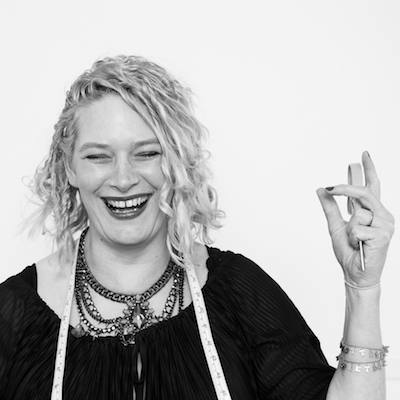 Eve Tokens (aka The Creative Curator) is a fashion designer, creative pattern cutter and sewing pattern designer.
Eve graduated with a 2:1 in Fashion Design from the University of The Creative Arts in the UK, has a BTEC diploma in Creative Pattern Cutting, a Foundation Degree in Art & Design from Wimbledon College of Art and gained extensive experience in the fashion industry by interning and freelancing for London based fashion brands – Hardy Amies, Roland Mouret, Peter Pilotto and others.
As well as running her own small sustainable fashion brand, Eve has more than 25 years experience sewing and making clothes for herself and family members.