I have a great article on what is interfacing fabric if you've never these special stabilising fabrics before, which is perfect for beginners. Then, when you're ready, this tutorial here will teach you how to use iron on interfacing.
Fusible interfacing is a type of fabric that has glue applied to one side. We then use heat – in the form of an iron or a heat press – to melt the glue which makes it adhere to fabric.
It's used to add strength or structure to fabrics for many different reasons. When making clothing, we apply iron on fusible interfacing to areas like collars, button stands, cuffs and hems.
Using Iron On Interfacing
Iron on fusible interfacing comes in different weights and types, but they all have a 'glue side' which is shiny to look at. As you can see in the photo below, there is a slight shine coating the visible side of the interfacing fabric – this is the adhesive that will be melted when we apply heat to it with an iron.
What You'll Need To Iron On Your Interfacing
You won't need much to start using this interfacing type. Just five things are needed:
Fusible interfacing
Fabric
Iron
Pressing mat or ironing board
Pressing cloth
Step 1: Cutting The Fusible Interfacing To Size
Start by cutting the interfacing you've chosen to use down to size. I place mine over the fabric (I'm interfacing a piece of white denim for a new patch pocket) and I grab a pen to mark in where my cutting line will be.
Next, take scissors – preferably ones that are not your favourite fabric scissors as the glue will gum them up! – and cut the interfacing using your marked line as a guide.
Step 2: Ironing On The Fusible Interfacing
Place your interfacing onto your fabric piece as shown below. The glue side should be face down on the wrong side of your fabric.
Apply a warm iron by lowering it onto the interfacing. If needed, you can use a pressing cloth between the fusible and your iron. Keep lifting the iron and placing it in a new spot – we're not 'ironing' so your iron should not be moving at all! – and leave for a few moments so that the heat can melt the glue.
Step 3: Check For Interfacing Bubbles
When you've covered the entire piece of fabric, check that there are no 'bubbles' between the interfacing and the fabric. This is easy to see if you pick up one corner and roll the fabric into a slight curve.
If there are any, be sure to reapply the iron so that the glue melts and sticks to the fabric. You may need a slightly hotter iron, but avoid using steam as this can cause more problems.
Now, give the fabric a press from the right side and you've successfully ironed on fusible interfacing to fabric!
This is what my fabric looks like on the wrong side – there are no bubbles between my interfacing and fabric!
There's plenty of structure to my denim now, perfect for a small patch pocket on the back of my jeans!
There you have it. A nice simple tutorial on how to use iron on interfacing.
If you enjoyed this, Have many more tutorials for sewing beginners here. If you prefer learning from videos, do check out my page of sewing and pattern making video tutorials here!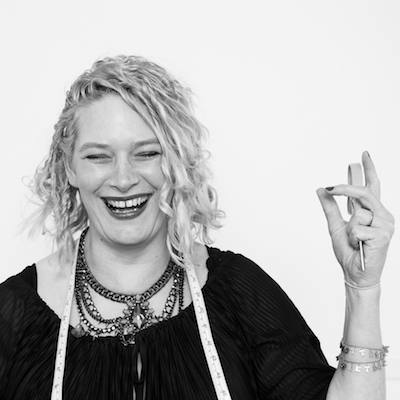 Eve Tokens (aka The Creative Curator) is a fashion designer, creative pattern cutter and sewing pattern designer.
Eve graduated with a 2:1 in Fashion Design from the University of The Creative Arts in the UK, has a BTEC diploma in Creative Pattern Cutting, a Foundation Degree in Art & Design from Wimbledon College of Art and gained extensive experience in the fashion industry by interning and freelancing for London based fashion brands – Hardy Amies, Roland Mouret, Peter Pilotto and others.
As well as running her own small sustainable fashion brand, Eve has more than 25 years experience sewing and making clothes for herself and family members.