There are several reasons why you might be looking for the best electric scissors for sewing. Electric scissors are great for:
Cutting through several layers of fabric
Cutting through thick fabric that your regular scissors may struggle with
Cutting fabric faster if your own hands struggle with scissors
When I started looking for the best electric scissors for fabric, it was because I thought that they might be a great alternative to regular sewing scissors for my Mum, who suffered with extreme arthritis.
While the fabric scissors I had bought for her were nice and sharp, she did struggle to hold them, and could only cut through one layer of fabric at a time, and often ended up having my Dad cut things out for her instead.
If you plan to create any quilted items (I'm going to be making a quilted leather jacket in the next few weeks!) then electric scissors can be a great way to speed up the process of cutting thick fabric that has been quilted it with wadding!
How Do Electric Scissors Work?
So, how do electric scissors work?
Typically they have one of two types of blade:
O-blades: for cutting fabrics
D-blades: for cutting metal
The choice if you're planning to cut fabrics will be the O blade, which has a bezelled blade as seen on regular scissors.
This type of scissor is also more ergonomic – they're designed to sit nicely in the hand with space below the knuckles so your hand doesn't 'drag' along the fabric.
Finally, just like a regular scissor, the blades will 'close' so that they cut through the fabric, only you'll be doing much less of the work compared to fabric cutting with shears!
3 Best Electric Scissors
So, what are the three best electric scissors for cutting fabrics?
1. Pink Power Electric Scissors
The 'Pink Power' electric fabric scissors are cordless and come with a rechargeable battery.
Yes they might be pink, but the fact they're battery free is what makes them a winner in my eyes – that and the fact they are the lowest price on the list and do a great job.
They have an ergonomic handle so they're easier to handle than you might think, and while they will also cut through metal and card with the included D-blade, it's the O-blade I wanted them for, which will allow me to cut through fabrics with ease.
If you're in the UK, grab these Walowalo electric scissors – they're exactly the same, just green instead, so I suspect they're made by the same manufacturer.
2. Black & Decker SZ360 Cordless Power Scissors
Black & Decker is one of the biggest names when it comes to electric tools, but are their electric scissors up to scratch?
The one that people talk about and always recommend are the Black & Decker SZ360 electric scissors. They again come with a rechargable lithium-ion battery, so can be used without a cable, which is great when you're cutting fabric and trying to avoid any shifting.
This one comes in green, but they also do blue or pink if green is not your color.
The scissors have up to 70 minutes of cutting time per charge, but I would expect this to drop if you're trying to cut through multiple layers or a particularly thick fabric – the scissors are only
3. MXBAOHENG Cordless Scissors
The most expensive electric scissor on the list is another 'unknown' brand – but also cordless electric scissors using a rechargable battery rather than the replaceable kind.
It will cut fabric up to a maximum 15mm thick, so not as 'industrial' as the version I used at fashion school, but unless you're trying to cut through several layers of thick wool or a leather, the upper limit should be fine for most home sewers.
Electric Scissors Vs Electric Rotary Cutter
So, we've looked at the three best electric scissors – what about those of you who love a rotary cutter?
If you usually find yourself reaching for the rotary cutter rather than a pair of fabric scissors, you'll probably find that an electric rotary cutter is more your thing for fabric cutting.
There are benefits:
They cut faster than electric scissors
They are more ergonomic (in my experience)
The blades are usually easier to replace
They're usually a better price than electric scissors
The downsides are:
The noise and vibrations stay with you awhile after you've finished cutting fabric
They're rarely cordless
Best Electric Rotary Cutter
The vibration is something to be aware of though – I used one very similar to cut many strips of jersey fabric which I then hand knitted for a project some years ago, and my dominant hand 'vibrated' and tingled for days afterwards.
It is an expensive tool for sure, but if you plan to cut out a lot of fabric for various projects then you may find that it's a speedy tool to add to your collection.
Final Thoughts On Cutting Fabrics With Electric Tools
Whether you're new to working with fabrics or have been doing so for a while, electric scissors and rotary cutters can be a great way of speeding up the garment construction process.
Anyone who has spent as much time as I have carefully cutting out fabric pattern pieces for clothing will enjoy the faster pace these tools provide. You can then spend more time on sewing and constructing your new clothing instead.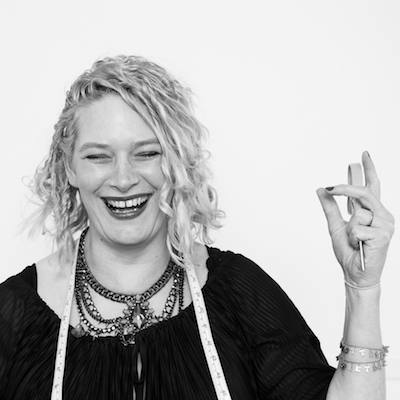 Eve Tokens (aka The Creative Curator) is a fashion designer, creative pattern cutter and sewing pattern designer.
Eve graduated with a 2:1 in Fashion Design from the University of The Creative Arts in the UK, has a BTEC diploma in Creative Pattern Cutting, a Foundation Degree in Art & Design from Wimbledon College of Art and gained extensive experience in the fashion industry by interning and freelancing for London based fashion brands – Hardy Amies, Roland Mouret, Peter Pilotto and others.
As well as running her own small sustainable fashion brand, Eve has more than 25 years experience sewing and making clothes for herself and family members.