When we think of gadgets, we usually think of electric or powered gadgets right? Today I want to share with you 15 sewing gadgets! 👀 Yep, you read that right! Sewing gadgets for sewers who love to sew!
These gadgets aren't 'powered' (well, four of them do use a low energy power source!) but they are amazing sewing gadgets for people like you and me – people who love to sew!
I'm going to start with the smallest and most innocuous sewing gadget and work my way through this list of 15!
Note: Some of the links in this post are affiliate links, which means I may receive a commission if you make a purchase at no further cost to you.
1. Jean-A-Ma-Jig
This is a very basic sewing gadget – it's a version of a thingy-ma-jig that you sometimes get with your sewing machine, look at and think 'but what is it?'… but it's purpose is to help you lift up the sewing presser foot when sewing thick fabric like denim so that you don't end up with skipped stitches! It's GENIUS and once I knew what it was for, I ordered one to replace the one I threw out twenty years ago when I got my sewing machine.
2. Portable Bobbin Winder
Now, this is something that just makes sense as a sewing gadget! Imagine how much easier it is to fill bobbins when they're running low without having to unthread your needle to fill them on your sewing machine? And if you have bulk-bought bobbins (making sure they're the right size for your machine obviously!) then you could bulk-fill the bobbins using this portable bobbin winder, in standard colours ready for later. I'm thinking white, black, pink – all colours I seem to sew with quite a bit!
3. Thread Cutting Needle Threader (With LED Light!)
This is not something I ever thought I'd need, but as my eyes are deteriorating, it makes total sense to have a threader with an LED light to help you see! Did I mention that this Dritz one also has a thread cutter built in? I think this will be the perfect sewing gadget for my mum, who's eyes are also a bit rubbish!
4. Telescopic Magnet Pick Up Tool
Oh my! Another genius sewing gadget, but this time it isn't 'technically' a sewing gadget! You see, it's actually just a magnet on a telescope. But, for those times when we have dropped out pins, our metal bobbins, our snips… and we just can't reach them because the angle is awkward… hey presto, a telescopic magnet to the rescue!
5. LED Sewing Machine Lightstrip
This one is a little bit of a luxury – but I do love to make my sewing space cozy! How fab to have a strip of LED lights on your sewing machine for those cold winter nights when you're sewing in a darkened room? I'm all in!
6. Best Stiletto and pressing tool
I often feel that I have fat fingers. And thumbs. And the tool stiletto and pressing tool from ByAnnie is genius! On the one end you have a metal point which you can use to help guide fabric under the presser foot of your sewing machine, and on the other end there's a flat 'presser' for those lazy afternoons when you cannot be bothered to set up the iron just to press open a seam before sewing over it!
7. Seam Press And Roller
Carrying on in the vein of not being bothered about dragging out the iron and ironing board, this fab little seam press and roller is a great sewing gadget aimed at quilters, but works for me too! Rather than 'pressing' the seam flat like you would with the ByAnnie version, this one 'rolls' the seam flat!
8. Wool Pressing Mat
I know I keep saying it, but this is ANOTHER genius sewing gadget for lazy sewers! I have this wool mat set up next right to my work table with my pressing cloth and travel iron so that when I have to press a seam, it's all ready to go.
9. Hot Hemmer
Being that we're talking about using the iron – and we don't want to burn our fingers turning hems and seam allowances over to press before sewing – this nifty hot hemmer gadget is perfect for sewers! Pop it on your fabric, turn the fabric edge over until you have the right amount of hem allowance and press – without burning your fingers!
10. Lighted Seam Ripper
This is another one that would suit anyone with eyes that struggle in low light! A lighted seam ripper to help you see more clearly the section you need to unpick. Genius or not?
11. Button Spacer
Ok, this button spacer is a no-brainer sewing gadget for anyone who makes their own clothes! The number of times I've ended up with one button slightly off compared to the rest! This gadget makes it simple as!
12. Desk Needle Threader
Yes, just like we used to get desk pencil sharpeners back at school all those decades ago, we can now have a table top / desk needle threader! This is perfect for anyone who does a lot of hand sewing and struggles to thread their sewing needles! And the best bit? It comes in different colors!
13. Ruler Gripper
Some rulers come with a gripper thingy attached. Yay. But for the ones that don't this ruler gripper is a great gadget to help you not only get a good grip of your ruler, but it also helps you to apply more pressure preventing the ruler from slipping!
14. Desk Organizer
This nest organizer is a fab gadget for keeping your rulers organised and within easy reach. With a space on one corner for a rotary cutter or pair of scissors, there's space for a couple of rulers and other sewing bits and bobs too!
15. Dremel light thing for distressing fabrics
This one is a sewing gadget for peeps who like to distress fabric! It works really well for distressing denim, so instead of paying hundreds for a pair of distressed designer denims, why not grab a pair from a charity shop and get to work on them with this Dremel light! Fun!
Still need some gift ideas for people who sew? I have this 50 sewing gifts for sewers guide or this vintage sewing gifts guide too!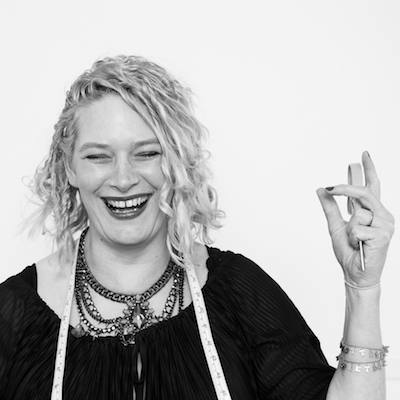 Eve Tokens (aka The Creative Curator) is a fashion designer, creative pattern cutter and sewing pattern designer.
Eve graduated with a 2:1 in Fashion Design from the University of The Creative Arts in the UK, has a BTEC diploma in Creative Pattern Cutting, a Foundation Degree in Art & Design from Wimbledon College of Art and gained extensive experience in the fashion industry by interning and freelancing for London based fashion brands – Hardy Amies, Roland Mouret, Peter Pilotto and others.
As well as running her own small sustainable fashion brand, Eve has more than 25 years experience sewing and making clothes for herself and family members.