Have you ever wondered what chiffon fabric is? Chiffon is a sheer and lightweight fabric made from cotton, nylon, polyester or silk. It has a very soft and fluid feel to it.
You can use it for dresses, blouses, scarves and other types of clothing, but the best part about chiffon fabric is that it comes in so many colors and prints so there's a chiffon suitable for everyone!
If you want to learn more about chiffon fabrics then this guide will help you out. I'll be covering what types of chiffons are available on the market today as well as how they differ from each other, so that you know which one will work best for your project.
Then we'll look at some sewing techniques that are used when working with chiffon fabrics so that your finished garment looks great every time!
We hope that helps answer all your questions about this gorgeous fabric!
What Is Chiffon Fabric Made Of?
There are many different types of chiffon fabric available on the market today, and they vary in price based on the fibre content and quality. Chiffons are typically made from either natural fibres such as silk and cotton – the latter is less widely used! – or synthetic ones like nylon and polyester.
Types Of Chiffon Fabric
Essentially, the types of chiffon fabric comes down to the fibre content and the varying grades – they do to suit all different tastes and budgets!
100% Polyester Chiffon
100% polyester chiffon is made solely from 100% polyester and is the cheapest and easiest type of chiffon to find. It usually has a very soft feel.
100 % Silk Chiffon
100% silk chiffon is made from silk and has the most luxurious feel to it, with a higher price tag attached! Silk chiffon has a slight sheen about it which makes this type of fabric really pop out when light hits it. You can use chiffon to make silk chiffon scarves because of the fabric's sheer and lightweight qualities.
100% Nylon Chiffon
100% nylon chiffon is made from nylon and has more shine than the chiffons made from natural fibers. This chiffon is slightly thicker, giving it more body and structure than chiffons that are 100% polyester or silk.
Mixed Fiber Chiffon
Mixed fiber chiffon is made from a mixture of different types of fibers can be found in varying qualities too, so you should always check the label. You can find chiffon that is a mixture of silk and polyester.
Is Chiffon Breathable?
How breathable chiffon fabric is depends on the fibre content:
Cotton chiffon is very breathable and is perfect for warm sunny days.
Polyester and nylon chiffons are not very breathable due to their man made fibre content – this means that clothing made from it will stick to your body!
Silk chiffon is also breathable and feels nice on the skin too, even during the warm summer months.
Learn more about man made fibres vs natural fibres here.
Silk Chiffon Vs Polyester Chiffon
Polyester chiffon and silk chiffon look very similar when you hold them up to the light – they both drape well and are considered sheer fabric types – but there are some notable differences between these two chiffons which may affect your decision when choosing which one to use for your next sewing project!
Benefits Of Choosing Polyester Chiffon
It is a lot stiffer than chiffon made from silk, although it does still drape well, so if you're after a little more structure, polyester chiffon would be better
It is available in different fabric weights
It is stronger than silk chiffon
It is available at a lower price than silk chiffon, making it a more affordable option if you need many yards or meters
Benefits Of Choosing Silk Chiffon
It has a beautiful soft drape
It feels wonderful when worn against the skin
It can have a slight sheen to the fabric giving it a more luxury feel
Is Chiffon Stretchy?
The amount of stretch chiffon fabric has depends on the fibre content:
Nylon and polyester chiffons are made from manmade fibers, so there is very little stretch to them.
Cotton chiffon is a natural fibre and so has a little stretch to it.
Silk chiffon is very similar to cotton chiffon in that it is a natural fibre and so again, has a little stretch to it.
In all instances, if you hold a piece of chiffon at opposite corners and allow a natural fold on the bias grain to form, you'll notice that the majority of the stretch and 'bounciness' is actually because of the bias, and only part is down to the fibre content!
What Is Chiffon Fabric Used For?
The type and quality of chiffon will determine the main uses of this fabric type.
Generally speaking, silk chiffon fabric is mostly used for luxury clothing, because of its sheer and lightweight quality. These two properties make it perfect for blouses, skirts, dresses and lingerie, although I have also seen stunning silk chiffon pants and jackets from luxury houses!
Polyester chiffon is used a lot in lower priced fast fashion and ready to wear brands, and is best suited to garments like blouses, scarves or dresses rather than pants or jackets.
Tip On How To Sew With Chiffon Fabric
Sewing chiffon can be tricky as I've already mentioned. These are the steps that I take when sewing chiffon fabric which will make it easier for you to sew this slippy fabric too!
Stabilize Chiffon
1. The first step when working with chiffon fabric is to use one or two layers of tissue paper to 'mount' the fabric on. This will help limit how much the chiffon will slip and slide.
2. If you don't have tissue paper, you can also use a sprayable fabric stabilizer which will add a little stiffness to the chiffon and allow you to cut it without it slipping all over.
3. When pinning chiffon, try to use the super fine dressmaker pins – they're thinner and longer than regular pins and so are less likely to damage your beautiful chiffon. Make sure to use them in the seam allowances of the fabric though, just to be sure!
Cutting Chiffon
1. Using sharp scissors, shears or a new rotary cutter, cut chiffon in one layer only! If you double it up as we normally would for other types of fabrics, you are likely to find that the pattern pieces you have cut out are inaccurate.
2. As chiffon is a 'loose' fabric, it will 'drop' when hung from a hanger. For this reason, it is essential that after cutting out and before sewing, you allow the chiffon to hang overnight. Some people will tell you to weight it down but I find that this can distort the fabric too much. Once it has been hung, you can then 'recut' using your original pattern pieces.
Sewing Chiffon
1. When sewing chiffon, I like to use a very fine, sharp needle. It should also be a brand new one to prevent it snagging the threads of the chiffon. I never sew chiffon with a needle larger than a 70/10!
2. Stay stitching is your friend! If you don't know how, this tutorial on how to stay stitch will help, but it's simply using a line of stitching to prevent the fabric from stretching out on the raw edges.
3. Your stitch length for sewing the seams is just as important as your needle size – I generally use a smaller stitch length, but I do take the time to test it, and the stitch tension, on a sample of my chiffon fabric before starting the main project.
4. Depending on the quality of the chiffon fabric you're using and the garment you're making, you may want to baste your seams first. Although more time consuming, this will mean that there is less chance of damaging your fabric with pins and ensure that all the notches throughout the pieces are properly aligned.
5. As chiffon is a very fine fabric, it can easily be sucked into the feed dogs of your sewing machine. To prevent this, hold onto the tails of your thread as well as the fabric in front of and behind your sewing machine presser foot.
6. Be mindful that if you try to pull your chiffon fabric through the machine, the feed dogs will snag the fabric and cause it to pucker! Plan to sew slow and steady and make sure to remove pins rather than sewing over them, to prevent any damage.
7. Some people like to use tissue paper when sewing chiffon. It's a lightweight paper that can be sewn along with the fabric to limit slippiness, and then ripped away carefully once the seam is complete. I prefer to sew without it, but you may find it helpful if you're a sewing beginner trying chiffon for the first time!
8. When it comes to seam finishing, because of the transparent nature of chiffon, you'll want to sew French seams where possible. In fast fashion and some RTW brands, seams are serged / overlocked together, but while this is a fast construction method, it is not the neatest. My curved French seam tutorial will show you how I sew beautiful seams in organza, a similarly sheer fabric.
9. If you make a mistake, instinct is to grab the nearest seam ripper and get ripping. This is not the right way to fix those mistakes when working with chiffon, as the potential risk of damage is great, but if you have to unpick something, make sure to use a very sharp stitch unpicker, and work slowly and carefully.
10. When ending your line of stitching you can of course back tack, but you risk the fabric being 'eaten' and damaged by the feed dogs. Better to leave small tails of thread and tie a neat knot to secure the stitches.
Hemming Your Chiffon
16. You've sewn your main seams together and now you need to hem your chiffon! There are two options:
Use a pin hem which is slow and tedious, requiring several lines of stitching, but looks beautiful when done well.
Use a narrow rolled hem presser foot, which will give a similar effect. This is the hem that you'll have seen on silk scarves.
Use a serger or overlocker to finish the raw edge of the fabric and then hand or machine sew a single fold hem to turn the serged edge under.
I prefer the pin hem method as it gives me more control, but if you have a narrow hem foot for your sewing machine, definitely give it a go!
You can learn how to sew a pin hem here.
Final Finishing Touches
17. The penultimate step is to make sure you press your project gently – try to use a low heat for polyester and nylon chiffons, and a medium heat will usually be ok for cotton and silk chiffon. It's also better to use a pressing cloth if possible too.
18. My final tip for sewing chiffon is to remember to 'hang' your garment! Ideally you will do this BEFORE any final hemming. Once the chiffon is hung, it will 'drop', despite having hung it already back in step 5 – this is natural.
I remember making a full length midnight blue dress for a client who's daughter needed a prom dress. The bodice was draped in silk satin, and the skirt from layers of chiffon, and I had that dress hanging for two full days before I levelled the hem and pin hemmed it! And yes, it was a stunning dress after all that work.
There you have it. A solid resource on what chiffon fabric is, the different types and how to sew chiffon too! Just remember to make sure you take care when sewing chiffon as it's easy to damage the fragile fabric!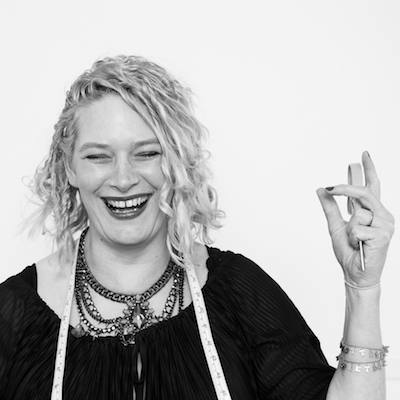 Eve Tokens (aka The Creative Curator) is a fashion designer, creative pattern cutter and sewing pattern designer.
Eve graduated with a 2:1 in Fashion Design from the University of The Creative Arts in the UK, has a BTEC diploma in Creative Pattern Cutting, a Foundation Degree in Art & Design from Wimbledon College of Art and gained extensive experience in the fashion industry by interning and freelancing for London based fashion brands – Hardy Amies, Roland Mouret, Peter Pilotto and others.
As well as running her own small sustainable fashion brand, Eve has more than 25 years experience sewing and making clothes for herself and family members.