I have this dream. I've always thought it was a tad silly, but it's still a dream of mine despite this.
I would love to make an incredible piece of clothing from scratch, with my own hands, my own 'power', my own skills.
"But Eve, you already sew!" I hear you say…
True. I sew, I make patterns, I make my own clothes but the dream is different. The dream is *completely* from scratch.
I want to make myself something from yarn that I have spun and woven myself, and then sew it on my old hand crank sewing machine from a pattern that I have created from a design I created.
I could take it a step further by shearing a sheep and preparing the fibre myself, but those steps aren't quite what floats my boat.
If you watched my sewing room tour video you would have seen some bobbins for lace making – I long to spin my own fine yarn to turn into lace as well!
Note: Some of the links in this post are affiliate links, which means I may receive a commission if you make a purchase at no further cost to you.
Learning To Spin
Which means I am now at step one of the process – learning to spin. And on an Ashford Elizabeth spinning wheel!
I received this beautiful wheel from my other half for my 40th birthday in February. Then the pandemic struck and I ended up in the UK for five months, far away from my beautiful spinning wheel, which cut down my learning to spin time to… well, no learning time at all!
Yes I could have ordered a spindle and practiced back home, but I wanted the experience of learning on a real wheel.
Side note: When I was seven I played Sleeping Beauty in my primary school play. Not because my acting skills were any good (they weren't and they still aren't) but because I was the only person in my school with pure, white blond hair! Perhaps that is where my lifelong desire to learn to spin originated from?
So, having arrived back in The Netherlands two weeks ago, I set out on Sunday to start learning to spin. I had previously watched videos on YouTube, and thought I 'got it' but I didn't. Everything I tried on my Elizabeth wheel failed.
Three Essential Videos to Watch When Learning to Spin!
And then I discovered JillianEve – who goes by the name Evie, like me! – and I suddenly 'got it'. For anyone else learning to spin, I've added her videos below! (My first attempt at spinning is towards the bottom of this post!)
Double Drive Spinning Wheel Setup
After some digging around on the web, I learned that my wheel is a double drive spinning wheel (but can also be a single drive using 'scotch tension'. This is the first video from Evie that I watched and it helped me understand exactly *how* a spinning wheel works. Spoiler alert – there is not needle to prick yourself on! 😉
How To Tie A Drive Band Onto Double Drive Spinning Wheel
This second video gave me a big 'aha' moment. I had done wrong when putting my drive band on following the scratched instructions that came with my second hand spinning wheel.
How To Spin Yarn On A Spinning Wheel For The First Time
And this third video really helped me. I practiced every step in this video the way Evie teaches and in no time I felt confident to get started with actual fibre.
Is Spinning Yarn As Hard As It Seems?
To me, yes! I had this idea that it would be easy coming from a sewing background. I'm used to the foot treadle / hand co-ordination situation after all, but what I have found is that my foot goes really fast and my hands too slow.
I have tried treading slower to give my hands time to draft fibre but the wheel slows too much and goes backwards. Which is a bad thing!
Following JillianEve's teachings (and those in this book on weaving!) I have been 'spinning' a 'Z' spin to create a singles yarn and would then ply my singles with an 'S' spin. The difference is in the wheel direction apparently, with Z created when the wheel spins clockwise and S created when spinning anti-clockwise.
You can't ply in the same direction that your singles were spun because of the amount of energy which would affect the balance. (This is my understanding so far, if you know better, do let me know in the comments!)
Managing Spinning Wheel Tension
Another thing that has hampered me learning to spin is the spinning wheel tension. The first drive band was put in place exactly as the hand written instructions accompanying the build directions told me to. The second time I followed the directions in Video 2 above. But I still struggled to get the yarn to feed onto the bobbin, and was ending up with a very kinked-up mess on my hands.
After more online research and cross-checking with my trusty spinning book (which is probably not the best book for a complete beginner but heigh-ho!) I decided that the tension was possibly too loose for my wheel, and as I had it set up as a double drive, I would need a new drive band put on while the flyer / bobbin unit was closest to the wheel so that I could *actually* add some tension in when I moved the flyer / bobbin unit further from the wheel using the tension knob. (Don't you just love my lack of spinning terminology? 😉 )
So, I set out to do this – and struggled hugely because my very cute cat (see two photos up for evidence!) was very determined to capture the string I selected for my drive band – and after several attempts, bingo.
My First Attempt At Hand Spun Yarn!
Determined to have a go before bedtime (yes, it had taken a few hours of learning and chasing things to get to this point!) I grabbed some fibre, pre-drafted some ready to spin and although I was still treading a bit too fast, I was finally able to get some of the kinked-up yarn onto the bobbin! Which I promptly took off to have a look at!
It wasn't as easy as I thought it would be. Throughout the evening I cursed the spinning wheel for not spinning properly, growled in frustration at my other half who kept telling me I just needed to practice more, and even grumbled at the fibre I had bought for being inadequate.
Yes, my first attempt at spinning yarn is a hot mess. But it's ok. I am a step closer to my dream or spinning my own yarn to weave my own fabric to sew into my own design. I can only improve from here right?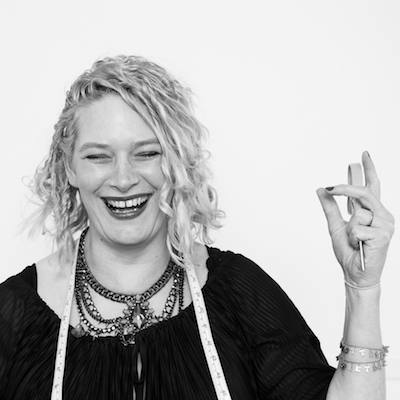 Eve Tokens (aka The Creative Curator) is a fashion designer, creative pattern cutter and sewing pattern designer.
Eve graduated with a 2:1 in Fashion Design from the University of The Creative Arts in the UK, has a BTEC diploma in Creative Pattern Cutting, a Foundation Degree in Art & Design from Wimbledon College of Art and gained extensive experience in the fashion industry by interning and freelancing for London based fashion brands – Hardy Amies, Roland Mouret, Peter Pilotto and others.
As well as running her own small sustainable fashion brand, Eve has more than 25 years experience sewing and making clothes for herself and family members.