I've covered a lot of the different types of fabric before, but I haven't much touched on the types of sheer fabric available when sewing.
Once you've been sewing for a while, you may find that you're ready to try sewing trickier fabrics, and sheer or transparent fabric is definitely considered tricky!
Sheer Fabric Types
There are 11 sheer fabrics that you've probably heard about:
Batiste
Chiffon
Georgette
Gauze
Lace
Lawn
Muslin
Organdie
Organza
Tulle
Voile
What Is Sheer Fabric Made Of?
These sheer fabrics can be made from natural fibres like cotton and silk, synthetic fibres like polyester and nylon or a mix of both fibre types.
Those made from natural fibres are usually more expensive and look and feel beautiful when cut and sewn carefully while those made from fibres like polyester or nylon can often look cheaper in comparison and feel less soft against the skin.
Let's look more closely at each one!
Batiste
While sharing some similarities to lawn, batiste is much finer.
Batiste is made from:
This sheer fabric is smooth and easy to sew with. It doesn't fray much either so there is very little hemming needed after sewing which makes it a great choice for beginners.
Batiste can be used for underlining or even as an alternative to lining when making summer dresses. It can also be dyed into any colour.
Chiffon
The most popular type of sheer fabric available, chiffon is a woven lightweight fabric. It can be made from both natural and man made fibres but the very best chiffon fabric is made from silk.
Fibre content of chiffon is usually:
Although silk chiffon is seen as the best, nylon chiffon and polyester chiffon are often come in a selection of weights making it suitable for a variety of different sewing projects.
Cotton chiffon is less widely used – it has more of a matt surface which makes it suitable for daywear clothing and is light and soft like silk chiffon.
This sheer fabric is delicate and needs to be handled carefully. It also frays very easily so there's a lot of hemming needed after sewing and it doesn't hold a crease well either.
That said, chiffon is fairly easy to sew with once you get used to it, and tends to be reasonably priced too. Learn more about what chiffon fabric is and how to sew it here!
Georgette
Georgette is not as transparent as chiffon, but is often thought of as the same fabric despite its heavier weight and slight crêpe texture.
Georgette can be made from:
Polyester
Rayon
Silk
Viscose
Even though georgette is heavier, it is still fairly easy to sew with.
It's very common for this sheer fabric to be used for dresses and blouses.
Gauze
Made from either cotton or silk, gauze is a very lightly woven sheer fabric that doesn't fray much. It tends to have small slubs in the texture which give it great body and movement. Because of these two factors, gauze is perfect for summer dresses and tops.
Gauze can be made from:
Cotton
linen
Polyester
Silk
Viscose
Wool
Gauze can also be dyed in a variety of colours but white gauze is the most widely used. In fact, you may have heard of voile before, which is just another name for white or cream gauze.
Lace
I have previously covered the different types of lace in more detail, but the sheer and decorative aspect of lace makes it a fabric that many would love to sew with, but don't always know where to start.
Lace can be made from:
Cotton
Linen
Polyester
Rayon
Silk
Viscose
Stretch lace is another option that is easier to sew with, but also much less transparent. Stretch lace can even be sewn on to other sheer fabrics like chiffon for more stability.
Lawn
A little heavier than chiffon, lawn is also a woven cotton fabric. It is a very popular fabric for summer dresses and blouses because it's easier to sew than chiffon but still has great drape and holds pleats well too!
Lawn can be made from:
It doesn't fray much as much as chiffon so there is very little hemming needed after sewing and it doesn't need a lining either.
I find when I sew chiffon I need to sew a pin hem, which is more time consuming that the simple single fold or double fold hem that I would use on lawn.
Many people prefer to use a lightweight cotton lawn for their summer sewing projects, but another popular option is a mix of cotton and polyester which gives the fabric more stability without making it too hot to wear, though you do lose the transparency aspect of lawn!
Muslin
Another woven fabric, muslin is used in sewing to create a toile or 'muslin' before sewing a final garment. It is very soft and very thin, which gives it a sheer feel.
Muslin can be made from:
Although muslin is generally used as a test fabric, it is becoming popular for lightweight and semi-transparent summer clothing!
Organdie
Often used as a lining or interfacing for transparent fabric types, organdie – also referred to as organdy – is quite firm which is what makes is a great stabiliser for other, less sheer woven fabrics
Fibres used to make organdie are:
It can be used for dresses, blouses and skirts because of its delicate look!
Organza
As the name suggests, organza is a type of fabric which is similar to chiffon in that it's sheer and lightweight. However, organza fabrics are crisp and have less drape than chiffon.
Organza can be made from:
Silk organza is one of my favourite fabrics for creating structure and transparent garments.
Tulle
Tulle is very similar to chiffon, in that it is lightweight and sheer, but it's a knitted / twisted fabric type and is often made from silk which makes it quite expensive.
The most common use for tulle in tutus and ballet costumes, but it is also popular with wedding gowns and more luxury produced clothing too.
It is made from:
You can learn more about the different types of tulle fabric here.
Voile
Voile is a thin fabric with a tighter weave than chiffon, which lends it some translucency. It is quite delicate so needs some careful handling.
It can be made from:
Cotton
Linen
Polyester
Rayon
Silk
Voile isn't as drapey as other types of sheer fabric because of its tighter weave, which makes it perfect for structured garments like blouses
What Is Sheer Fabric Used For?
There are so many different types of sheer fabric available, what should you use it for?
Well, here are five of the many possibilities…
Sheers make great evening wear because they're so delicate.
Adding lace to sheer fabric is a beautiful way to give it more texture and visual interest, but may make the fabric feel stiffer and less transparent in comparison.
Organza is perfect for adding structure to a garment because of its crispness which also makes it relatively easy to sew, if you discount how much it can fray.
Silk chiffon may be quite delicate, but is also lovely and soft which makes it great if you want your lingerie or nightwear to feel luxurious.
A lawn makes a wonderful summer blouse, more cooling for me than chiffon or georgette.
Best Tips For Sewing With Sheer Fabrics
Here are some of my best tips for sewing sheer fabric, so that you feel more confident with this trickier fabric type.
Cutting Sheer Fabric Types
If it's sheer, it is likely to be slippery, which means these types of fabric need a little extra care to prevent cutting the fabric out skew.
To prevent slippage, you can pin the fabric to a layer of tissue paper or an old piece of fabric to offer some stability.
I find that heavy fabric weights (or cans of soup and beans) also work well to keep fabrics in position – then I can use a new sharp rotary cutter to cut our the various pattern pieces.
Sample That Sheer Fabric Swatch
There's nothing worse than starting to sew a new fabric and it being destroyed by your sewing machine.
You can make sure that your sheer fabrics are safe by following the following steps:
Replace the existing needle in your sewing machine with a fine one used specifically for sheer fabrics
Use the correct thread for your fabric choice too
Test the different stitch types and seam finishes that you plan to use with a sample of the sheer fabric
It's All In The Detail
It's important to note that when you start sewing with sheer fabrics types, any seams on the inside of the garment or darts used for fabric suppression will be visible.
How much depends on the fabric's transparency. A dart sewn in cotton lawn will not be as visible as one sewn in organza or chiffon, so consider your fabric choice carefully if the sewing pattern you plan to make has very detailed seams and details.
Press Your Seams
It goes without saying that pressing your seams is as important when sewing sheer types of fabric as it is for non-sheers. Do bear in mind that you'll want to adjust the heat setting of your iron to prevent heat damage – and a pressing cloth can also help with this.
Let me know in the comments which sheer fabric type is first on your list – for me, I'm ready to crack on with sewing myself some lace tops! Stay tuned for those!
In the meantime, learn more about the different types of knitted fabrics, the different types of interfacing and 40 different fabric types and how to use them!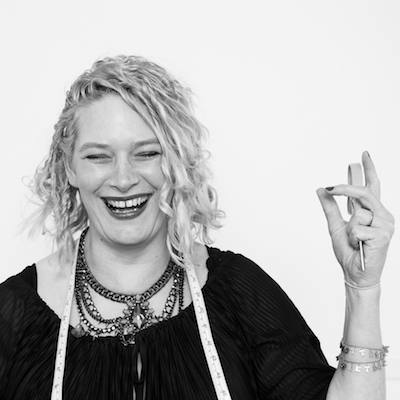 Eve Tokens (aka The Creative Curator) is a fashion designer, creative pattern cutter and sewing pattern designer.
Eve graduated with a 2:1 in Fashion Design from the University of The Creative Arts in the UK, has a BTEC diploma in Creative Pattern Cutting, a Foundation Degree in Art & Design from Wimbledon College of Art and gained extensive experience in the fashion industry by interning and freelancing for London based fashion brands – Hardy Amies, Roland Mouret, Peter Pilotto and others.
As well as running her own small sustainable fashion brand, Eve has more than 25 years experience sewing and making clothes for herself and family members.