Are you looking for some vintage sewing gifts for people you know that sew? You're in the right place!
Sewing is a popular hobby, and as more people learn to sew, the more people there are in the world looking for some unique and vintage things for themselves.
Here's my list of nine fabulous vintage sewing gifts – get them while you can!
Some of the links in this article are affiliate links. This means that I may receive a fee at no extra cost to you if you purchase a recommended product. I only recommend items I have had experience with.
Vintage Sewing Tools
We sewing peeps love us some sewing tools, and there's something quite magical about vintage sewing tools!
Knowing that the tools were used by someone as passionate about sewing as we were is quite a lovely feeling – like carrying on the line!
Vintage Sewing Needle Cases
There are so many beautiful, antique needle cases, but of all of them my favourite is definitely the one below!
With a thimble, brass hook and the needle case, it's a great little antique sewing set that I'd definitely add to my sewing tools stash!
As well as being wonderful gifts to have around us, these antique sewing needle cases are also, for the most part, still functional. And the ones that aren't are perfect for just adding that little bit of special feels to our sewing rooms. Am I right?
Vintage Sewing Scissors
Similar to how magical it feels to own my own vintage sewing machines, vintage scissors make me feel the same way. When I hold a pair in my hand, I think about the person who might have owned and used them before me. There's a lot of possible creative history there!
While I don't have any old sewing scissors for fabric, I do have some vintage sewing scissors that I use for trimming threads or just for the pleasure of owning them.
These vintage scissors are a mix of extravagant and simple – choose the most suitable pair for your sewing person!
Vintage Sewing Machines
I'm a sucker for a sewing machine – especially if it's very old and very beautiful. Like the one above. Which I already have.
There's something quite magical about a very old sewing machine, especially if it still works. I use the one above for sewing leather, but it works with regular fabrics too.
I challenge you to find anyone who sews but doesn't love an old sewing machine! Here's an amazing selection to have a look at! I have two now so these beauties are safe for your sewing peeps – for now!
Vintage Sewing Boxes
This is tricky for me. I had the most amazing vintage wooden sewing box that my grandad made for my gran, but during a horrid period in my adult life, the sewing box was damaged beyond repair and disposed of. I am still very sad and angry about this.
Which means I have not yet gotten round to replacing it, because the one grandad made for gran can never be replaced. But, I do still have a great selection on my Etsy Wishlist (because this is the best place to get all vintage sewing boxes and other items in my experience!) and I'm sharing some of the different sewing box styles here with you now!
The Cantilevered Sewing Box
This is the style that my grandad made for my gran. Only being a carpenter, he made it our of solid wood. It was heavy, but it was beautiful. This cantilevered version is not a patch on my Gran's, but it's still fab!
Fabric Covered Sewing Box
This is another style that is popular – the fabric covered sewing box! I'm not a fan myself – I definitely prefer wood! – but for someone who sews and loves them, a fabric covered sewing box would make a perfect vintage sewing gift!
The Simple Wooden Sewing Box
Another favourite sewing box style for me, a simple wooden sewing box makes a beautiful vintage sewing gift.
I think this particular style is well suited as a small sewing kit in another room – the amount of space would be enough to hold any mending or embroidery supplies but not much else. And yet, it is so beautiful.
Vintage Sewing Patterns
Lets have a look next at some vintage sewing patterns! If your sewing person loves to sew their own clothes, I bet a dollar (or in my case a €!) on there being a vintage sewing pattern that they would love to make up for themselves.
One thing to note is that physical sewing patterns usually come in a size range – make sure you check the size before buying so there's no disappointment!
Vintage Nightwear Patterns
Nightwear nowadays covers nightdresses, pyjamas or maybe even a onesie but back in the day, there were some truly gorgeous nightwear pieces and these patterns are great for trying to sew your own versions! Like the vintage nightie pattern below, with some beautiful smocking!
Check out this selection of vintage nightie sewing patterns over on Etsy!
Vintage Pjyama Sewing Patterns
My favourite vintage pyjama sewing pattern was this one below – technically it's 'loungewear' but I think it is beautiful! It's actually a PDF version, in that the original was out of copyright and has now been digitised!
If that pyjama sewing pattern isn't quite your jam, then this vintage collection of women's pyjamas over on Etsy might tickle your fancy instead! And there's this selection of vintage mens pyjama patterns too!
Vintage Dress Patterns
If your sewing person loves to wear dresses, then she's going to love these. My favourite has to be the one below from Very Easy Vogue.
There's also the one below from Vogue Patterns (it's an Oscar de le Renta pattern!) which would be fab for a fancy night out!
Then there's this fun 60s dress pattern which could be worn loose as shown or belted for a more cinched in look! Either way – it's a yes from me!
Here's a round up of the vintage dress sewing patterns available on Etsy!
Best Vintage Sewing Gifts!
There you go, the best vintage sewing gifts that I could find – as well as round up links on Etsy to help you research further.
Don't fall down the rabbit hole though will you… As I said, I'm a sucker for a vintage sewing item, whether a sewing tool, sewing pattern or sewing machine. It's tricky holding back – just see myself sewing room tour to spot the sewing machines I have!
If you're looking for more modern sewing gifts, check out my guide to the best dress forms for women who sew, this guide of 50 sewing gifts for sewing lovers might also be of interest or I have this list of 15 cool sewing gadgets for people who sew as well!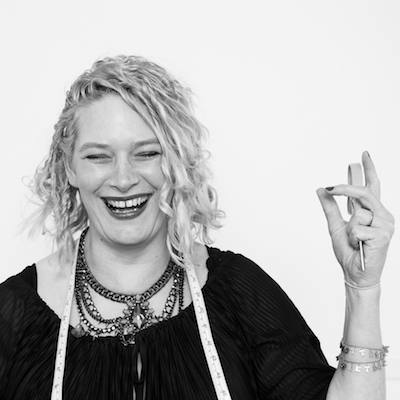 Eve Tokens (aka The Creative Curator) is a fashion designer, creative pattern cutter and sewing pattern designer.
Eve graduated with a 2:1 in Fashion Design from the University of The Creative Arts in the UK, has a BTEC diploma in Creative Pattern Cutting, a Foundation Degree in Art & Design from Wimbledon College of Art and gained extensive experience in the fashion industry by interning and freelancing for London based fashion brands – Hardy Amies, Roland Mouret, Peter Pilotto and others.
As well as running her own small sustainable fashion brand, Eve has more than 25 years experience sewing and making clothes for herself and family members.