Curvy sewing beginners have a few more options now when it comes to plus size sewing patterns than either my mum or nan had when they were sewing between the 1960s and 1990s.
Of course it's also possible to learn to draft your own patterns, but as a beginner new to sewing, I thought it would be more helpful to round up the best plus size sewing patterns for beginners for you, so that you can learn while you sew something suitable to wear!
I was inspired to create this post having seen a very extensive (but not-filterable) list of pattern companies accommodating plus size bodies over on the Curvy Sewing Collective website. That's quite a lot of pattern companies to work through, so here I've pulled just twelve patterns to get you started with.
You can sew any of the below sewing patterns with a regular sewing machine if it has a straight stitch and zigzag or stretch stich option.
I've also included patterns that use either knit fabric or woven fabric – I don't think sewing beginners really need complex fabric choices at the start of their sewing journey, do you?
If you're not as curvy and are looking for some free sewing patterns, there's this list of 5 easy sewing patterns for beginners that you can dive into as well as this great roundup of the best and simple summer sewing patterns!
Sewing Pattern Types
There are three kinds of sewing pattern to consider:
Printed paper pattern
PDF sewing pattern
Self drafted pattern
Both the printed paper sewing pattern and the digital sewing pattern (PDF) are available easily online nowadays. If you haven't yet worked with digital sewing patterns these tutorials will help:
While the 'Big Brand' pattern companies usually only have paper patterns available, the independent pattern companies are always creating digital versions of their designs along with their paper patterns, and lets be honest, the independent sewing pattern companies make far more interesting designs that the bigger brands!
I've also broken down the sewing patterns into free vs paid patterns, so that if you're on a budget the free patterns will be a good starting point, and if you have some cash to spare, the paid ones make great starting points too!
3 Best Free Digital Plus Size Sewing Patterns
Not all sewing beginners want to spend money on their plus size sewing patterns when getting started, so these three digital sewing patterns are perfect for getting started with!
1. Helen's Closet 'Luna' Tank
This is free to Helen's email subscribers, and is a simple tank top pattern designed with knit fabrics in mind. Its swingy in style and would make a great top for the summer months, or as a layering option in the collar months of spring and autumn.
I have previously made two of Helen's Closet patterns – the York Pinafore and Pona Jacket – and can say that the instructions are super detailed and easy to follow. Sewing beginners should have no struggles with the Luna Tank!
It really is an easy and quick sew, sized up to a size 30, and did I mention that it is a free pattern?
You can learn more about the Luna Tank here!
2. Sewing Rabbit 'Trapeze' Tank Dress
This is a very well known free plus size pattern from Jess Rabbit going up to XXL size, but being both free and a super easy sew, it's worth having a go for any sewing beginner!
It's designed to be sewn up in knit fabrics for a light and airy summer dress that you can throw on. It's similar to the Luna Tank above, only longer and more of a dress than a tank.
This is where you can download it from!
3. Patterns For Pirates 'Walk The Plank' PJ Bottoms
These are a ridiculously easy sewing pattern great for beginners, going up to a size PLUS3XL, which covers a 55-58″ hip.
There are no side seams on these pyjama pant legs, so are an easy make for sewing beginners to practice basic sewing skills.
Not only is this a great free sewing pattern, but P4P have also included a video in the sewing tutorial to help you sew them up.
You can learn more about the Walk The Plank PJs here.
3 Best Paid Plus Size PDF Sewing Patterns
I always feel that there are more contemporary designs from the independent pattern companies and top of the list for plus size patterns is Seamwork (formerly known as Colette Patterns), though other indies are working hard on upsizing their sewing patterns to be more size inclusive.
1. Seamwork's 'Dexter' Pants
I LOVE this pant pattern! It's an easy sewing pattern to sew up with medium to heavy weight knit fabric so they look sharper than your average knit pants, almost like a tailored trouser, but in knit!
I love the front and back leg detail which makes them feel more special than a standard pants pattern. There do have a side seam zipper, so will be a little more interesting to sew than the free patterns listed above, but they are a beginner skill level pattern so will be an easy make!
Check out the Dexter Pattern here – they go up to a size 26!
2. Sew Altered Style 'Misty' Top & Dress
I have been seeing the Misty pattern all over Instagram for a while now, in cami and dress versions! This is versatile sewing pattern for woven fabrics with the size range going up to fit a 58.5″ bust.
It's said to be more suited for an 'adventurous' beginner, but view C is definitely a beginner friendly sewing pattern.
I love that it is a very simple design making it a great choice for more fun fabrics and one that can be dressed up if using a more evening wear friendly fabric type!
You can check out the Misty Top & Dress here.
3. Cashmerette 'Ellis' skirt
Cashmerette are another well known indie sewing pattern brand that make great plus size sewing patterns.
The Ellis Skirt is a woven denim skirt pattern and technically is an intermediate skill level, but if you were to sew slowly and follow the instructions carefully, I think the only part that might trip a sewing beginner up is the zipper.
You'll need to make the main skirt up in a stretch woven, so it doesn't have to be denim if you're not a fan of denim skirts, but lining details (the pock bags) will be in a non-stretch woven fabric.
You can check out the Ellis skirt (and the reviews!) here.
Do read on to learn more about the big brand patterns but also, towards the end, I list three rather awesome plus size sewing patterns that would be great to make when you've had a little practice!
3 Big Brand Plus Size Patterns In Paper Format
The big brand pattern companies also create plus size patterns, but I often find their plus size options to not be as modern in design as independent pattern companies. The well-known ones are:
New Look patterns
Simplicity patterns
Butterick patterns
Vogue patterns
Burdastyle patterns
Kwik Sew patterns
Here three popular plus size patterns from the big brands.
1. New Look 6217 (Simplicity Pattern)
This is a simple pattern collection from New Look going up to size 22US/26UK, and contains patterns for a skirt, pants, top and open kimono style jacket.
The patterns can be sewn up in woven fabrics making it a great selection of plus size patterns for sewing beginners.
You can learn more about this Simplicity pattern here.
2. Butterick Pattern B5655
This is a lovely top and dress pattern with a hem similar to a handkerchief hem, but don't let that put you off!
The pattern also comes with a simple pants pattern which would work well with the top, or worn separetely.
You can learn a little more here.
3. Kwik Sew K1499
This is another 'collection' of patterns, including a gored skirt, tank top and draped jacket.
Each pattern is simple and easy to sew in knit fabrics.
You can check the pattern out here.
As you can see from the small amount of detail in this section, I personally am not a fan of the big brand sewing pattern companies. I don't find their patterns to be very size inclusive, and the ones that are can be dreadfully dull and boring.
To me, this is the same as going to a plus-size fashion store and being made to feel like the only clothes allowed to be worn are frumpy and shapeless options. Am I wrong? Happy to have a discussion on this if you're felt differently! – let's chat in the comments!
And so to finish this article on a positive note, here are three amazing plus size patterns that are worth checkin out when you feel more confident in your sewing skills!
3 Awesome Plus Size Patterns To Consider
The plus size sewing patterns here are gorgeous, but not quite sewing beginner friendly. I recommend trying the above recommendations first, and then when you feel a little more confident, do give these a go – all three look rather awesome and would be a great way to extend both your sewing skills and your handmade wardrobe!
Friday Pattern Company 'Heather' Blazer Pattern
Who doesn't love a blazer? And this new blazer sewing pattern from indie company 'Friday Pattern Company' is gorgeous.
It's suitable for a confident beginner, and is sized up to a 60″ chest. I love that the photos feature a plus size model which gives a better idea of how the blazer will look on a bigger sized body.
You can check out the Heather blazer pattern right here.
Muna And Broad 'Banksia' Bar Pattern
This 'Banksia' bralette pattern has been designed specifically for larger bodies and fits up to a 64″ bust!
I'm around a 42″-44″ bust and find that any 'regular' bra pattern doesn't ever fit me so great, and as I love a bralette, I'm giving this one a go myself!
You can check the Banksia out here.
Jacqueline Cieslak 'Embody' Pattern Book
I spied the Woolfork dress pattern – a design that can be sewn as a crop, tunic or full length dress – while scrolling Instagram.
I love the design and how well the pattern fits bodies of different shapes and sizes. Jacqeline has a great round up here that you can check out.
It doesn't appear to be available as an individual pattern yet but the book is due to be released on March 25th and I'll be getting mine pronto so that I can sew up the Wookfork asap!
Final Thoughts On Plus Size Patterns For Sewing Beginners
When choosing a plus size sewing pattern do make sure that you've checked the size measurements against your own – this is particularly important when buying a pattern. If you're new to sewing, you likely don't have experience grading patterns up, so buying a pattern that goes up to your size is obviously important.
5 key measurements you'll need are:
Bust
High bust
Waist
Hip
Inside leg
Other things to remember is that not all sewing pattern companies include seam allowance. You'll need to read the instructions carefully to see wheth seam allowance is added in and how much too, so that you dont sew with too much or little allowance.
Finally, have fun sewing these plus size patterns! If you have read this and are plus-sized yourself and think I left anything super easy off, do let me know in the comments!
And check out this guide to Scandinavian sewing patterns too – indie designers are sizing up their sewing patterns, so worth looking at!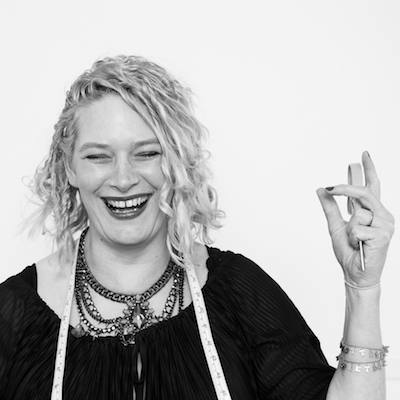 Eve Tokens (aka The Creative Curator) is a fashion designer, creative pattern cutter and sewing pattern designer.
Eve graduated with a 2:1 in Fashion Design from the University of The Creative Arts in the UK, has a BTEC diploma in Creative Pattern Cutting, a Foundation Degree in Art & Design from Wimbledon College of Art and gained extensive experience in the fashion industry by interning and freelancing for London based fashion brands – Hardy Amies, Roland Mouret, Peter Pilotto and others.
As well as running her own small sustainable fashion brand, Eve has more than 25 years experience sewing and making clothes for herself and family members.