This short, 5 minute video tutorial will show you how to print PDF patterns on your home printer, so that they print at the correct scale.
Printing at the correct scale is super important, otherwise your PDF sewing patterns will be incorrect and the clothes that you make from them will not end up in the size you think you selected… and that would make for a miserable moment when it comes to trying on your hand sewn clothes!
Printing PDF Patterns On A Home Printer
Many people tell me that they don't use PDF sewing patterns because they don't know how to print them on a home printer. So for those people I have created two new blog posts:
This post, with the video tutorial above, showing you how to print PDF patterns on your home printer. This is a screen share of the exact process I use, with Apple Preview on my MacBook Air, and it has never failed me.
And then there is this post too, explaining the steps in text and photos – if you prefer that to video tutorials!
Assembling Your Printed PDF Sewing Patterns
When it comes to assembling your printed PDF patterns, you'll want to see this post for help!
If you have any questions, please do ask in the comments below!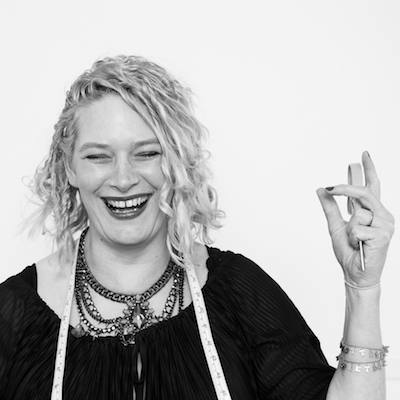 Eve Tokens (aka The Creative Curator) is a fashion designer, creative pattern cutter and sewing pattern designer.
Eve graduated with a 2:1 in Fashion Design from the University of The Creative Arts in the UK, has a BTEC diploma in Creative Pattern Cutting, a Foundation Degree in Art & Design from Wimbledon College of Art and gained extensive experience in the fashion industry by interning and freelancing for London based fashion brands – Hardy Amies, Roland Mouret, Peter Pilotto and others.
As well as running her own small sustainable fashion brand, Eve has more than 25 years experience sewing and making clothes for herself and family members.