Scandinavian design is known for being minimalist and beautiful, which is why Scandinavian sewing patterns are so loved!
Following on from other sewing pattern guides that I have created, we're going to look at a selection of the best Scandinavian sewing patterns available for the home sewer.
Some of the most well known Scandinavian designers are:
Jujuna
Named Clothing
Novels Patterns
Ploen Patterns
Threads by Caroline
Wardrobe by Me
I'll provide a brief introduction to each as well as my top pick pattern too!
If you'd like to see other sewing pattern guides I have created, I have the best plus size sewing patterns for beginners, easy sewing patterns for sewing beginners and will shortly be publishing another on zero waste patterns too!
Note: Some of the links in this post are affiliate links, which means I may receive a commission if you make a purchase at no further cost to you.
1. Jujuna
Jujuna is a Finnish sewing pattern company owned and run by self taught seamstress Jenni Kulmala. Her website is in Finnish, so you'll want to enable a translation tool when browsing, but she offers a selection of Scandinavian sewing patterns for women, men and children.
I personally have not tried any of Jenni's patterns, but she does have several that are available at no cost, so worth checking those out to get a feel for how her sewing patterns work.
2. Named Clothing
Created by Finnish sisters Saara and Laura Huhta, Named Clothing is one of my favourite independent sewing pattern companies!
Founded in 2012 but with their first collection of sewing patterns launching in August 2013, Named Clothing have become a firm favourite in the sewing community.
Their Scandinavian designs are minimal and non fussy, the sewing pattern instructions are easy to follow, and they also have two books available too:
Breaking The Pattern
A sewing book with sewing patterns included, Breaking the Pattern is one of my favourites. There are ten patterns included, but with variations and your own creative input, you can easily create a full wardrobe using this book – great if you love minimal Scandinavian design!
My favourite pattern inside this book is the 'Utu' dress, a double breasted and wrap-over pinafore dress. It is far and away the best pinafore dress sewing pattern that I have made, and it's an easy make too, though tracing of the various pieces from the pattern sheets included with the book was (for me) a pain.
Building The Pattern
Building the Pattern is the second book from Named Clothing, and encourages you to build your own capsule collection of Scandi inspired clothes from the five 'essential building blocks' that are provided.
I don't yet have this book, but will be grabbing it ASAP to test out.
Favourite Named Clothing Pattern
As well as Breaking the Pattern, I have also purchased many sewing patterns, but my all time favourite is the Gaia quilted coat pattern. It's a very relaxed fit, with interesting style line placement, and yet it still retains that minimalist vibe.
3. Novels Patterns
Novels Patterns offers a collection of sewing patterns that are Scandinavian in style – the pattern instructions are in Finnish, but as the patterns are quite minimal in style, I suspect they should be easier enough to construct using the pictures alone.
There are currently only four patterns to choose from:
A puff midi dress
Pull on pants
Summer dress
Simple wrap jacket
I love the look of the simple wrap jacket – it looks easy to make, but also easily adaptable which enables me to be more creative with the pattern.
4. Ploen Patterns
Josefine of Swedish pattern company Ploen Patterns has been designing and selling her patterns since 2017, and currently has six available – one is the Freja dress which she gifts to her email subscribers!
These sewing patterns are well thought out, with easy to follow instructions, and have a minimalist aesthetic – though her Vera dress and top pattern can be jazzed up with the included fun sleeve detail.
Josefine's patterns come in 12 sizes, from an EU size 32 through to EU size 54. I have made the Astrid skirt which is a super easy pattern for sewing beginners!
5. Threads By Caroline
Another Swedish sewing pattern company, Threads by Caroline is run by Caroline Mannegren. Her patterns are available in English or Swedish, and she has a very nice small collection of designs for women and children, with the majority being suitable for knit fabrics.
My favourite for women is the Hanna sweatshirt and dress sewing pattern which has raglan sleeves and options included for color blocking too!
6. Wardrobe By Me
Christina Albeck is the designer and pattern maker behind 'Wardrobe by Me', a Danish indie sewing pattern company with a Scandinavian aesthetic.
Before starting Wardrobe by Me, Christina spent 25 years working in the fashion industry, so you know that the Scandinavian sewing patterns designed by her will be well designed and constructed!
Patterns for women are designed for a height of 5'8″ / 170cm and she offers 13 size options, from a size 0 through to a size 24. The patterns are also created for different cups sizes too, rather than a single cup size:
Size 0 up is drafted with an A or A/B cup
Sizes 6 and 8 with a B or B/C cup
Size 10 with a C cup
Sizes 12 and 14 have a C/D cup
Size 16 and above are all drafted with a D cup
For the men reading this, Christina also creates menswear patterns alongside those for women and children! I've made the men's chino pants for my other half and he loves them!
Favourite Wardrobe By Me Pattern
From the vast number of patterns available, my favourite by far is the Amelia Bomber Jacket sewing pattern.
It has a nice sporty vibe, but depending on your fabric choice, you could easily make this bomber style jacket super stylish for an evening wear vibe!
Scandinavian Sewing Patterns
Six rather wonderful Scandinavian pattern designers for you to learn more about and discover their sewing patterns – the next make on my list will be the Amelia bomber jacket. I have a self drafted bomber jacket sewing pattern, but it is quite oversized and I quite like the idea of created a more fitted, silk version for evenings out.
Which of these sewing pattern designers will you be checking out next?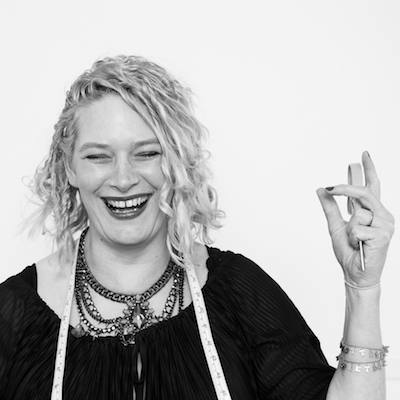 Eve Tokens (aka The Creative Curator) is a fashion designer, creative pattern cutter and sewing pattern designer.
Eve graduated with a 2:1 in Fashion Design from the University of The Creative Arts in the UK, has a BTEC diploma in Creative Pattern Cutting, a Foundation Degree in Art & Design from Wimbledon College of Art and gained extensive experience in the fashion industry by interning and freelancing for London based fashion brands – Hardy Amies, Roland Mouret, Peter Pilotto and others.
As well as running her own small sustainable fashion brand, Eve has more than 25 years experience sewing and making clothes for herself and family members.