If you're planning on using bias tape in your next sewing project, knowing how to cut bias binding strips to make your own is a great way to be more unique and avoid the mass produced bias binding tape!
You can make bias tape in two ways, but whether you want to make bias binding with a bias tape maker or make it manually, you will need strips of fabric cut on the bias.
This tutorial will show you how to cut bias binding strips in different fabrics.
Tools Needed For Cutting Bias Binding Strips
You won't need much for this task:
Cutting mat – I have a guide on how self healing mats work
Rotary cutter – it is much easier to cut a bias strip with a rotary cutter than scissors
Pattern master – this is a hard plastic fashion ruler with lines at 90º and 45º angles, making it easier to find the bias of your fabric
Quilting ruler – not essential, but if you do not have a pattern master, a quilting ruler is a great tool to help you find and mark the bias of your woven fabric
Metal yardstick ro ruler – this does not have the markings, but it is invaluable if you want to cut long fabric strip to make continuous bias binding with!
So, now you have your tools, let's get started!
Single Fold Vs Double Fold
You'll want to decide whether you're cutting fabric to make single fold bias tape of double fold bias tape.
What Is Single Fold Tape?
Single fold tape is created by taking the long edge of a fabric strip to the centre and pressing to create a folded edge. If is repeated in the opposite side of the fabric strip.
This makes two folds, with the raw edges meeting in the middle.
It can be used to bind a raw fabric edge as a visible hem finishing or it can be turned under and used a bias facing.
You can learn how to bind a hem with single fold bias tape here.
What Is Double Fold Tape?
Double fold bias has tree folds – I know, it's confusing right?
As well as the two folds created during the single fold process, the double fold tape is folded for a third time down the length, so that it is already 'creased' for you before sewing.
Choosing Your Binding Strip Width
So, how wide should you cut your binding strips? It really depends on what you'll be using them for.
Single fold tape is commonly used a bias facing tape. If you wish the tape to be 5mm wide, then your binding strip needs to be double this, so 1cm wide.
Double fold tape is used more often to bind the raw edge of fabric, and once sewn becomes a quarter of its original width.
Therefore, if I want a 5mm visible bound edge, I need my binding strip to be 2cm to start.
Cutting Your Bias Binding Strips
Now that you know how wide you want your stip to be, place your fabric on the cutting mat so that the straight grain is lined up with the 45 degree angle line.
If you are not use a cutting mat with lines marked in, take your pattern master or quilters ruler, and place it so that it lies at a 45º angle.
Below you can see that I have the bias of my calico lined up with the 45º angle of my cutting mat.
Cut along this line to create a raw edge that is at a 45º angle. This will be the guiding line now for all the bias binding strips that we will cut!
I decided for the toile I'm making, that I wanted a 1.5cm bias facing, so I placed my pattern master ruler at the 3cm wide mark.
I then use my rotary cutter to cut a smooth line.
My finished cut binding strips are all 3cm wide.
Now that my binding strips are cut, I can use them as facings for some small skirt toiles I'm testing.
If you wanted a continuous piece of binding tape, you could join them together – it's quite easy and I show you how in this tutorial on two ways to make bias tape!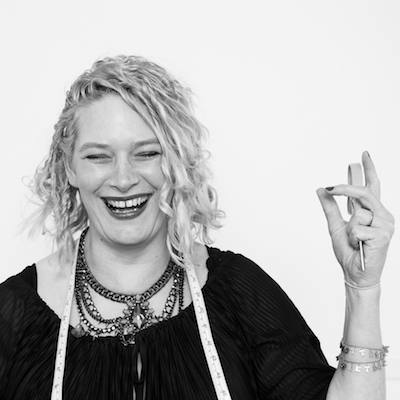 Eve Tokens (aka The Creative Curator) is a fashion designer, creative pattern cutter and sewing pattern designer.
Eve graduated with a 2:1 in Fashion Design from the University of The Creative Arts in the UK, has a BTEC diploma in Creative Pattern Cutting, a Foundation Degree in Art & Design from Wimbledon College of Art and gained extensive experience in the fashion industry by interning and freelancing for London based fashion brands – Hardy Amies, Roland Mouret, Peter Pilotto and others.
As well as running her own small sustainable fashion brand, Eve has more than 25 years experience sewing and making clothes for herself and family members.