I thought it might be fun to write a brief post about the benefits of sewing your own clothes versus buying clothes from stores.
There are many great reasons to sew your own clothes – and they differ for each of us!
The Benefits of Sewing
Here are my benefits of sewing… What are yours?
1: A Unique Look
Sewing your own clothes as allows you to have a unique wardrobe. I love knowing that nobody else will be wearing the same thing as me.
2: Hand Eye Co-Ordination
Sewing with a needle and thread by hand, or by machine, requires hand eye co-ordination. Practising hand eye co-ordination actually helps to keep our brains as nimble as our fingers!
3: Emotional Well Being
Sewing can be quite therapeutic, which means I find myself to be a calmer, happier and more content human being.
4: Social Life Improvement
I have found that sewing has opened up my world. I know people all over the world who sew and pattern cut and it has really broadened my friendship base.
And this has been great for my relationship too as my poor other half was getting very fed up being my only sounding board for ideas!
5: Environmental Impact
Buying clothes in today's world of fast fashion means there is a never ending amount of clothing going to landfill.
By sewing my own clothes, I are more likely to love it and wear it for longer.
6: Sewing Is Creative
Not only is sewing therapeutic, it is also super creative, which makes it one of the best benefits of sewing in my eyes. Think of all the different ways there are to sew a seam, finish a hem, insert a zipper.
And then there are all the different types of fabric to work with, all the different patterns to hack up and create with.
Getting creative with our construction techniques and fabric choices means we are engaging our brains in more creative thought. Great for the mind!
7: Lifetime of Learning
Sewing – and then pattern making – is a life long learning mission. I have readers who have been sewing for decades and still ask me questions about different pattern cutting methods.
Keeping the brain active is great for keeping our minds younger than we are, and lessens the chances of us having dementia in our older years!
And finally…
8: Self Esteem
Learning to sew does wonders for your self-esteem. When you've finished a dress or a jacket and a friend comments and asks where you bought it?
That warm fuzzy glow you get when you reply 'I made it'? THAT does wonders for your self esteem!
9: Clothes That ACTUALLY Fit!
Yep… Each of us is unique. Very few of us fit what the fashion industry would call 'normal' sizing.
This means that to often we struggle to find clothes – or patterns for that matter – that fit us.
By sewing and making our own clothes, we can ensure that they fit us properly, which will in turn give us so much more confidence in ourselves!
What's your number one reason for sewing? Let me know in the comments further below! 🙂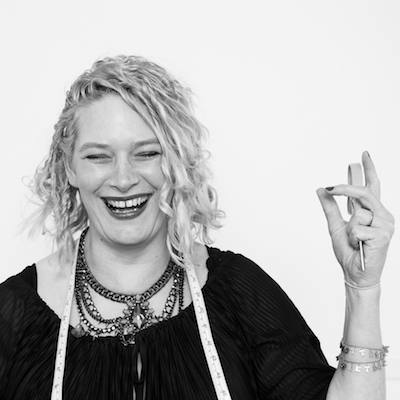 Eve Tokens (aka The Creative Curator) is a fashion designer, creative pattern cutter and sewing pattern designer.
Eve graduated with a 2:1 in Fashion Design from the University of The Creative Arts in the UK, has a BTEC diploma in Creative Pattern Cutting, a Foundation Degree in Art & Design from Wimbledon College of Art and gained extensive experience in the fashion industry by interning and freelancing for London based fashion brands – Hardy Amies, Roland Mouret, Peter Pilotto and others.
As well as running her own small sustainable fashion brand, Eve has more than 25 years experience sewing and making clothes for herself and family members.