Wondering how to identify different types of fabric? Perhaps you're ready to learn more about the types of fabrics and how they can be used when making your own clothes?
If the above sounds like you then this epic guide on fabric types is just for you!
When you think about fabrics, what is the first thing that comes to mind? Do you picture something in your home? Do you see an item of clothing you're currently wearing?
Or do you see the different aspects of fabric:
The 'fibre' content?
The fabric 'structure'?
The 'type' of fabric?
Let's look at what each of the above really means first!
If you need more help, I also have an article on how to choose fabric for clothing!
What Is Fibre Content?
Fibre content refers to the fibre making up the fabric. Fabrics can be created from a single fibre (cotton, linen, silk etc) or as a blend (poly cotton).
Often you'll see lists of 'types of fabrics' but they're actually lists of fibre types:
Cotton
Polyester
Silk
Bamboo
Hemp
Wool
Linen
Acetate
The above are just some I've seen that are incorrectly attributed to fabric types.
Another consideration for fibre content is whether the fibre is:
Natural
Manufactured (man-made)
Animal
Let's look at each of those now.
Natural Fibres
Natural fibres are grown in nature – hence the 'natural part! – and can be both cellulose fibres (cotton) or protein fibres from animals (silk).
You can learn how cotton fabric is made here!
Manufactured Fibres
Manufactured fibres refer to those that are not found naturally, but instead are created by man, whether from cellulose fibres (rayon) or derived from other means like petroleum (polyester)!
Animal Skins
The skins of animals are not 'fibres' but they are viewed as a type of fabric. Just like manufactured and natural fibres, the skins of animals need to be treated before they can be used.
Animal skins are:
Leather (outside grain of skin)
Suede (inside grain of skin)
Wool on skin (shearling)
Furs (rabbit)
I've separated the last two because shearling is often finished in a way that the skin side can be worn unlined, while with furs, garments are usually lined.
I've written an extensive guide looking at the differences between man made fibre vs natural fibre vs synthetic fibres here!
What Is Fabric Structure?
When we talk about the structure of fabric, we're referring to how the fabric is made:
Woven fabrics
Stretch fabrics
Knitted fabrics
Woven Fabrics
Fabrics that are woven, have a warp and a weft, and are woven on looms. They often have tightly woven edges – called the selvedge – and there are many weave types to create different effects.
The most common are:
But there are many, MANY more!
Now that I have a rigid heddle loom of my own, I am particularly interested in the different weave styles, so expect to see more examples and content around this in the future!
Stretch Fabrics
Stretch fabrics is it's own type of fabric structure as it is often woven with stretch materials making up a percentage of the fibre content, giving that stretch factor.
Stretch materials that are often included are:
Fabrics that have stretch added in this way are usually better for stretch recovery than knitted fabrics.
Knitted Fabrics
Knit fabrics are constructed from connected loops and can be created from:
One continuous yarn (weft knit)
Many yarns but only one stitch (warp knit)
Yes, many knitted fabrics are often stretchy, with the fabric created able to mold close to the body or drape in loose folds.
Patterns created for knitted fabrics will often have 'negative ease' included, meaning the pattern is smaller than the intended body, to account for the additional 'stretchiness' of the suggested fabric.
Check out my in-depth guide to different knit fabric types here!
Different Types Of Fabrics
Now that you have an understanding of fibre content and fabric structure, let's move on to all the different fabric types!
This is an in-depth guide, so take your time, make notes as you need them, and enjoy!
Sheer Fabric Types
Let's start with the fabrics that are more transparent than other fabric types!
Batiste
Challis
Chiffon
Eyelet
Gauze
Georgette
Lace
Lawn
Net
Organdie
Organza
Tana lawn
Tulle
Voile
Do also check out my guide to the different types of sheer fabric but here's a quick look at each in turn:
Batiste
Batiste is a plain weave fabric, lightweight and made from different fibres.
Challis
Another plain weave fabric, challis is great for sewing beginners because it is easy to sew. Being lightweight, it is great from lightweight garments!
Chiffon
One of the sheerest fabrics that I have worked with – super slippy to boot so not the best for sewing beginners! – chiffon is a plain weave fabric made from natural fibres (silk chiffon) and artificial (poly chiffon).
I have created a great resource on what chiffon fabric is and how to sew chiffon – do check that out is chiffon is a fabric you'd like to sew with!
Eyelet
Eyelet fabric is an embroidered fabric featuring small embroidered holes. This technique can be applied to many different fabric types and fabric weights.
Gauze
Used for curtains historically, gauze is a woven fabric made in a variety of fibres, and is now used for more casual garments as well.
Georgette
Often confused with chiffon, georgette is also made from silk or polyester but has a more crepe finish than chiffon. You can learn more about the different types of georgette fabric here!
Lace
Lace is first and foremost a decorative type of fabric made from many different fibre types!
Lace has many uses, the choice often depending on the weight and stiffness – you can learn more about the different types of lace, and how to sew them!
Lawn
I love lawn fabric! It's a medium crisp fabric type due to the higher thread count used to weave it, and has a fine finish, and yet is still quite sheer as can be seen in the photo above!
I've used cotton lawns for summer shirts and tops as well as a pair of my favourite loose fit trousers!
Learn more about how cotton fabric is made here!
Net
Net fabric is a meshed fabric, created in different weights, and is most often associated with costumes and hats.
Organdie
Made from combed fibres, organdie – also known as organdy – is a tight plain weave fabric often used for interfacings because of its stiffness and sheerness!
Organdie is also used as an interfacing fabric in sewing too!
Organza (and Gazar)
Organza is a plain weave fabric, made from silk (beautiful) or polyester (cheap) yarns, and usually quite translucent.
When it is very heavy and almost opaque it is known as 'gazar'.
Tulle
Tulle is a type of net, made from hexagonal mesh. It is fine and very drapey and there are many types of tulle fabric to choose from!
Voile
Another fabric made from either natural or manufactured fibres, voile is semi-crisp.
Lace Fabric Types
As mentioned further up, lace is a decorative fabric type and can be manufactured in different fabric weights, fibres and styles!
Alençon Lace
Allover Lace
Breton Lace
Chantilly Lace
Cluny Lace
Embellished Lace
Filet Lace
Guipure Lace
Tape Lace
Val Lace
I have this guide to different types of lace if you'd like to learn more about lace!
Special Occasion Fabrics
The fabric types in this section are usually the fabrics we create garments for important occasions from:
Anniversaries
Christenings
Weddings
Special fabrics used for the above occasions can be:
Sheer fabrics (chiffon, organza, tulle)
Lace fabrics
Satins
Brocades
Embellished fabrics
I'll skip over sheer and lace fabric types as I've already covered those.
Satins
Satin fabrics are made with the satin weave, which gives the fabric a gorgeous shine on one side.
Satins can be drapey and silky, or stiff and structured.
Usually, they fray like crazy when cut into so they aren't really a beginner friendly fabric type!
Brocades
Brocades are beautiful fabrics with a permanent design created on the surface of the fabric's right side.
Woven on a jacquard loom, brocade is available in different fabric weights.
Embellished
Fabrics that are embellished can be laces, brocades, tulle and more! Embellishment can be:
Sequins
Beads
Crystals
Glitter
Piled and Napped Fabrics
Fabric types that have pile are often referred to as napped fabrics, but pile and nap are two different things.
When sewing with piled fabric, be aware that you need to cut your sewing patterns on-grain with the nap. Don't be like a fellow student of mine when I was still in fashion school – they cut the back of a faux fur jacket the wrong way, and it was only upon sewing the front sections to the back that the mistake was noticed!
Types of nap and pile fabrics are:
Chenille
Corduroy
Faux fur
Fleece
Terry
Velvet / velour
Chenille
Chenille is created by punching tuffs through existing fabric. The tufts can be short or longer. Imagine the tufts created similar to how a punch needle works!
Corduroy
Corduroy looks like a ribbed fabric, with vertical stripes but is in fact a pile fabric.
Faux Fur
Another popular pile fabric is faux fur, which is quite often referred to as a deep pile fabric due to the longer lengths of the pile.
Fleece
Made with wool or hair, fleece is one of those fabrics that gives me the heebie-jeebies! It's usually a very soft fabric with a pile.
Terry
Terry fabric is made with uncut loops. There is no nap to the fabric and is used for towels, robes and more.
Velvets
Velvet fabrics (velvet, velour, velveteen) have a short pile.
Personal note: I hate velvet. The photo above is a paid stock image because I would never have velvet in my stash.
Felt Fabrics
Felt fabrics are great because they are no-fray because the fibres used are felted with water.
Fabrics creating using the felting technique are made from wool, mohair, cotton, rayon, fur and some synthetic fibres.
Double Faced Fabrics
Fabrics that have two usable sides are referred to as double-faced and are naturally created during the fabric construction process, whether woven or knitted.
As both side of a double faced fabric can be used, they don't really have a 'wrong side' which makes them perfect for anything you plan to make that will be unlined!
Double-Cloth Fabrics
This type of fabric is created from two layers of fabric, and like double-faced fabrics, are reversible.
Creating double-cloth fabrics can be done by sewing the layers together or fusing them with double sided fusing, like bondaweb.
During my internship at Roland Mouret, I learned the process of 'Arignée' – fusing two layers of fabric together with the 'spider web' fusing to create a new and unique fabric.
This tutorials shows how to fuse fabrics together yourself!
Quilted Fabrics
Quilting is technique that is used to sandwich a filler fibre between two layers of fabric. This can be done by machine or hand.
Quilted fabrics can be purchased ready made, or you can learn the process of quilting to make your own.
Depending on the weight of the fabrics and the filler used in the quilting process, the resulting quilted fabric can end up quite heavy and bulky.
Filling Options
Polyester batting
Cotton batting
Bamboo batting
Wool batting
Quilted fabrics have been used for both casual and occasions-wear garments for sometime.
Plaid Fabrics
Plaid – when woven or knitted and *not* printed! – is a repeated pattern created during the weaving and knitting process.
Plaid (and tartan) can be quite bold, or more subtle like the photo above.
Plaids can be balanced and unbalanced – the latter being much trickier to pattern match so not advisable for sewing beginners!
Technical Fabrics
Types of fabric in this category are usually created for specific use:
Exercise
Water activities
Outdoor activities
Exercise Fabrics
These are fabrics that are used to wick away moisture during activities like cycling, skiing and running.
Water Activity Fabrics
Swimwear and other clothing for water sports are obvious here, with suitable fabrics ranging from lycra to neoprene.
Fabrics should allow for plenty of movement, and fit close to the body.
Outdoor Activity Fabrics
The fabrics used to create garments for outdoor activities could be lightweight and wicking for the summer months or insulating and weatherproof for those colder (and wetter!) winter months.
Frequently Asked Questions About Fabric Types
Let's finish with questions about types of fabrics that come up a lot!
What's the difference between fabric and material?
Fabric is created by the weaving or knitting of fibres.
Example: Organza is a woven type of fabric.
Material is the matter from which something can be made.
Example: Silk organza is a fabric made from silk.
Organza can be referred to as both fabric (woven) but also material (silk).
How can I tell what kind of fabric I have?
The easiest way to know what kind of fabric you have is to run a burn test – following safety precautions! – to find out the fibre content.
Typically:
Synthetic fibres smell acrid when burned and form hard beads
Cellulose fibres smell like burning paper or wood and form light ash or become hard and brittle
Natural fibres smell like burning paper, rope or hair and form ash or brittle beads
Note that the difference in beads is important – brittle beads can be easily crushed, hard beads cannot!
What types of fabrics are used for clothes?
There are many types of fabrics use for clothes – in fact all the fabric types mentioned throughout this article are suitable for clothing!
It's important though to think about the garment you plan to make and then choose a suitable fabric. Otherwise you could end up with some interesting pieces:
A quilted denim bikini?
An organza biker jacket?
A leather wedding dress?
All of the above would probably look amazing if designed as such, but when done accidentally, there's a lot that could go wrong. So always think about the garment and fabric type used carefully!
Can I Make A Fabric Stronger?
Absolutely! In sewing, we use interfacing fabric to make our fashion fabrics stronger, but which one you use depends on the fabric type!
What are the types of fabric patterns?
Oh, this is an article in itself I'm sure. Here's a list of pattern types for you to start with:
Abstract
All over
Argyle
Batik
Block print
Burn out
Chevron
Damask
Floral
Gingham
Guilloche
Half-drop repeat
Houndstooth
Ikat
Offset
Ogee
Paisley
Repeat
Shiboru
Side repeat
Square repeat
Stripes
And of course, within all of the above there are different styles. But I'll cover that in the next guide!
What is the strongest type of fabric?
The strongest natural fibre is silk – but the silk from spiders, not silk worms! For the strongest fabric made from natural fibres, it's a very close call. Technically hemp is considered the strongest natural fibre used in creating fabric but with variables such as the way the fibre is spun into yarn and then woven into fabric, it is a close tie with flax / linen!
Dyneema®  fibre is currently the strongest synthetic fibre in the world and any fabric incorporating it would definitely be in contention for the strongest synthetic fabric!
Fabric Types Conclusion
Phew! that was an epic guide! The only thing for me to add is that while there are over 28 fabric types listed above, there are many more options available to you when you combine the fabric type with the different fibre options!
Example:
Silk organza
Polyester chiffon
Quilted cotton
Silk brocade
Yes the above are great combinations – you can of course change them and have poly organza, silk chiffon, quilted silk and cotton brocade!
And then there are some obvious options – denim is only really made with cotton unless a stretch component is added such as elastane or lycra!
So, when selecting a sewing pattern, read the packet to see which fabric types is recommended, but then have a read online, and poke around the fabric stores to see what fabric type and fibre combo is best for YOU!
And if this floated your boat pop here to learn more about knit fabric types – it's another great read! – the different lace types here, the different types of interfacing fabrics and the difference between natural fibre, synthetic and manmade fibres here!
Of you ever need a quick reminder, I have this web story which covers the different kinds of fabric more succinctly!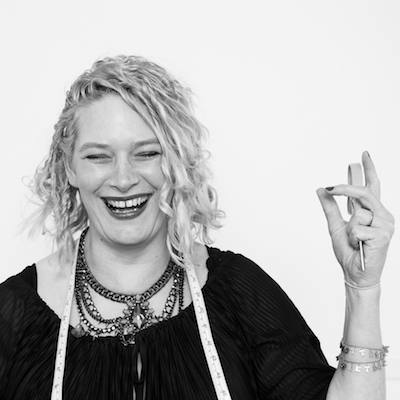 Eve Tokens (aka The Creative Curator) is a fashion designer, creative pattern cutter and sewing pattern designer.
Eve graduated with a 2:1 in Fashion Design from the University of The Creative Arts in the UK, has a BTEC diploma in Creative Pattern Cutting, a Foundation Degree in Art & Design from Wimbledon College of Art and gained extensive experience in the fashion industry by interning and freelancing for London based fashion brands – Hardy Amies, Roland Mouret, Peter Pilotto and others.
As well as running her own small sustainable fashion brand, Eve has more than 25 years experience sewing and making clothes for herself and family members.