When it comes to creating a sewing pattern design to sell, there are more steps involved than when we make our own sewing patterns for ourselves.
To start with, you need to consider your idea audience, your 'customers'.
Everything always goes back to the customer!
Your Ideal Customer
Sewing pattern designers usually work in a similar way to fashion designers. They'll have their basic blocks (or slopers) created with their ideal customer in mind.
Some examples are:
Amy Nicole Studio – designs sewing patterns for 'gals with small stature with big personalities'
Cashmerette Patterns – design sewing patterns that 'celebrate curves, confidence, and limitless style.'
The two examples above give you an idea of who their ideal customer is right?
Knowing who YOUR ideal customer is will help you to create many successful sewing pattern designs to sell!
Starting The Design Process
Next you'll need to start the basic design. Think of it as fashion design in it's most basic form, because you're only creating the one design.
You'll want to narrow down which of the many types of clothes it will be. Common starting points for new sewing pattern designers are a:
Typically new pattern designers avoid trousers / pants because of how tricky it can be to fit and grade them!
A pattern for a simple clothing type can be a great way to build your confidence, and also your fan base if you give it away for free!
Josefine at Ploen Patterns created the Freja dress as her first pattern, (which was and still is a freebie). It's a simple shape for a dress and would have been easy to grade.
Amy at Amy Nicole Studio has a simple top which is again a free pattern, called the Krissa top. It is again a very simple shape, with a crossover at the centre back neck opening.
Helen at Helen's Closet has the free Luna tank top, which is a simple pattern for a knit top!
These are just three indie pattern designers that have created a very simple sewing pattern design as a starting pattern, and then gone on to grow their skills, their customer base and their sewing pattern business.
Developing The Sewing Pattern Design
Now that you know which clothing type you'll be starting with, you need to design your version.
Looking at historical images as references can really help with this, even if just to understand why certain garments have been designed and constructed the same way for years.
Heather Lou over at Coset Core Patterns knew for some time that she wanted to design a flight suit and spent time sourcing vintage and contemporary versions for some time before starting on the design process for the Blanca pattern!
When I created the trench coat pattern for my graduate fashion collection, I purchased a classic Burberry trench to deconstruct and study.
It's important to note that you're not taking apart these pieces to then copy and sell. It's about using them as a reference, as inspiration and to better understand how they've been constructed.
Pattern Drafting The Basic Block
Once you've settled on your design, you'll want to draft the basic block that you'll be using as your starting point.
You should be creating this block based upon the measurement range that you've created for your ideal customers. In the fashion industry, we use 'fit models' who match our inhouse sizing, and this 'sizing' is used for everything we do so that there is consistency.
It's why some brands are know for having an oversized loose fit aesthetic and others for being vintage inspired. The blocks that they create with their ideal customers in mind will help to keep their sewing patterns consistent.
If you've never drafted blocks before, check out this pattern drafting page for my free tutorials.
Developing The Block Into Your Sewing Pattern Design
You now have your starting block and are ready to develop it into your design.
Start by marking in the stylelines on each pattern piece. Is the neckline to be lowered? Are you extending the shoulder line? Maybe you're lowering the waist on a skirt block? Start with the stylelines first and make sure that theyre trued across different pattern pieces.
This step can be done on paper on a worktable or on your computer using a CAD system such as Adobe Illustrator or Valentina.
Checking The Design
Once you've developed the basic pattern, you need to toile it up, or create a 'muslin'. This will be your initial shell, simply the overall silhouette which you'll ideally check against a real living fit model, but failing that, on a dress stand that accurately refelects the body size and shape of your ideal customer.
You'll want to check the following:
The silhouette is balanced
The seam lines are pitched correctly – make sure your side seams are not tipping forwards or backwards
The proportions make sense
The size is good
Check out my guide on the basic fashion design principles for more things that you need to consider!
Conisdering The Fabric
You'll also want to think about the types of fabric you feel would be suitable for the pattern, as this will have an impact on the seam finish that you add into the design.
Trying to sew a French seam on a heavy wool is not recommended and neither is overlocking the seams on a sheer silk top! Take the time to consider the fabric as it relates to the design and the construction methods to be used!
Modifying The Sewing Pattern Design
Once you've tested the fit above, you need to transfer any modifications to the flat pattern that you created. Make sure to true up all seams, darts and style lines and assign the right amount of ease to different seams as needed.
Keep this version with the notes – I like to date each modification on this development pattern – and then trace it off so that you have a new version to work with.
This is your 'working pattern' and by creating it as a new version, you have the original development pattern in order if you later need to go back to the starting point for any reason.
If modifications were extensive, you'll want to make up a second toile / muslin to make sure that everything still 'works' as it should. Sometimes, modifying a pattern design can disrupt rather than perfect, so it is important to check!
Creating The Production Pattern
Your 'production pattern' is created by tracing off the working pattern and adding on all required notches, seam allowance amounts and pattern information:
Pattern name
Pattern piece
Size
Grainline
How many pieces to be cut
How they should be cut (as a pair, on fold, right sides up etc)
Included seam allowance amounts
Shorten / lengthen lines
Remember that seam allowances can change based on the location and seam finishing technique.
At this point the design has not gone through any pattern grading and is not yet a commercial pattern, but it is ready for production.
Testing The Pattern (Stage One)
You're now ready to run the first test of the pattern. This entails you sewing up the design and noting all the steps you take to construct it.
You'll want to consider:
The order that you sewed pieces together?
The seam finishes you used?
Whether any areas were interfacing?
Any stay stitching used?
Any other stabilisers applied?
Stitch type?
Stitch length?
Any pressing instructions?
All of the above, and more, is needed for the instruction file that you'll need to put together if you want to sell your sewing pattern design!
When you've sewn it up, take it apart with your seam ripper, and follow the instructions in reverse that you created. Did you miss anything out? Could it have been constructed more easily using a different technique or doing a speceific step a little earlier or later?
Your job as the sewing pattern designer is to cover every construction aspect to make sure it is ready for someone else to sew up!
Pattern Grading Your Design
The pattern works. You're happy with it. Now it needs grading. This is a task that you can do yourself, or you can hire it out to someone.
You'll need to know what sizes you want to grade up and down to, your zero point as well as your grading guide – what is the difference between each size for key grading points?
Conisderations for grading bodices are:
When grading the pattern yourself, you will want to differentiate the line for each size. This can be done by changing the 'stroke' settings in the programme you are using – using the dot and dash options allows for many sizings to be shown.
Writing The Sewing Instructions
As you are planning on selling the sewing pattern that you have designed and created, you'll want to provide some form of sewing instructions so that it can be sewn up.
There are some companies that provide minimal instructions – SewArc are one that springs to mind – which is great for more advanced sewers that like to do things their way, but if you're intended customer base is at more of a beginner level, you'll want to provide them with some easy to understand sewing instructions.
You can create instructions in written format as a PDF for them to print out or use on screen, with illustrations, diagrams or photos to show specific details.
Or you can create a video of the entire construction process so that people can make it in real time along with the video.
At this stage, I suggest writing up the instructions ready for the stage two testing – videos can always be created later when the pattern is ready to sell!
Testing The Pattern (Stage Two)
You've made it to stage two of the pattern testing! Hopefully you have created a list of excited followers eager to test out your sewing pattern for you.
You'll need to ensure that you have at least one person per sewing size – two is better, and preferably at different sewing levels! – and you'll send them the pattern and instructions for free along with a timeline of when you need their feedback by.
Your pattern testers' job is to cut and sew your pattern in their size. They're looking to see:
How easy to follow were the construction instructions?
Whether there were any steps that were missed out or didn't make sense?
Any missing pattern pieces?
Any extra pattern pieces needed?
Sizing issues – did it fit, not fit, too long in one section, too short in another?
Any recommendations?
Ask them to also send you photos when they've sewn the pattern up into a garment. Your testers may not want you to share these on social channels – which is perfectly ok! – but seeing the garment on other bodies will help you to see any issues with proportion, shape, scale etc.
Final Pattern Changes
Once you have the feedback from your pattern testers, you'll need to make any final pattern changes needed.
You'll then recheck the grading / regrade the pattern and finish by making any adjustments to the construction instructions.
And then start the sales process!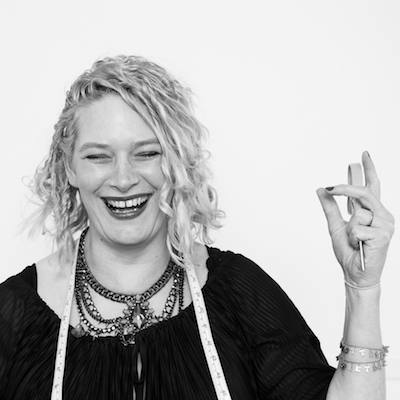 Eve Tokens (aka The Creative Curator) is a fashion designer, creative pattern cutter and sewing pattern designer.
Eve graduated with a 2:1 in Fashion Design from the University of The Creative Arts in the UK, has a BTEC diploma in Creative Pattern Cutting, a Foundation Degree in Art & Design from Wimbledon College of Art and gained extensive experience in the fashion industry by interning and freelancing for London based fashion brands – Hardy Amies, Roland Mouret, Peter Pilotto and others.
As well as running her own small sustainable fashion brand, Eve has more than 25 years experience sewing and making clothes for herself and family members.