This easy face mask pattern is great for anyone who needs to make a DIY face mask. With easy to follow instructions, this pleated face mask pattern will take very little time to make.
As it is such a simple face mask, there is no need to print anything and you'll need just a few everyday items to draft it. For those who want an easy to make face mask, this is the easiest option.
Please note: the purpose of a face mask is to allow you to follow the rules set in your part of the world regarding travel and health recommendations. This face mask provides a minimal covering of your mouth and nose.
Simple Mask Pattern
This simple mask pattern uses pleats at the sides of the mask to contain the fabric near the ears but still allow full covering of the mouth and nose area.
The pleats in this DIY face mask should always be on the shorter edges of the mask that sit close to the ears. Think of it like the hinge of your jaw; as you open your mouth the distance between the tip of your nose and your chin increases and then decreases again when you close your mouth.
Adding the pleats at the sides of the mask accommodates this maintaining a cover over your mouth when engaging in conversations. Or yawning.
Tools Needed To Draft Your Easy Face Mask Pattern
You don't need much in the way of tools, and you'll probably find these lying around the home, especially if you have kids! For anyone without a sewing machine, a simple needle and thread will work just fine.
Ruler
Pencil
Piece of A4 / letter sized paper
Paper scissors
Fabric (add quantity)
Iron-on interfacing (optional)
Iron
Fabric scissors
Dressmaking pins
Hand sewing needle
Thread
Narrow elastic: 8mm wide works well
Once you have gathered your supplies, lets draft this easy face mask pattern!
Step 1: Draft The Face Mask Pattern
As this is an easy pattern, I've kept this really simple. See my second tutorial on how to make a face mask that is more contoured to the human face. For now, start by taking your ruler and pencil, and drawing a rectangle on your paper that is 18 cm / 7 inches wide and 26 cm / 10 ¼ inches long.
This rectangle above includes some seam allowance, and so should yours, so that you can double fold and hand sew the hem to stop the fabric from fraying. Cut the paper, following the rectangle line, with your paper scissors.
Do not use fabric scissors as the paper will blunt them.
Step 2: Block Fusing The Fabric
The next step is to block fuse the interfacing to your fabric. You could cut your interfacing and fabric pieces separately, but as its quite possible that you will be making multiple DIY face masks, it will save you time to simple block fuse the interfacing to the fabric in one go.
Plug in your iron, and while it's warming up, lay the fabric on your ironing board or heat protected work table, with the right side of the fabric face down. Place the interfacing on top, making sure that the glue side is face down.
Apply heat to the interfacing by placing the hot iron on top and holding it in place for a few seconds. The heat will melt the glue and bond to the fabric below.
If you do not have interfacing – or are unable to get your hands on any – you can replicate this with a second layer of fabric, minus the iron and glue!
And for those who want an easy face mask pattern that they can construct in less time, simply follow the instructions below with one piece of fabric, as demonstrated – though I personally suggest having at least two layers of woven fabric, as this is what makes me feel more comfortable out and about.
Try to choose a complimentary thread for your DIY face mask – I'm using a contrasting one here so that you can see the stitch lines more clearly!
Step 3: Prepping and Cutting Out The Fabric
Now, we get to prep and cut the fabric for our easy DIY face mask! Place the paper pattern you created on top of the fabric, and secure in place with pins. think about making the most of the fabric you have, you will probably be able to get quite a few face masks cut out if the pattern is butted up against existing straight edges of the fabric.
Grab your fabric scissors and start cutting carefully around the pattern piece being careful to cut only the fabric and not to cut the paper – we want those fabric scissors to maintain their sharpness!
Rinse and repeat if you are cutting multiple face masks out in one go, and don't forget to snip in your notches for the pleats.
Finally, mark in the locations of the pleats and pin them into place, so that they sit flat.
Step 4: Sewing The DIY Face Masks
You might have cut one, or you may have cut many, but now is the time to sew your DIY face masks!
Sew along the shorter edges to secure the small pleats in place – you can stitch the pleats in place by machine or hand, and they are designed to help the face mask fit better.
Next, fold the shorter edges of the rectangle inwards twice. You're creating a 'double fold hem' (this double hem tutorial will help if you've never sewn one before) to seal the fabric edge inside so that it isn't a frayed edge which will gradually unravel. Pin it in place.
Now it's time to sew the hem to secure it and stop it unravelling. Sew both short ends so that your DIY face mask looks like mine below. Make sure that your pleats are all pointing in the same direction!
Step 5: Adding The Elastic And Final Hem
Now, you could have sewn the top and bottom hems too, but I like to capture the elastic that goes around your ears inside the hem, to lessen the chance of it rubbing on your face.
To do that, cut two lots of 15cm / 6 inch length of elastic. The elastic I am using is 8mm wide. You may need less or more, depending on how the face mask fits your face. You don't want it to be too little, because the elastic will put tension on the backs of your ears – which hurts! – so allow enough for this to attach the mask securely but NOT hurt your ears.
Pin one end of each elastic piece to the top edge. Repeat for the opposite side with the second piece of elastic.
Now, fold the entire length of the face mask twice, as you did before for a double hem, and check that the elastic has been 'caught' inside the hem. Pin in place.
Finally, sew the double hem, making sure the elastic is secured in place.
Repeat for the lower hem, creating an elastic loop of sorts which will be held in pace by your ears.
You now have a very easy face mask made from a pattern you drafted yourself, that can be used again and again.
If like me you prefer some snazzy style to your face mask – I'm not saying that they should be 'designer' in style, but if we're going to be wearing face masks for a while, there's nothing wrong with making them funky right? – you could use some fantastic and tightly woven fabrics, or even create a beautiful mask with fabric manipulation techniques – I'm thinking a fab and simple pin tucked face mask.
This is a single layered mask – in that I only used one layer of fabric – but my multi-layered face mask is coming up soon as well – which even includes a filter pocket!
So, what do you think? Is it a winner? 🤔
Let me know how you got on drafting your easy face mask pattern, and whether the DIY face masks you created were the best you've seen yet! 😉
As always, don't forget to press as you go!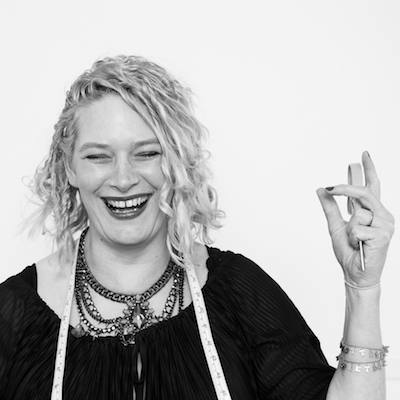 Eve Tokens (aka The Creative Curator) is a fashion designer, creative pattern cutter and sewing pattern designer.
Eve graduated with a 2:1 in Fashion Design from the University of The Creative Arts in the UK, has a BTEC diploma in Creative Pattern Cutting, a Foundation Degree in Art & Design from Wimbledon College of Art and gained extensive experience in the fashion industry by interning and freelancing for London based fashion brands – Hardy Amies, Roland Mouret, Peter Pilotto and others.
As well as running her own small sustainable fashion brand, Eve has more than 25 years experience sewing and making clothes for herself and family members.