If you're a fan of Game Of Thrones, then you'll love this guide full of Game of Thrones costume ideas for seven of the key characters! From Daenerys to the red priestess Melisandre and favourite characters in between, you're sure to find a great costume inspired by Game of Thrones!
And if going DIY is more your thing, I've also included sewing pattern suggestions that will help you to make your own Game of Thrones costumes too!
Note: Some of the links in this post are affiliate links, which means I may receive a commission if you make a purchase at no further cost to you.
1. Melisandre – The Red Priestess Costume Ideas
Let's start with Melisandre! The character was played by Carice van Houten, and is known for resurrecting Jon Snow and her rather witchlike red dress.
If you loved that dress, here is one that you can buy ready made!
Melisandre Red Dress
This red Melisandre dress costume has a wrap over front, which ties at the waist. The dress is 'gored' and has a long length skirt. The sleeves are fabulous, opening up big at the hem.
It is made from taffeta, so a good quality costume and also comes with a cloak and scarf to finish the look.
It's available in size small (suitable for 160cm / 63″ height) up to an XXXL which works for 185cm / 73″ height.
Melisandre Wig
Don't forget a Melisandre wig! This red wig is not quite the right shade, but does a very good job nonetheless. The wig will fit head sizes from 22.8″ to 24.5″ – approximately 57cm to 61cm – and even has similar detailing to how Melisandre wears her hair pulled back.
Melisandre Choker
Make your Melisandre costume complete with the magical choker that she wore throughout the show.
Melisandre Sewing Patterns
If you're keen to sew your own version, then this sewing pattern will work well! It's not a perfect match, but the long sleeves definitely make it work!
2. Daenerys Targaryen – Khaleesi And Mother Of Dragons
I've covered Daenerys costume ideas in more detail already, but I'll include two of my favourite Khaleesi costumes here.
Daenerys Winter Coat
The first (which I have loved since first seeing it) is the white fur winter coat. I have plans to create a sewing pattern for this coat and will make it up for myself.
DIY Winter Coat
If you wanted to have a go at making it yourself, then this costume coat sewing pattern would be a perfect starting point!
Daenerys Pleated Dress
Finally there's the famous pleated dress – I have that pattern almost ready to go for free so stay tuned for that one!
This was the very first Daenerys dress that I wanted to make for myself, but if you're not in to making your own, this version is perfect although it is only available in limited sizing at the moment.
Check out more Daenerys Targaryen costume ideas here including a fantastic wig that will finish off any khaleesi costume!
3. Jon Snow – King Of The North
I haven't listed out sewing patterns for either of the costumes covered here as it would take a lot of time and fabric to make your own – but if it is something you're interested in, do let me know in the comments below and I'll add in!
Jon Snow's Snow Armour Costume
One of the best Jon Snow costumes I have ever seen is the snow armour outfit. It's possibly the most expensive Game of Thrones costume I have come across, but included with it is:
Belt
Cape
Gauntlets
Gloves
Leglets
Metal Dire Wolf
Neck Armour
Neck Wrap
Pants
Sheath
Shirt
Vest
The only thing you'd need to buy as well is
Jon Snow's Night Watch Costume
The other Jon Snow costume that looks fab and has amazing reviews is his night watch costume which includes his cape, vest, underwear, gloves and belt.
Jon Snow Wig And Valyrian Steel Sword
No Jon Snow costume would be complete without a Jon Snow wig and the Valyrian Steel sword, both of which will really make you feel that you're dressed the part.
4. Arya Stark – Princess Of The North
Played by Maisie Williams, Arya Stark has some fab costumes throughout the seasons, though on a more toned down level than both Daenerys and Sansa.
For anyone wanting to dress less feminine, these Arya inspired costume ideas will be great.
Arya's Standard Costume
This is the outfit worn by Arya throughout many of the episodes of Game of Thrones.
It features a simple beige top, pants and a top laced together. The latter being on my list of 'make for myself' projects!
Arya's Full Length Coat Costume
Another one of my favourites is this costume featuring a full length coat.
It features a slightly quilted effect on the coat itself, and has the lacing attaching the sleeves to the body.
DIY Arya Costume
You can easily DIY Arya's full length coat costume yourself! View A of this Simplicity sewing pattern is perfect. You can easily draft a basic skirt pattern for the skirt and then modify this Simplicity cape pattern (the version without the hood) to finish off the look.
Arya's Sword 'Needle'
Add the finishing touch to your Arya costume with her sword 'Needle'! There are two versions available:
5. Cersei Lannister – Ruler of The Seven Kingdoms
Oh, how much we all despised Cersei Lannister, and yet how fabulous were some of her costumes?
Cersei's Red Dress
There are very few Cersei costumes available, but this red Cersei dress is the best I have been able to find, with some amazing pictures included in the reviews!
DIY Cersei Dress
This medieval costume sewing pattern from Simplicity is another great option if you'd like to make your own Cersei dress – I'd go with view 1 (the purple version) as the neckline is very similar.
Change the centre front opening so that it is more of a wrap over, extend the length and then widen out the sleeves. Voila, you have a beautiful DIY Cersei dress!
6. Tyrion Lannister – Lord of Casterly Rock
I've included Tyrion Lannister rather than his brother Jaime, as there are no decent Jaime Game of Thrones costumes available. Let me know if you'd like me to create a tutorial on modifying an existing pattern into a Jaime Lannister costume pattern ready for next halloween and Comicon!
Sleeveless Tyrion Lannister Costume
This Tyrion costume is a great one. Very simple, it includes the pants, top, vest and belt for one price.
Full Length Tyrion Costume
I actually prefer this Tyrion costume more – I think the jacket is great – but I'm not sure about the quality of the fabric.
DIY Tyrion Costume Sewing Pattern
You could of course make your own version of either, as the jacket has the same fit in both Tyrion costumes.
This mens medieval jacket sewing pattern would work well. Start with the short red jacket version as the neckline is perfect, and then modify both the length and sleeve length accordingly.
7. Sansa Stark – Queen Of The North
My final Game of Thrones costume idea is for anyone wanting to dress like Sansa Stark!
Starting out in season one of Game of Thrones as a naive girl desperate to marry Joffrey Baratheon, Sansa finished the show as Queen of the North, and wore some stunning costumes along the way.
Sansa's Winterfell Outfit
This Sansa Stark costume is one of the simplest available, with a dress, cloak, belt, gloves and neck strap included, but you could just as easily make your own!
DIY Sansa Stark Costume
DIY it with a long sleeved dress in a woven fabric – preferably with a half circle skirt for the shape! – and then modify this vest sewing pattern to have a raised neckline and add in an invisible zipper at the front or back to get into the vest.
The cape and belt are easier enough to freehand cut if you have the right materials, and you'll end up with a rather wonderful Sansa costume!
Sansa Stark Wig
Complete your Sansa Stark costume with a wig that is similar in color and straight.
Game Of Thrones Costume Ideas
I hope that these Game of Thrones costume ideas have inspired you. If you'd like to see some tutorials on creating your own versions from scratch using self drafted or purchased sewing patterns, do let me know!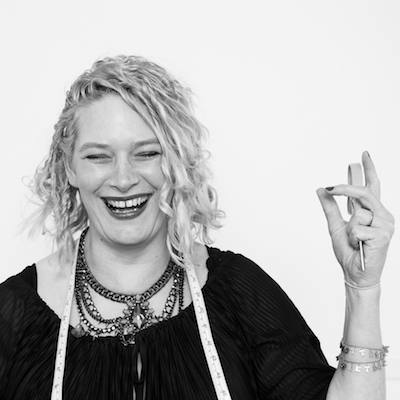 Eve Tokens (aka The Creative Curator) is a fashion designer, creative pattern cutter and sewing pattern designer.
Eve graduated with a 2:1 in Fashion Design from the University of The Creative Arts in the UK, has a BTEC diploma in Creative Pattern Cutting, a Foundation Degree in Art & Design from Wimbledon College of Art and gained extensive experience in the fashion industry by interning and freelancing for London based fashion brands – Hardy Amies, Roland Mouret, Peter Pilotto and others.
As well as running her own small sustainable fashion brand, Eve has more than 25 years experience sewing and making clothes for herself and family members.