Have you been looking for the perfect free circle skirt pattern? Today, I'm sharing my very own circle skirt template with you, for free, so that you can make your own circle skirts!
I have a tutorial on how to make a full circle skirt pattern, but I've been told by some that the maths hurts their brain (which I understand). This free pattern has multiple circle skirt options included to create a full circle skirt:
One panel – full circle
Two panels – each panel being half a circle
Three panels – each panel is one third of a circle
Four panels – this is a quarter of a circle and can be used as four equal sized pieces *or* one on fold for a front panel and two equal quarter circle panels for the back
Six panels – six equally sized sections could be sewn with two side seams, two front princess seams and two back princess seams
Eight panels – each panel is an eighth of a circle which is a great option for adding in goddess for extra flare!
Twelve panels – with six for the front and six for the back, the panel template is half the width of the six panel template making it great for maxi circle skirts!
Sixteen panels – I almost didn't include this, because who in their right mind would want to cut our and sew sixteen panels of fabric? Erm, me!
How Does The Free Circle Skirt Pattern Template Work?
The download contains a PDF with the eight templates listed above. You decide which one you want to use and print it out. You can download it here (it will automatically download to your device as a PDF).
There are some written instruction following now, but you can also scroll to the bottom to watch the video tutorial!
Measure Your Waist
Start by measuring your waist / where you want the waistline of the skirt to sit. My waist is 114cm, and I sized down to 112cm but could have gone smaller.
I would recommend subtracting 0.5cm for every panel for the 16 and 12 panelled versions, 0.75cm for the 8, 6 and 4 panelled versions, and 1cm per panel for the 3, 2 and 1 panel versions.
Let's look at what that is:
1 panel, 2 panels, 3 panels = subtract 1cm per panel
4 panels, 6 panels and 8 panels = subtract 0.75 cm per panel
12 panels and 16 panels = subtract 0.5cm per panel
So, I opted for the 16 panel version, which gives me 16 x 0.5cm = 8cm. 114cm minus 8cm = 106cm needed.
If I were making the 8 panel circle skirt, I would do 8 x 0.75cm = 6cm. 114cm – 6cm = 108cm needed.
And finally, If I were making the two panelled version of the circle skirt, I would do 2 x 1cm = 2cm. 114cm – 2cm = 112cm needed.
You will find that the fewer panels you're using, the more you need to allow for the fabric cutting across the bias.
But remember, stay stitching the waistline will help prevent it from stretching out!
Find Your Line On The Template
Now you find the line – mine is 106cm. You can either cut along the two straight edges and the curve for your measurement and glue it to pattern paper *or* trace it off on a new piece of paper to create a new guide, saving the template for another time.
Deciding The Length
Now you need to decide on the length. For the full circle skirt, you will need to measure outwards from the entire circle to create the pattern.
For all other panelled versions, you can simply extend the two straight lines for as long as you would like your circle skirt to be.
Make sure to then replicate this length along the full hem of the panel – in the video (below) you'll see me using my one metre rule for this.
Adding On Seam Allowance
Next, add on your chosen seam allowance amount. I use 1cm for most things, but you may be more comfortable with 1.5cm / ⅝".
Don't forget that you need to consider the seam finish. For my patchwork leather version, I'll be lapping the seams, so will want a 1.5 seam allowance.
You also need to add on an amount for the hem, if you are sewing one. I usually sew a pin hem on most of my circle skirts which requires approximately 1cm (for me) but you may decide to add a faced hem and need less.
Finally, remember that you need to add on seam allowance to the top waist section. This is NOT factored into the template!
Cutting Out The Pattern
Now you get to cut out the circle skirt pattern! Use paper scissors to cut around the pattern piece and note down all the important information:
Name
Size
Circle skirt style
Number of pieces to be cut
Included seam allowance
Date (if inclined)
Cutting Out The Panels Of Fabric
I recommend making a toile before making your circle skirt in fashion fabric. I was able to get 16 panels from 1 meter of calico at 160cm wide based on my chosen skirt length of approximately 50cm.
Be mindful of where you want the straight grain to sit on the circle skirt panels. When you have all your panels cut out, start pinning them together. I pinned mine together in twos.
Sewing The Free Circle Skirt Pattern
You're now ready to sew the circle skirt!
I sewed the entire circle skirt toile without stopping as I was so excited to see it finished! My plan now is to lay it out flat and draw in a storyline along the full hemline. I can then develop it into even more pattern pieces to patchwork together *or* create it as appliqué or embroidery on top of a base fabric. I'm undecided today, but you'll find out very soon!
Creating More Volume In Your Panelled Circle Skirt
You may want to make your circle skirt even more voluminous and there are two ways to do that!
You can use twice the amount of panels but gather them at the waist so that they become the same amount as the original waistline amount. This will create more volume overall.
Add in godets to add extra volume and flare from the hem up to your godet notch! This will only affect the lower section of your circle skirts! Learn how to draft a godet here!
Watch The Video On how To Use The Free Circle Skirt Pattern Template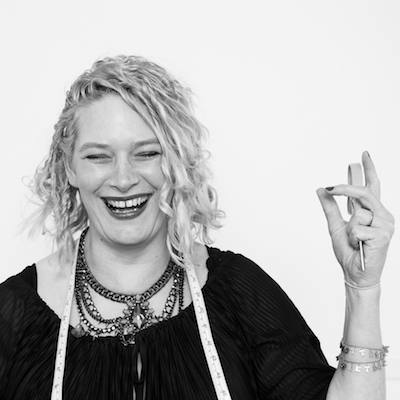 Eve Tokens (aka The Creative Curator) is a fashion designer, creative pattern cutter and sewing pattern designer.
Eve graduated with a 2:1 in Fashion Design from the University of The Creative Arts in the UK, has a BTEC diploma in Creative Pattern Cutting, a Foundation Degree in Art & Design from Wimbledon College of Art and gained extensive experience in the fashion industry by interning and freelancing for London based fashion brands – Hardy Amies, Roland Mouret, Peter Pilotto and others.
As well as running her own small sustainable fashion brand, Eve has more than 25 years experience sewing and making clothes for herself and family members.