In this world we live in – the one made up of women and men who want to make their own clothes for various reasons – there are many struggles that are experienced. The one I am contacted about the most, usually as a reply to my welcome series of emails, is fitting issues and how to alter patterns to accommodate the various fit issues we humans have to deal with.
Reasons For Fit Issues
You've heard me say this so many times, and I'm going to say it again. The reason we have fit issues is because we are human, and each of us is unique.
Life takes it's toll on our body, and as we get older, experience life, have children, deal with illness and injury and deal with hormonal changes, our body adapts accordingly.
These 'life tolls' work to shape and mould our bodies, often into something unrecognisable from our younger years. And that's ok, because we are human, and that is nature.
Fit Issues With Commercial Sewing Patterns
The problem then is that people who sew their own clothes seem to think that the sewing pattern they have purchased is wrong when it doesn't fit straight away. They often forget that sewing pattern companies use their 'ideal' to create their patterns, and if you are not in that target audience, their patterns will not fit you right out the packet or printer.
Of course, these 'ideals' are unlikely to have a bust bigger than a B-cup, a sway back or a dowager's hump (awful term!). Because, those body fit issues aren't 'ideal' right?
So, much like how when you go to the store to buy a jacket and it doesn't fit you because of various reasons, the same is true of sewing patterns. Your options are to buy the garment and then pay to have it altered or buy the pattern and learn how to alter it yourself.
Side note: when I make fashion collections I make multiple toiles / muslins per garment. I do this to test for fit issues as well as to evaluate the overall silhouette, proportion and balance of the design.
This is something that should be done with any commercial sewing pattern too, because very few patterns will ever fit perfectly from the get go.
Assessing For Fit Issues
So, how do we work out what fit issues we have in order to buy or adapt patterns accordingly? I created a workbook for my upcoming course Your Perfect Pattern, and several of my beta test students said that the process of using the workbook to assess their body was eye opening and startling.
Rose Tinted Glasses
The reason for this is because we do see ourselves with a type of rose-tinted glasses syndrome. When I look in the mirror I see a tall skinny woman with a flat tummy and toned arms. But when I take off those glasses and REALLY look in the mirror, I see someone with some fat deposited under her chin, boobs that aren't as perky as they were a few years back, a rounded tummy that wobbles more than I am happy with, a bum that droops slightly, arms that wobble when held aloft and rather chunky calves too. I don't like that version looking back at me, so I see something more acceptable to me when I take that first glance with my lovely rose-tinted glasses.
That's probably a reaction shared by many of us?!? That said, there are sometimes things we can see with both our rose-tinted glasses and our real eyes.
The only thing I can see with both my rose-tinted glasses and my actual eyes is my waist. I have a waist. 😮
Seeing With Our Eyes
Using our eyes to see our body fit issues is very important if we want to create our own clothes that flatter and enhance our figure, as well as fit us properly.
To be able to really assess your body for fit issues you need to have notes on the following:
Straight on
Side view
Back view
3/4 view
Natural posture
Body proportions
Recording The Information
It is REALLY important that you remember that these need to be completed while you are in a natural body position and wearing clothing that isn't too loose. Don't force yourself to stand up straight and push your shoulders back and boobs out… If that isn't your natural posture, you're going to be recording information that isn't going to help us with the fit issues. We want realistic responses to work with, not what we wish we were!
Have a friend or family member help out by taking photos of you in these positions. If it's tricky, use a mirror and your camera phone.
You could also sketch, but remember that we sometimes draw not what we can see, but what we THINK we see. So, photos are the more reliable option!
The Straight On Photo
Photos of the front of our body will show us if there are any non-symmetrical areas in our body that may face fit issues. You can use a mirror or have a friend or family member help out with this.
The Side View Photo
This photo will show the posture of the body. We will see how curved our shoulders are, whether our bust or bellies protrude further than we think.
The Photo From The Back
This photo will show potential symmetry fit issues from the back of the body.
The 3/4 View Photo
My beta testers were confused with this one, and I can see why, so I shall go into more description here. This 3/4 view photo is of our body turned more than the side view but not as much as the back view. Does that make sense?
Natural Posture
A great way to check our natural posture is to lean our back against a wall, with your weight evenly distributed through your feet. 'Good posture' is when only your bum, shoulder blades and the back of your head touch the wall.
More of my upper back touches the wall than would be 'good' and I have a natural gap at the back of my waist, and can fit a whole hand into this space easily. So my posture is good, but could be better. I shall blame the amount of time I spend leaning over my computer and sewing table! 😉
To have a record of your posture, you should have someone take a photo of you leaning against the wall naturally – the photo should be from the side, so we can see the hollows between out body and the wall.
Body Proportions
We took a thorough look at assessing and understanding our body proportions previously, so please do feel free to pop back to that to refresh your memory.
We are looking to see how our body's proportions line up. In the above mentioned post we discovered that I have a longer torso than is usual. This means I have to modify any commercial patterns between the waist and bust lines in order to not feel squished up.
How are your body proportions looking?
Types of Fit Issues
There are many types of fit issues that we encounter, the most common are usually related to the bust on women. Here's a list of possible fit issues to consider – there are many more possible issues, but these are the most common:
Full bust
Small bust
Sway back
Sway front
Dowager's hump
Square shoulders
Sloped shoulders
Rounded shoulders
Broad shoulders
Narrow shoulders
Narrow chest
Rounded chest
High bust
Low bust
Rounded back
Erect back
Large waist
Small waist
Full biceps
Full tummy
Small or flat tummy
Long lower torso (waist to hip)
Short lower torso (waist to hip)
Prominent calves
High bum
Big bum
Low bum
Small bum
Wide hips
Narrow hips
Long legs
Short legs
Large legs
Skinny legs
Phew… that's an epic list right?
When you have your fit issues worked out, you can now use the notes to adjust patterns accordingly to accommodate those fit issues. You need to bear in mind when assessing fit of garments, that gravity plays a part.
Fabric hangs from the shoulders for the bodice, and then the waist or hips for anything below the waist. Starting a fit correction from this 'hang' area can often correct multiple fit issues at once. Something to think about!
Perfect Pattern Series
We've been covering more about pattern making in recent weeks and that is down to two reasons. Firstly, my audience seem to be loving the pattern making posts and emails more than the sewing ones – joys of having Google Analytics to see what is visited more! 😉
Secondly, because of all the confusion people have with pattern making and fitting issues, I am actually creating a paid course. I figure that the best way for YOU to know if it is something you'd be interested in is to fill in any gaps in your pattern making basics knowledge.
To help with that we have the Perfect Pattern Series of posts which this one is part of! Yay!
Want to read more?
SaveSaveSaveSaveSaveSaveSaveSave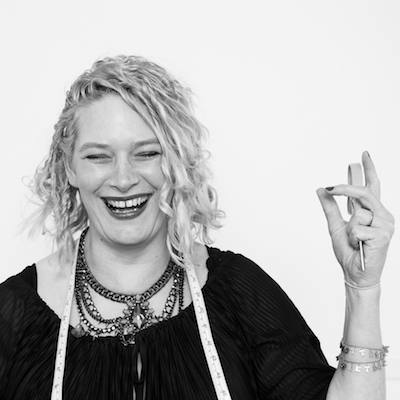 Eve Tokens (aka The Creative Curator) is a fashion designer, creative pattern cutter and sewing pattern designer.
Eve graduated with a 2:1 in Fashion Design from the University of The Creative Arts in the UK, has a BTEC diploma in Creative Pattern Cutting, a Foundation Degree in Art & Design from Wimbledon College of Art and gained extensive experience in the fashion industry by interning and freelancing for London based fashion brands – Hardy Amies, Roland Mouret, Peter Pilotto and others.
As well as running her own small sustainable fashion brand, Eve has more than 25 years experience sewing and making clothes for herself and family members.