Looking for sewing books to help teach you sewing, to further your skills?
Welcome to my bookshelf of sewing books! This is an extensive list of sewing books that I own and love – or have previously owned, loved and outgrown!
Each sewing book on this bookshelf has taught me something about sewing my own clothes, and made me the sewist I am today!
Whatever your sewing level, there will be a sewing book here to excite and inspire you – promise!
Note: Some of the links in this post are affiliate links, which means I may receive a commission if you make a purchase at no further cost to you.
Beginner Sewing Technique Books
Sewing With Knitted Fabrics
This beginners guide from Wendy Ward is essential for sewing beginners who want to sew knit fabrics. Full of tips for working with knit fabrics, Wendy will have you sewing confidently with knit in no time! The sewing book also has sewing patterns too!
Colette Sewing Handbook
This book has five patterns to help the sewing beginner master new sewing techniques as well as guidance on good fit.
First Time Sewing: The Absolute Beginners Guide
This book has been around since 2014, but is still a much loved and well reviewed book for anyone learning to sew!
First Time Sewing really is a book for total sewing beginners with clear pictures and sewing instructions!
Couture Sewing Books
Couture sewing is different from what home sewers may have experienced. Techniques found in couture garments can take hundreds of hours to perfect. It's why those couture fashion shows are so stunning, and the designs in such small supply!
The books highlighted here will teach you couture techniques at different levels. Some are great for beginners starting out on their sewing journey, who want a more professional finish to their projects, while others are more suitable for advanced sewists.
Couture Sewing Techniques
From Lynda Maynard, this book on couture sewing techniques is a winner! Suitable for sewing beginners as it is full of sewing tips and tricks!
Couture Sewing: The Couture Skirt
This is a great couture sewing book from Claire Schaeffer showing how a couture skirt is made. Beautiful, and if followed carefully, you'll end up with a stunning Chanel inspired skirt at the end – but not for the sewing beginner!
Vintage Couture Tailoring
When working on any tailoring project, I find myself often referring to this vintage couture tailoring book.
It can be hard to get hold of, but if you're someone who is interested in the process of tailoring, this is a winner!
Note: You can also access this book on Kindle!
Slow Sewing Books
Mending Matters
This is one of my all time favourite books – and it was only published in 2018! With 20 projects showing you how to incorporate four visible mending techniques, I challenge anyone not to be inspired by this mending book!
Mending Life: A Handbooks For Repairing
This is another favourite – and only published in 2020, so very new! More of an inspirational mending book, but who couldn't use some of that?
Sewing Books With Patterns
Who doesn't love sewing books that include patterns? It's like a treat isn't it, opening a book and seeing all the pages of patterns to trace off or download!
I have this round up of the best sewing books with patterns so I've only included a taster below!
Breaking The Pattern
This sewing book from Named Patterns is one of my favourites. With patterns created for 5'8″ height, it doesn't take me too much hacking to lengthen them for my 6ft tall frame. And the sewing level starts from beginner – with a bag! – to more intermediate projects later on in the book.
The Maker's Atelier
This gorgeous sewing book from The Makers Atelier has 8 patterns which will help you to sew up 31 pieces – if you're inclined! The instructions are clear, and the while the styles are simple, they're versatile!
Merchant & Mills Workbook
I left this one out when I first published this page back in 2019.. and then promptly got told off by an older sewing friend of mine who swears by Merchant & Mills patterns – so I've included their workbook which includes a selection of versatile sewing patterns.
Gertie's Ultimate Dress Book
This sewing book is not for the beginner – but if you love vintage inspired dresses it is definitely the sewing book to add to your wish list. There isn't a lot of instruction which makes it more of an intermediate sewing book, but the dresses are fab!
Basic Black
If you have ever admired the work of Japanese fashion brands Yohji Yamamoto or Commes des Garçons, you'll love this 'Basic Black' sewing book. It's modern and edgy and has 26 sewing patterns included!
Stretch
If you like sewing with knit fabric, you'll love this sewing book from Tilly And The Buttons. The book is full of sewing patterns for stretch fabrics that both sewing beginners and more advanced sewists can tackle.
Sewing Patterns
This sewing books from Alabama Studio is another book advocating slow sewing. With 12 sewing patterns to get stuck into, the books author will also help you understand how to adapt the patterns for better fit too!
The Nani Iro Sewing Studio
If you're a fan of oversized clothes, then this book with 18 sewing patterns may be just perfect for you.
You will have to trace the patterns and add seam allowance to them, but my tutorial on adding seam allowance to patterns will definitely help if you've never done so before!
Fabric Books
While I love fabrics, it's not always easy as a sewing beginner to know how to sew different fabrics or what fabrics are best suited for which sewing projects.
These books will help!
Fabric Sewing Guide
This incredibly detailed book from Claire Shaeffer taught me so much about working with different fabrics. You'll learn about fabrics, interfacings, threads, linings..
It's a heavy encyclopaedia of fabric related information. A must buy sewing book for anyone who is really serious about sewing.
Textiles Transformed: Thread and Thrift with Reclaimed Textiles
This one has a place on the list because it was also a new book published in 2020 – and is great for ideas on how to use fabric scraps.
Now, not everyone will want to re-use old fabrics from clothing or interiors, but even if you just have a basket of scrap fabrics, this will give you ideas on how to use them instead of throwing them.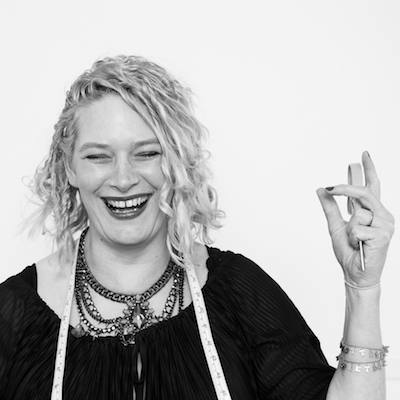 Eve Tokens (aka The Creative Curator) is a fashion designer, creative pattern cutter and sewing pattern designer.
Eve graduated with a 2:1 in Fashion Design from the University of The Creative Arts in the UK, has a BTEC diploma in Creative Pattern Cutting, a Foundation Degree in Art & Design from Wimbledon College of Art and gained extensive experience in the fashion industry by interning and freelancing for London based fashion brands – Hardy Amies, Roland Mouret, Peter Pilotto and others.
As well as running her own small sustainable fashion brand, Eve has more than 25 years experience sewing and making clothes for herself and family members.