If you love a Peter Pan collar, this step by step pattern making tutorial is for you! Learn how to make a Peter Pan collar pattern for tops and shirts, a technique you can use again and again to jazz up any sewing patterns that you own.
This is by far the easiest pattern collar to make yourself, as you're using existing pattern pieces and developing the collar pattern from them, rather than measuring and drafting the collar from scratch.
As always, if you do get stuck, let me know in the comments!
What Is A Peter Pan Collar?
The Peter pan collar is a flat, non-convertible type of collar, made famous by the designer John White Alexander back in 1905.
Why Is It Called A Peter Pan Collar?
Although what we know as the Peter Pan collar wasn't actually featured in J. M. Barrie's original Peter Pan book, the version we are familiar with was named after the style created for the New York production of 'Peter and Wendy' in New York in 1905. This version was so popular that the name stuck.
How Do You Cut And Stitch A Peter Pan Collar?
Cutting and stitching a Peter Pan collar is easy, and the pattern making tutorial below will walk you through the process of making a Peter Pan collar pattern!
You can then follow my tutorial on how to sew a Peter Pan collar afterwards!
Peter Pan Collar Inspiration
Perhaps you're not sure whether a Peter Pan collar is for you? Here are some images to inspire you and get you started before we crack on with the tutorial!
Tools You'll Need To Draft A Peter Pan Collar Pattern
Note: Some of the links in this post are affiliate links, which means I may receive a commission if you make a purchase at no further cost to you.
You don't need much in the way of pattern making tools when drafting a Peter Pan collar. Here's a list of the essentials you'll be needing to follow this pattern making tutorial:
Got everything? Let's get started!
Drafting A Peter Pan Collar Pattern In Four Simple Steps
Let's get started with this easy pattern making tutorial!
Step One: Choose Your Bodice Block Base
The first step is to choose the correct bodice block as your starting point.
If you plan to create a Peter Pan collar for an existing sewing pattern, you will need the front and back bodice pieces that contain the neckline area, and you will need to remove the seam allowance. You can use a tracing wheel to trace the pattern without a seam allowance!
Start by placing the two pattern pieces you gathered onto a work table in front of you. Overlap the two shoulder lines of the front and back sections together at what would be the stitch line.
Pivot the pattern from the point where both necklines meet at the shoulder, so that the should point overlaps by 2cm.
Use your masking tape to lightly secure the patterns in place.
Step Two: Tracing Off The Original Pattern Pieces
Next, cover the pattern pieces with your pattern paper, and trace around the front and back neckline. If you're using a block and not an existing sewing pattern, you may want to lower the front and back neckline by 1cm first, so that there is room to 'breathe' when the pattern is sewn.
Use your pattern master or fashion ruler to measure the desired depth of your collar at the:
Centre back
Shoulder
Front neck
I've opted for 6cm, which is a nice sized collar!
Step Three: Decide The Styleline Of Your Peter Pan Collar
Now you need to draw in the collar styleline line. Traditionally the a Peter Pan collar is rounded, and crisp, meeting at the centre front. (You might have seen a recent episode of 2020 The Great British Sewing Bee featured one?)
You can either freehand this, or use your pattern master / fashion ruler to create this smooth line, but you can also be super creative and play with the size and scale as well as the overall shape!
Step Four: Adding Seam Allowance To Your Pattern
The final step is to add your desired amount of seam allowance. Typically, I add 1cm of seam allowance to any sewing pattern necklines, and then I usually trim the seam allowance away once the outer edge is sewn – this allows me to get a nice smooth curve when sewing up my new collar.
Add any notches to the pattern that you haven't yet added – I always mark in the centre back and shoulder line. I'm cutting this version on the fold, but often you will see a Peter Pan collar sewn in two halves with a centre back opening!
Finally, make a note on the collar pattern piece which sewing pattern it was created for, as well as the:
Date
Size
Number of pieces needed (cut 1x pair on fold or x pairs?)
Whether fusing / interfacing is needed
The included seam allowance amount
Now you have create your very own Peter Pan collar pattern! How awesome?
Here's a sneak peek at how my collar turned out when I sewed it up quickly last weekend!
Sewing Your Peter Pan Collar
Once your collar pattern is drafted, you'll want to sew it up in muslin to calico to test the pattern before you sew it in your main fabric. I usually use a cheaper fabric – but similar fabric type and weight! – to toile up the pattern, and test that both the shape and size is good.
You'll also want to make sure that you have the right interfacing weight for your collar, and decide whether you will interface one or both sides – this will depend on how structured you want your collar to be!
Once you're happy with your pattern, you can learn how to sew a Peter Pan collar here!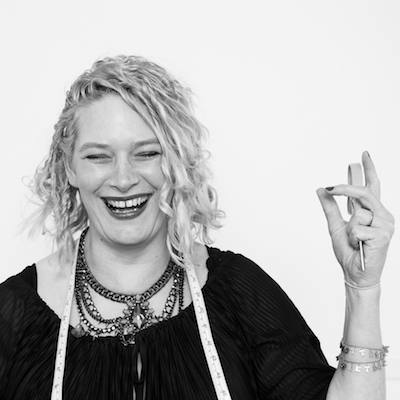 Eve Tokens (aka The Creative Curator) is a fashion designer, creative pattern cutter and sewing pattern designer.
Eve graduated with a 2:1 in Fashion Design from the University of The Creative Arts in the UK, has a BTEC diploma in Creative Pattern Cutting, a Foundation Degree in Art & Design from Wimbledon College of Art and gained extensive experience in the fashion industry by interning and freelancing for London based fashion brands – Hardy Amies, Roland Mouret, Peter Pilotto and others.
As well as running her own small sustainable fashion brand, Eve has more than 25 years experience sewing and making clothes for herself and family members.