If you are interested in learning about Fashion Design, you'll probably want to pick up a book or two covering various fashion design techniques.
Fashion design is the process of designing fashion – or 'apparel' in the US – and can be a great skill to learn more about when you are learning to make clothes for yourself or others.
I did cover fashion design principles but for more in-depth information the various books here will be a great help!
Some of the links in this article are affiliate links. This means that I may receive a fee at no extra cost to you if you purchase a recommended product. I only recommend items I have had experience with.
Fashion Design Books
The books in this section not only cover the process of fashion design, but also the aspects you need to consider when starting a fashion design business or creating a portfolio for future employment opportunities in the fashion industry.
Fundamentals Of Fashion Design
With interviews from both high street and RTW brand designers, this book also covers the process of fashion design – a great read for anyone new to the process of fashion design!
Zero Waste Fashion Design
This has been on my bookshelf since the day it was published. One of my favourite books on zero waste fashion design, I believe it should be essential reading for every fashion design student!
How To Start A Home-Based Fashion Design Business
If you have ever thought about sewing and selling your products, or creating a small fashion studio at home and selling designs online, you need to read this book first.
Fashion Portfolio: design + Presentation
If you plan to work in the fashion industry, you'll need a fashion portfolio. While this great book won't teach you how to put together a fashion portfolio, it is full of inspiration for you to draw upon when putting together your own.
Fashion Illustration Books
Part of the fashion design process is illustrating your fashion designs – whether as small one-off designs or a fashion collection.
Not every designer is good at illustration. I'm quite rubbish myself! But it is a skill that can be developed with practice, and the fashion illustration books here have helped me!
Pro Fashion Sketchpad
If you – or someone you know – is in need of a sketchbook that will help them speed up the fashion design and illustration process, this is it!
Figure Drawing For Fashion Design
This is the book I has at uni which really helped me learn to draw the fashion figure for my fashion design course. The cover is the version I have, but I've linked to a newer, updated version of the book.
Fashion Illustration: Inspiration And Technique
Not only will this book teach you some fashion illustration techniques, but it will inspire you to be creative with your own fashion illustrations.
Fashion Drawing
Learn how to draw the fashion figure – men, women and children! – as well as illustrating your designs and creating flat technical drawings too.
Fashion Illustration & Design
While this book won't help you to draw the fashion figure, it odes do a great job of teaching you how to illustrate fashion and the different fabric types using various media.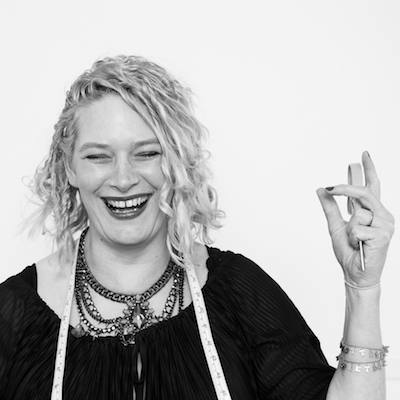 Eve Tokens (aka The Creative Curator) is a fashion designer, creative pattern cutter and sewing pattern designer.
Eve graduated with a 2:1 in Fashion Design from the University of The Creative Arts in the UK, has a BTEC diploma in Creative Pattern Cutting, a Foundation Degree in Art & Design from Wimbledon College of Art and gained extensive experience in the fashion industry by interning and freelancing for London based fashion brands – Hardy Amies, Roland Mouret, Peter Pilotto and others.
As well as running her own small sustainable fashion brand, Eve has more than 25 years experience sewing and making clothes for herself and family members.