Using Commercial Clothing Patterns
If you're just getting started with making your own clothes, you will most likely have turned to commercial clothing patterns to begin with.
These are clothing patterns that have been created by a designer or a pattern company, and made available for you to use to make your own clothes. There are a lot of clothing patterns out there in the world. Clothing patterns that are free to use – usually as a PDF download from the internet, printed and taped together and off you go – as well as paid clothing patterns costing anything up to £30! These are also available as PDF downloads but can be bought as paper patterns from online or in stores.
If you have chosen to use a commercial clothing pattern instead of starting with your own hand drafted pattern, it is essential to consider the different sizes that the clothing pattern comes in. Much like how clothing bought from different stores will fit you differently, so too will clothing patterns bought from different pattern designers and companies.
Why The Difference In Clothing Patterns?
The answer my friend is in target customers; specifically their measurements and that of fit models. The patterns in the image below all reflect a different target market.
Measurements
A designer or a company has a set of measurements that they use to create their house block / sloper. These measurements relate to their target customer.
A great example is Alexander Wang from RTW (ready to wear) and Topshop from the high street.
Both of these brands are looking to dress the younger woman. You can see from the screenshot of Toyshop's current website that they would be targeting the late teen up to her mid twenties. A woman's body shape hasn't altered much at this point and is often quite slim, with little in the way of lumps and bumps to get in the way of their design aesthetic unlike those that us older ladies and gents have! 😉
Above Image: Screenshot of Topshop Website November 2016
Topshop also accommodates those who are taller or shorter than their average customer by grading their patterns accordingly for their tall and petite ranges.
The other example is Alexander Wang who also appeals to the younger, somewhat sporty woman, only this time she has more money to spend. We all know that a bit of Alexander Wang isn't as cheap as Topshop (even if they are both made in China – but let's not go there…)!
Above Image: Screenshot of Alexander Wang Website November 2016
Above Image: Second Screenshot of Alexander Wang Website November 2016
These two companies with a similar target customer will find out the measurement range for that customer. They then create their brand block using those measurements.
A brand such as Evans, Lane Bryant or Curvissa have a target customer who is much more curvy, often referred to as plus size (a term I find a tad insulting and unfair to be honest – I don't consider UK14 to be 'plus size' and it isn't as though those who are a UK8/US4 are referred to by the label 'tiny-size' right???). As such, the measurements used to create their brand block will reflect that target customer.
Above Image: Screenshot of Evans Website November 2016
Above Image: Screenshot of Lane Bryant Website November 2016
Above Image: Screenshot of Curvissa Website November 2016
Fit Models
These are models that reflect the designer or brand's target customer, and used in a studio setting, not on the runway. When a pattern is made, and graded, it needs to be checked on fit models for several reasons.
To check the overall fit
To check that the grading up and down between sizes hasn't altered the design in a bad way
To check that the garment is comfortable and wearable. There is little point in making a jacket if the person buying and wearing it cannot move their arms at all!
This method also applies to pattern companies and pattern designers that create clothing patterns. This is why we have the need for pattern testers! And because we are not all made the same shape and size, nor do we all confine to a specific brand's sizings; for the most part we will need to adapt that pattern to fit us properly. (And THIS is totally normal!)
How Do You Do This?
Start by looking carefully at the sizings of clothing patterns. A general guide will have the bust, waist and hip measurements for all the available sizes. Find your measurements for each of the different body measurements. I usually have the bust and hips about right, but have to adjust the waist measurement.
The next box on a pattern will usually have the garment's finished sizings. This is a really important section to check, because it will help you to work out just how much ease there is in the pattern; is it very fitted, or does it have a bit of room to move? You can then tell by how much you might need to adjust the pattern in those different areas.
Actual size – finished size = amount of ease
Above image is a photo of the By Hand London sizing chart for the printed Holly Jumpsuit Pattern
Above image is a photo of the By Hand London FINISHED sizing chart for the printed Holly Jumpsuit Pattern
Deciding On The Fit You Want
Depending on HOW you want the pattern to fit, you can hack it up to your heart's content. When I made up the Sew Over It Betty Dress I knew I wanted it in a size 14, because I don't like dresses to be too fitted; I like to be able to breathe comfortably afterall! 😉 With the circle skirt of the dress sitting high on my waist, I knew it would help to accentuate my waist and hide my tummy bumps. So I made sure to sew with a bigger seam allowance on the bodice waistline, and adjusted the skirt pattern accordingly.
Adjusting Clothing Patterns
Above image is a photo of the Rosa Shirt from Tilly and The Buttons – printed PDF pattern.
Usually when you buy a pattern it has been 'nested'. What this means is that it has been graded for all the sizes, and these sizes then all lay within each other instead of separately. It saves paper whether printing at home yourself or buying a printed paper pattern.
In the image above, you can see that the nesting of the different sizes has resulted in sizes overlaying each other at certain points (the pencil arrow in the top left corner is one example).
This nesting can however make it much harder to work out which size you want to use for the different sections of the garment.
Worry not, there's a trick: trace your patterns!
Choosing The Correct Size From Clothing Patterns
Above image is a photo of the printed measurements – Body and Finished – from Tilly and The Buttons Rosa Shirt PDF
Firstly, use your bust or chest measurement to work out with size bodice you need. My bust is 38 inches, so I know that if I were to make the Rosa shirt from Tilly and The Buttons, the above image shows that I need to use size 5 for 38inch bust. If your bust is substantially bigger, you may want to take your high bust measurement for size selection and then do a full bust adjustment.
When you have found the size right for you, you then need to trace off all the pieces for the size you want to use. I don't recommend cutting into the original pattern, as that original pattern is much like the working pattern I talked about in last week's post 'Pattern Making Basics'.
If you aren't in need of changing any of the pattern pieces, you could just trace them off, cut them out in a test fabric and sew it up with a long stitch – kind of like a basting stitch if you were making it by hand.
If you do need to mix up the sizes, you'll need to trace off the correct sections and then spend a little time 'truing' up the seams, style lines and darts.
Truing Up?
Well yes m'friend! You cannot expect a size UK10 bodice to play nicely with a size UK14 skirt right? It just ain't gonna happen! 🙂 So, we need to make sure that they do play nicely, and we do this by MEASURING the seam sections – using a tape measure standing upright on its edge – and extending or shortening the seam amount as needed.
Once we have the pattern pieces trued up, we need to make it up as a toile or muslin so we can check the fit. It doesn't have to be really detailed. At this point we really are only checking the shape and fit of the garment on our body!
Making It Up
Above image is a photo of the modification notes on my trench coat pattern.
Use pins to mark any changes needed on the toile/ muslin. I quite often go at it with a marker pen too, before taking it off me / my stand / model.
You then need to mark these changes onto the pattern pieces that you traced off. You might need to take sections in, or even add more fabric! Add these changes carefully. Just like I did to the picture above; my trench coat pattern from my Graduate Fashion Week collection. I would then at this point make a second toile / muslin, as I'm not a fan of making up a design in real fabric if I'm uncertain what the outcome will look like.
Your Own Personal Block / Sloper
Now that you have completed these steps, you have a pattern that fits pretty darn good. Make it up in the real deal. Add lining and facings where necessary so that you have a beautiful finish.
If it really fits perfect, and it is a kind of classic reusable shape, consider using it as YOUR block / sloper. You can take this pattern which you've modified to fit you, and design freely with it!
This is the easiest way to start making your own clothes that fit you, without diving too soon into the process of creating your own block / sloper.
The next post in the Pattern Making Basics series is live – truing up patterns! – and can be read by clicking here!
SaveSave
SaveSaveSaveSaveSaveSaveSaveSave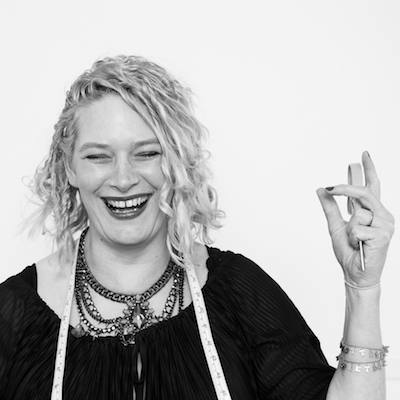 Eve Tokens (aka The Creative Curator) is a fashion designer, creative pattern cutter and sewing pattern designer.
Eve graduated with a 2:1 in Fashion Design from the University of The Creative Arts in the UK, has a BTEC diploma in Creative Pattern Cutting, a Foundation Degree in Art & Design from Wimbledon College of Art and gained extensive experience in the fashion industry by interning and freelancing for London based fashion brands – Hardy Amies, Roland Mouret, Peter Pilotto and others.
As well as running her own small sustainable fashion brand, Eve has more than 25 years experience sewing and making clothes for herself and family members.