Every year I mean to write an article about spring sewing projects and every year I forget until it's too late. Not this year!
I'm currently sewing up a storm so that I have some summer clothing to wear and I'm sharing the different sewing patterns that I'm using as well as details on the sewing projects that are self drafted.
I'm using a mix of fabrics for my stash and refashioning old clothing into new, so hopefully you'll be suitably inspired by the end to draw up a list of your own and start sewing your spring projects!
Note that I am currently working on sewing all of these, so as they're completed I'll come back to add a finished photo and link to any tutorial that I also create as well.
Some of the links in this article are affiliate links. This means that I may receive a fee at no extra cost to you if you purchase a recommended product. I only recommend items I have experience with.
Here's a list of the thirteen spring sewing projects I'm working on right now:
Charlie caftan from Closet Core Patterns
Greer jumpsuit from Hey June Handmade
Trigg shorts from Elbe Textiles (Obviously these are for David and not myself)
Bryce cargo pants from Hey June Handmade
Martha dress from Sew Over It
Ogden cami from True Bias
Vero beach shorts from Hey June Handmade
Bridgetown dress from Sew House Seven
Retro Rucksack from Radiant Home Studio
Loose fit summer shorts
Fitted denim corset top
Textured denim shorts
Oversized sleeveless shirt dress
Let's dive into each including the fabric I'll be using and all the pattern details in case you want to make your own!
Charlie Caftan – Closet Core Patterns
I have the Charlie caftan pattern from when Closet Core was still Close Case but although it's been printed since I was in Wales back in 2018 I had not got round to taping it up and actually sewing one up. Until this spring.
And now I'm working on two of them!
Version 1
I decided to make the maxi dress version of the Charlie caftan up, which takes a fair amount of fabric.
And I made it harder for myself by using a very drapey viscose from my stash. The fabric in the image below is a gorgeous piece of rayon that I had bought from the Sew Over It store in London back in 2017 when I lived there and had been intended for the 1940s wrap dress which I purchased at the same time.
Alas, that never happened due to moving to Wales and storage but it worked out well – I'm almost finished making this and will share photos and a mini-tutorial next week!
Version 2
The second version will be the same view, but I'm going to cut it cropped and add an elastic waistband to it.
After hacking it, it will basically resemble the top from the new Saguaro set pattern by Friday Pattern Company, but I figure that as I've purchased many an indie sewing pattern over the years, I'm safe to just hack this one.
The fabric I'll be using is super vibrant and will pair well with denim, either as full length jeans or shorts versions.
Greer Jumpsuit – Hey June Handmade
You may have seen an existing post I have on the Greer jumpsuit pattern from Hey June Handmade in which I made a version in denim with a ruffle in the middle.
Based upon that outcome, I decided to sew two new versions, in less structured fabrics.
The left fabric is 100% cotton and while it has some structure to it, it isn't as 'solid' as the denim I used for my first Greer jumpsuit. The fabric on the right is a drapey 100% rayon and will make the Greer jumpsuit super slouchy and comfortable.
I'm really excited to see how both of these come out, and and planning for them to get plenty of wear in the coming months!
Trigg Shorts – Elbe Textiles
Obviously these are for David and not myself! The Trigg shorts are a fab men's shorts pattern that I have made for him before which he wears throughout the summer months, so it's about time I made him some more.
First up is a pair in gorgeous organic blue cotton that is heavier in weight than the original pair I made for him, but will work well as a casual or more smarter pair of shorts.
I think these will look great paired with a smart shirt or even a t-shirt and a matching waistcoat over the top. To be fair, there's plenty more of this fabric in the stash now that I've cut the shorts out, so will see how I am for time!
Bryce Cargo Pants – Hey June Handmade
Another of my favourite patterns, the Bryce pattern is a women's cargo pants pattern which I've previously made up and wear throughout the summer months.
This time I'm going rebel (again) and instead of using a stretch cotton – which is advised! – I'm using 100% cotton that my friend Angie gave to me from her stash.
How gorgeous is the print on this?
I'll admit that it is risky cutting a pattern that calls for it in a non-stretch fabric, but even if these end up losses fitting, it's a win – they'll be super comfy, and I'll just use a belt to hold them up. What could go wrong?
Martha Dress – Sew Over It
The Martha dress pattern was a very recent and hasty purchase because I couldn't be bothered to draft my own wrap top and thought I'd use the bodice section to make one.
I printed it all excited about saving time and then realised it was a faux wrap dress. Which needed lining.
Ha!
I ended up cutting it out as is in the fabric below to make a summer wrap dress, but I decided against lining it, and instead cut bias strips to make bias binding – a much faster way to finish the raw edges.
Oh, I also opted for a much shorter version of the Martha dress, because below the knee just isn't my style.
Ogden Cami – True Bias
People in the sewing community RAVE about how amazing the Ogden cami pattern is from true Bias, and so I finally printed it out having again bought it years ago.
I figure if it's as good as people say t is, I can make a few in basic colors and pair them with the Greer jumpsuits and all the shorts I've been making.
First up is the silky finish cotton fabric – I love the pin stripe detail don't you?
Vero Beach Shorts – Hey June Handmade
The Vero shorts are part of a set from Hey June Handmade, which comes with a hooded top too, but I opted to make just the shorts this time.
I'm using a fun fabric which has been in my stash since my fashion school days – It's a striped cotton, but the stripes are woven with another type of fibre.
Bridgetown Dress – Sew House Seven
The Bridgtown dress has been cut out and on my 'to make' pile since around December 2020, so it's been around a while. I've now removed it from its envelope and it is ready to be sewn. I even found out my overlocker and threaded it up in anticipation!
The fabric I'm using is a cotton jersey with a hint of gold sparkle running through it. To be fair it's more suited to winter / holiday than spring, but I figure it will also make a nice dress for warm summer evenings.
Retro Rucksack – Radiant Home Studio
Another pattern in my stash that I bought and printed out years ago, the lovely Sara from Radiant Home Studio was quick to message me and let me know that the retro rucksack pattern had been updated if I wanted to try out the new version.
I've printed it and plan to make it from the two fabrics below – a 100% petrol colored cotton twill and 100% cotton with a wax print effect – and will add some leather remnants in the areas needed to.
Loose Fit Summer Shorts – Self Drafted
I absolutely LOVE these loose fi summer shorts. The pattern is self drafted by me and I refashioned them from a thrifted skirt which I bought at a charity store in early May 2022. I am SO excited to wear these again and again.
We're going to ignore that there is no pattern matching on the centre front. Initially this really annoyed me, but upon closer inspection of the fabric, the pattern was not easy to match and I had a limited amount from the skirt I deconstructed.
Fitted Denim Corset Top – Self Draped
This is a work in progress project. It was completely draped by me on my plus size adjustable dress form – check out the best dress forms here if you don't yet have one and if you do, check out my fantastic Drape & Contour for Beginners course to learn how to drape!
I'm making it using denim remnants from my stash and am videoing the entire process for the students of my draping course to follow along with.
I'm using spiral boning in it too, and cannot wait to finish it and show it off!
Textured Denim Shorts
Another item that is self drafted by me, I've made these by refashioning old pairs of jeans. The detailed sections on the front are from an old pair of my dad's – notice the colour of the original back pants leg from where I removed the pockets – and the remaining are from a pair of jeans I found in my stash back home that are from when I loved in the Bahamas back in 2001!
As soon as these are finished I'll share the process of making them, but you can also check out my DIY jeans tutorial which shows the pin tuck / fringing technique.
Oversized Sleeveless Shirt Dress
Finally, I'm making myself an oversized sleeveless shirt dress. This is another self-drafted pattern which was part of my graduate fashion week collection.
I love the original pink shirt – in the photo to the left worn by a model on a photoshoot – but there's a blood stain on it that won't come out, so I need to make a new one and keep the original in storage for sentimental reasons.
The pattern is thankfully still in my vast stash, so I will make this one up towards the ned of May and might even digitise it and make it available for others too!
Phew… that is a lot of projects to sew this spring, and while it may seen excessive, it's been a while since I sewed much for myself. In fact the last item I made was the zero waste gathered rectangle skirt in November 2021. Before that it was the pants / trousers I refashioned from two linen / viscose blend tops in June / July of that year which I still need to edit and upload and then a mighty jump to to my DIY jeans in February 2020.
It's safe to say that I'm desperately in need of some new clothing so I'm giving myself a pass to make all of the above items this spring.
Let me know if you're feeling inspired along with the spring sewing projects you've been working on in the comments below. And remember to pop back – I'll be updating with photos of the finished garments as they're completed!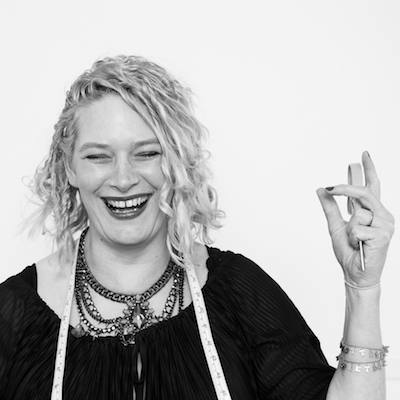 Eve Tokens (aka The Creative Curator) is a fashion designer, creative pattern cutter and sewing pattern designer.
Eve graduated with a 2:1 in Fashion Design from the University of The Creative Arts in the UK, has a BTEC diploma in Creative Pattern Cutting, a Foundation Degree in Art & Design from Wimbledon College of Art and gained extensive experience in the fashion industry by interning and freelancing for London based fashion brands – Hardy Amies, Roland Mouret, Peter Pilotto and others.
As well as running her own small sustainable fashion brand, Eve has more than 25 years experience sewing and making clothes for herself and family members.